ltstudiooo - Fotolia
Mushroom adds new WAN tools with VNF library
With its new VNF Design Studio, Mushroom Networks says it is providing customers with a whole new set of WAN tools to improve performance.
SD-WAN provider Mushroom Networks has introduced a framework that will let companies customize their branch office connections with virtual network functions, or VNFs, tailored to improve WAN performance.
The VNF Design Studio, available this week, is a library of drag-and-drop WAN tools and components. Administrators can select among a set of preconfigured VNFs or cobble together their own to optimize how traffic travels across their WAN connections, said Cahit Akin, CEO at Mushroom, based in San Diego. Functions can be put into operation within hours.
A VNF could be used, for example, to improve a company's VoIP traffic, automatically applying algorithms engineered to minimize packet loss and latency. VNFs -- functions based on software decoupled from hardware -- give organizations more flexibility in how they oversee their networks, Akin said.
"Due to the wide difference in applications, profiles, and transport, companies have a large set of requirements for their WAN," he said. "A cookie-cutter approach works to a certain degree and then you lose the ability for additional customization."
WAN tools create customized data flows
Once a VNF is selected, it automatically creates a tunnel through which the optimized traffic flows. Performance could be maximized for specific bandwidth-intensive services while adjusted for data that isn't as critical.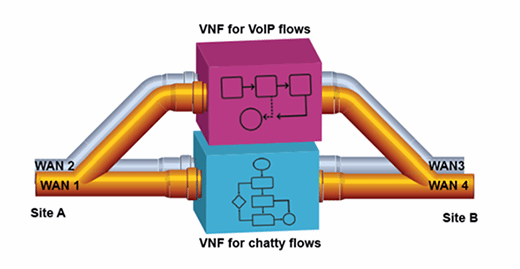 Mushroom Networks' approach could be a good way to acquaint enterprises with the role of VNFs in their networks, said Cliff Grossner, senior research director at IHS Markit, based in Campbell, Calif. "Once everyone addresses load balancing, the next level [of SD-WAN] is adding services on top of that, and anything a vendor can do to make it easy for IT administrators to add those services is appealing," he said.
Mushroom said the WAN tools can be used across its stable of SD-WAN appliances, including the Portabella, used for mobile transmission of WAN traffic. Scores of tunnels can be prescribed for each device, depending upon throughput and capacity.
Pre-packaged VNFs are gaining traction as enterprises evaluate how the software can be used within their operating environments. AT&T and Verizon both launched VNF-anchored initiatives earlier this summer, with a goal of helping customers reduce the time it takes to modify their networks to add capabilities such as WAN optimization and firewalls.
Next Steps
Making sure SD-WAN is for you
How SD-WAN is changing the market
Securing hybrid networks