Microsoft Azure Stack has leg up on VMware Cloud on AWS
Microsoft's Azure Stack will likely be more successful in the hybrid cloud market than VMware Cloud on AWS, according to analysts. Both products are set to ship by September.
Microsoft Azure Stack is expected to outpace VMware Cloud on Amazon Web Services in the hybrid cloud technology market, even though the latter targets the world's largest cloud service provider.
Microsoft announced this week at its Inspire developer conference in Washington, D.C., that Azure Stack would ship in September, which is roughly the same time as when VMware Cloud on AWS hits the market. Both products are available today only as technology previews.
Based on early feedback from enterprises, many are anxious to use Microsoft Azure Stack to migrate workloads running on Microsoft Windows in the data center to the Azure public cloud, said Brad Casemore, an analyst at IDC. Those companies will likely find that moving workloads with Azure Stack will be easier than with VMware Cloud on AWS, because the latter involves technologies from two separate vendors.
"With Azure and Azure Stack, everything is under Microsoft's control," Casemore said. "Whether you remain in private or public cloud, it's a Microsoft-owned and executed strategy."
In addition to ease of use, Microsoft could have an advantage with price. VMware is known for charging a premium for its technology, according to independent networking analyst John Fruehe.
"My gut says that every customer who is looking at Azure is looking for a way to move away from the 'VMware tax,'" Fruehe said.
Microsoft also has big-name hardware makers that will be selling products preloaded with Microsoft Azure Stack. The companies include Dell EMC, Hewlett Packard Enterprise, Lenovo and Cisco.
Despite the market advantages, Microsoft will still have to prove to customers that Azure Stack is ready for use in an enterprise data center. "We're making the assumption that the code is robust and the product is going to be reliable," Casemore said.
AWS market clout
Assuming that VMware's product is also strong, the company could benefit from partnering with the largest infrastructure-as-a-service provider. In the fourth quarter of 2016, AWS accounted for over 40% of the market, according to Synergy Research Group, based in Reno, Nev. Together, Microsoft, Google and IBM -- the next three biggest providers -- accounted for 23% of the market.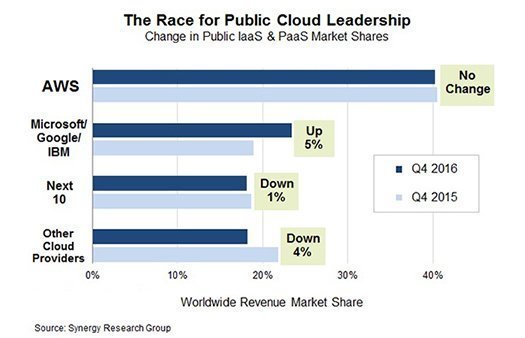 AWS is likely to help in promotion because it will need VMware's help in convincing Microsoft customers to skip Azure. "Amazon [partnered with VMware], because they wanted customers on the edge to think Amazon first," Fruehe said.
Microsoft and VMware are vying for a slice of a hybrid cloud technology market that's expected to grow almost 23% annually through 2021. By then, the market is projected to reach about $92 billion, according to researcher MarketsandMarkets.
Next Steps
How similar will Azure Stack be to Azure?
Cisco UCS server for Azure Stack
Azure Stack only being sold through OEMs