kentoh - Fotolia
How network standards and open source organizations differ
Both open source and network standards organizations want to develop the next-generation network. Yet their methods differ, and they can benefit different types of organizations.
Standards organizations set the blueprints for reliable, interoperable communications among various networks, including mobile phone calls. Open source organizations promote flexible, open networking hardware and software for enterprises and service providers.
Dozens of standards and open source networking organizations exist, and each has its own charter and agenda. When organizations build networks, each must choose whether to use standards architecture or open source networks for their individual requirements. No single organization provides reference architecture for the next-generation network.
Networking standards and open source organizations span the gamut of network types -- e.g., wireline and wireless -- and geographies. These organizations also span various applications, including mobile edge computing and a management and orchestration framework, as well as specific network elements -- e.g., Wi-Fi, radio access networks (RANs), server platforms and Ethernet switches.
Doyle Research tracks more than a dozen important networking standards groups and 20 open networking projects and acted as the basis for the following assessment.
The network standards landscape
Standards-setting organizations have long specified the way organizations design and build networks to ensure interoperability. The network effect, or Metcalfe's law, states that the effect of the network directly relates to the number of people, devices and things that can talk to each other on the network. In this way, fixed telephone networks, Ethernet, Wi-Fi and cellular networks were all specified and refined over time for clear interoperability.
The plethora of competing standards groups makes it difficult to identify open technologies worth pursuing.
Standards-setting organizations typically have wide membership and are deliberative and consensus-oriented. These organizations have lengthy processes to set and change specific networking standards with clear goals, such as architectural stability and backward compatibility.
Leading network standards groups include the following:
3rd Generation Partnership Project (3GPP)
International Telecommunication Union
Institute of Electrical and Electronics Engineers Inc.
European Telecommunications Standards Institute (ETSI)
MEF
Wi-Fi Alliance
American National Standards Institute
TM Forum
Broadband Forum
Telecommunications Industry Association
Electronic Industries Alliance
The open source organizations landscape
Open networking organizations mushroomed over the last 10 years to focus on specific aspects of both large and small networks that are ripe for innovation and disruption. Groups of suppliers or buyers typically drive these organizations to promote technological advancements, such as new capabilities or lower costs, in an element of the network -- e.g., RAN, edge routers or software-defined networking controllers.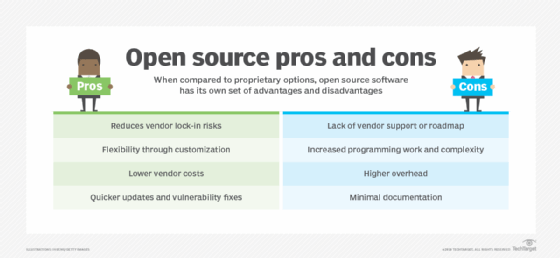 The main benefit of open source networking software is rapid technological innovation from the ability to use a wide range of interested buyers, suppliers and channel partners. Open source organizations hope to drive down the cost curve of networking equipment -- with its high margins -- through open ecosystems and free software, including a number of open source software options for white box switches and routers.
Leading network-related open source organizations and projects include the following:
The Linux Foundation
OpenStack Foundation
Open Compute Project
Open Network Automation Platform
O-RAN Alliance
OpenDaylight Project
Data Plane Development Kit
Open Networking Foundation
Telecom Infra Project
Software for Open Networking in the Cloud
Disaggregated Network Operating System
Multi-access Edge Computing
Facebook Open Switching System
OpenFog Consortium
Requirements and recommendations for success
The industry can judge the effect of networking standards and open source organizations on several key criteria. To affect the industry, leading users for a specific technology segment should adopt a standards-related organization akin to that technology.
For example, mobile operators widely adopted 3GPP standards for their current 4G and next-generation 5G mobile infrastructures. On the other hand, ETSI promoted network functions virtualization architecture for software virtualization in service provider networks with only limited success.
With network open source projects, successful organizations can create innovative, cloud-ready software code. But one should judge those organizations on their levels of user and vendor participation, the viability of the ecosystems, and the business cases with proven ROI. In many cases, open source networking organizations create code with limited value to the end-user community and have a relatively small effect on the networking industry.
Standards organizations are critical to ensure network reliability, interoperability and backward compatibility. However, this can challenge slow-moving standards organizations to keep pace with the rapid IT and networking technologies evolution. Open source networking organizations move faster and can provide innovative software and hardware for specific networking use cases. But open source networking has struggled to gain traction outside specific pockets of adoption from leading-edge buyers.
The challenge for networking leaders is to identify key technologies that will drive application, performance or cost benefits for their organizations. The plethora of competing standards groups makes it difficult to identify open technologies worth pursuing. None of the organizations delivered viable blueprints to define next-generation architecture for either enterprise or service provider networks.
This was last published in
September 2019