Fotolia
SD-WAN cost savings hinge on underlying WAN technologies
SD-WAN marketing almost always mentions the benefit of cost savings. Cut through the hype and discover how SD-WAN works with MPLS and internet connectivity to drive savings.
In the last few years, IT teams have been working hard to maintain security, application flow and business continuity across enterprise networks. The network is essentially the foundation of any business, acting as an enabler to ensure business transactions occur. But the network is evolving quickly.
Many organizations embarking on a WAN procurement project might think cost savings are at the core of any software-defined WAN value proposition -- and SD-WAN cost savings certainly carry some weight.
SD-WAN reduces network complexity, offers more agility and faster provisioning, and provides an environment to ensure applications move efficiently. Business connectivity is at the top of most IT teams' networking buying lists -- due to the growth of cloud services, the influx of IoT and BYOD culture -- and SD-WAN vendors are meeting this demand head on.
These are some of the benefits of SD-WAN, but we've yet to mention cost.
Internet connectivity as an SD-WAN cost saver
The majority of marketing for SD-WAN cost savings focuses on the use of internet connectivity. Recently, I've been working on a WAN redesign for a large estate spanning 250 sites connected to a Layer 3 MPLS network. Members of the IT team researched the market for alternatives to MPLS and essentially reached the conclusion that MPLS is dead as a technology. The vendors marketing MPLS as dead, doomed, finished or deceased -- you get the idea -- are promoting internet connectivity as the basis of their foundation to achieve cost reduction.
In many cases, SD-WAN vendors include business broadband services with an approximate monthly cost of $50, which is fairly cost effective. But while SD-WAN devices are able to intelligently sense network conditions to make the most of any given connectivity, the service-level agreement (SLA) for this kind of low-cost broadband service is often weak.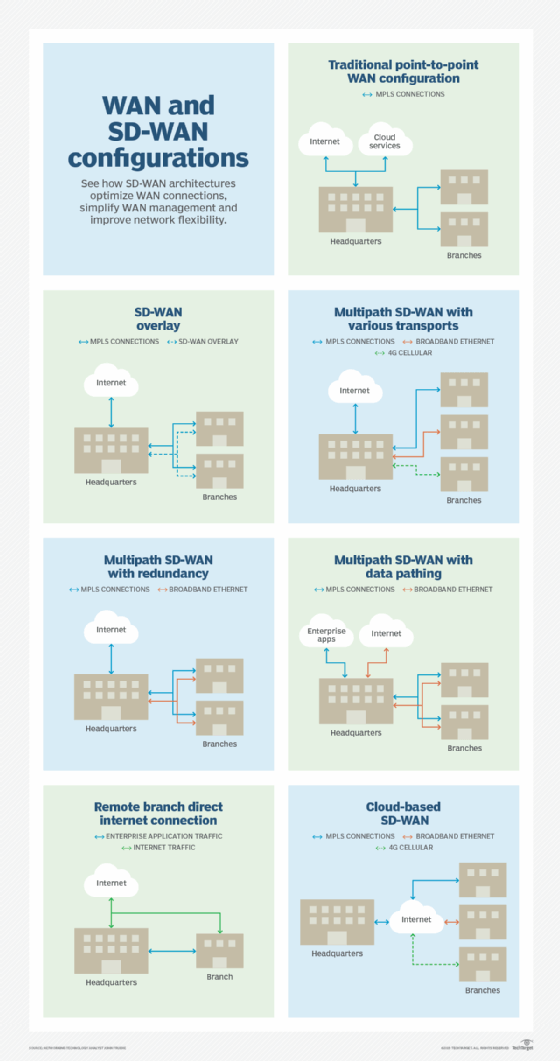 This is likely the issue for cost savings across SD-WAN services, as product SLAs need to balance both network performance and fix times. While saving money on connectivity may meet budget requirements, the business should be mindful that fix times for low-cost connectivity could be lengthy.
General support for internet connectivity use is another concern. Over the years, internet support -- even for Ethernet leased lines -- has not been as comprehensive when compared with private WAN services. Teams responsible for supporting MPLS WAN services are often more customer-focused and can access granular details about the core network if issues, such as latency and packet loss, occur. Ongoing internet issues can affect application performance but not cause an outage -- these are the issues that often take time to understand and troubleshoot.
Global organizations can use multiple internet service providers' backbones in-country to reduce cost. But, in this scenario, traffic will be routed across multiple unknown hops, which can result in unpredictable latency and issues that are difficult to troubleshoot.
With this in mind, organizations should classify their sites by importance to determine which connectivity is best-suited to meet the demands of users and applications -- not whether SD-WAN should be the chosen technology.
Savings revolve around underlying WAN connectivity
The fact remains that the cost for SD-WAN licenses depends on the functionality required, like any approach based on customer premises equipment with monthly recurring revenue. But sometimes cost isn't tangible from an accounting perspective.
The major cost differentiator will typically revolve around the underlying connectivity.
SD-WAN often incorporates zero-touch provisioning, which brings up site connections without physical engineer involvement, for example. If we accept that the future of wide area networks is software-based, then the question isn't so much one of cost savings from a technology point of view. The major cost differentiator will typically revolve around the underlying connectivity.
If we circle back to the earlier discussion about MPLS, the objective is to select the right connectivity that meets IT policies and the demands of user application interaction and flow. The objective is not to remove MPLS because an internet circuit is cheaper.
In some cases, a WAN upgrade will result in cost savings because of the fact that MPLS is not required. If branch sites aren't critical and don't demand 100% uptime, provisioning SD-WAN across broadband or low-cost 3G or 4G connections could be a good way to achieve cost reduction.
SD-WAN also enables better traffic decisions across low-cost failover services. It can connect multiple connectivity types and will sense when to use each connected service. SD-WAN also serves up granular network statistics, helping IT teams to make better decisions in terms of bandwidth requirements and how to improve application performance.
SD-WAN enables other types of savings
Some cost savings don't grab headlines but still affect the bottom line of any company. There is also a green benefit to SD-WAN in the form of network functions virtualization, as functionality outsourced to the cloud can offer faster provisioning and reduce the need for staff to travel to add new sites.
SD-WAN improves efficiency by making the best use of the available bandwidth, which allows businesses to use other connections when congestion occurs. At certain times of the year, for example, a business may expect to experience traffic spikes. With SD-WAN functions, circuits that are typically reserved for failover could be used to relieve some of the traffic needs.
Lastly, the very nature of networking means we should always consider every element of what could go wrong in a business environment. As discussed, if a primary connection is down, your IT team must consider the support process to bring the circuit back up and running.
Remember the SLA may not be as comprehensive when comparing MPLS to internet connectivity. If your business is considering removing MPLS, consider the worst-case scenario from a service perspective.