Torbz - Fotolia
Four misconceptions regarding the benefits of SD-WAN
It's all too easy to get sucked into the buzz and misconceptions around software-defined WAN technology. Here are four points to be aware of about the touted benefits of SD-WAN.
When any technology or service is marketed heavily, a number of common misconceptions and concerns may arise. In...
Continue Reading This Article
Enjoy this article as well as all of our content, including E-Guides, news, tips and more.
the context of software-defined WAN, vendors market IT management features in a way that loses the original benefits of SD-WAN, in some respect.
SD-WAN is frequently touted as the savior of WAN pricing, flexibility and performance. But, as with every technology, unlocking the benefits of SD-WAN requires thought and attention. This article addresses common concerns and misconceptions IT teams have when considering SD-WAN technology.
Misconception No. 1: Internet connectivity as the panacea
The first misconception is SD-WAN is an internet-based technology that's unable to use other types of WAN interfaces.
The overall SD-WAN vision is one of an agnostic WAN technology positioned to use any network connectivity type, coupled with security and traffic prioritization. The product development reality for SD-WAN is somewhat different, however, as marketing often defines the feature sets with internet backbones as the basis for achieving cost savings.
SD-WAN does offer cost savings, especially when compared with Layer 3 virtual private routed networks like MPLS. In order to achieve those savings, SD-WAN architecture uses lower-cost connectivity in the form of internet connectivity. But with the abundance of "internet cost saving" marketing, IT teams are led to believe SD-WAN only supports internet-based connectivity -- note that SD-WAN vendors or providers can position their offerings as they see fit.
The architecture of most current networks, however, is based on a hybrid of broadband circuits that use different combinations of MPLS, virtual private LAN service and optical point-to-point or multipoint connectivity. This hybrid network architecture helps enterprises align their business requirements to the right design.
In addition to cost savings, the benefits of SD-WAN exist as byproducts of software feature sets. These benefits include granular security, quality of service (QoS) based on connectivity state and management simplicity. In short, internet connectivity is only one benefit to drive cost savings with SD-WAN.
Misconception No. 2: SD-WAN replaces MPLS
From the beginning, SD-WAN was positioned as a replacement technology for MPLS. While there is a certain truth in the adoption of SD-WAN as a replacement for MPLS, private networking remains a component of both hybrid architectures and software-defined networks.
The drivers behind internet-based SD-WAN are created out of mobility, public cloud-based access and agility. Where guaranteed end-to-end global performance is required, however, private IP continues to be the prevalent technology. The internet as a VPN with added SD-WAN functionality may be a capability that's good enough, but private IP circuits are the way forward when it comes to key corporate global locations.
SD-WAN benefits businesses where multiple branch offices require a standardized low-cost capability. In contrast, MPLS suits headquarters or hub locations where predictable application performance is a must-have.
Misconception No. 3: One is better than the other
In short, internet connectivity is only one benefit to drive cost savings with SD-WAN.
Agility is a significant benefit of SD-WAN, as the technology presents a setup that can be quick and relatively easy to deploy. It is a misconception, however, to think SD-WAN technology can solve application performance issues in all scenarios. In all instances, IT teams should carefully pay attention to connectivity elements, including support and path performance.
The internet offers multiple connection options, including wireless 3G and 4G and copper or fiber broadband, which allows any business to quickly establish connections. But if the cellular signal is degraded and broadband performance is limited, applications may perform in an unpredictable manner. While it is true SD-WAN offers effective feature sets, it is a misconception to think all problems may be solved using the technology.
Remember that SD-WAN is an edge technology in terms of how it treats applications, which is why MPLS still acts as a component of architectural design. With any internet-based technology, QoS is only applicable locally and not end to end.
Misconception No. 4: SD-WAN replaces WAN optimization
SD-WAN and WAN optimization complement each other in respect of their feature sets. With WAN optimization, the focus is on caching, TCP optimization and compression. SD-WAN services offer a more direct traffic treatment, with added benefits of sensing path condition in terms of bandwidth, loss and delay. The two technologies are not the same, although SD-WAN services are gradually incorporating WAN optimization techniques.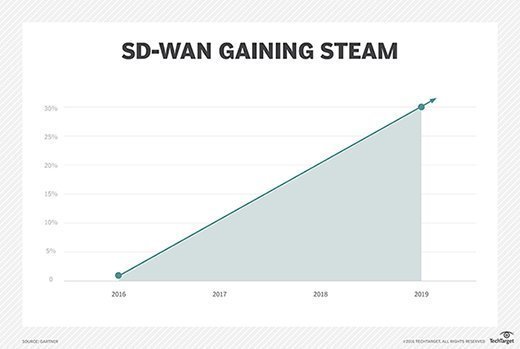 IT teams need to evaluate SD-WAN technology
To conclude, the hype and marketing around SD-WAN cause many of the misconceptions and concerns. As with any new technology, the SD-WAN buzz often distracts from the need for IT teams to conduct thorough network architecture research with due diligence.
We've witnessed telecom services adapt and grow to meet business demands over the years. The changes brought about by SD-WAN services are perhaps the most significant due to the shift in the way we use connectivity. As Layer 3 VPNs moved customers from limited private IP, SD-WAN is moving customers into a world of bring your own device and cloud-based accessibility, with network performance and security. Enterprise users need more from connectivity, along with the ability to seamlessly work, collaborate and access resources from wherever they're located.
The benefits of SD-WAN are promising. But IT teams should consider SD-WAN from a technical product ability viewpoint, rather than from marketing statements about it, which often mask the required detail to make an informed procurement decision.
This was last published in
July 2018