Brian Jackson - Fotolia
SD-WAN vs. MPLS: The quality-of-service comparison
Quality of service is often top of mind for IT leaders when debating SD-WAN vs. MPLS -- especially when it comes to using internet links for SD-WAN connectivity.
Software-defined WAN is marketed as an internet-based technology. The question on most IT leaders' minds when debating...
Continue Reading This Article
Enjoy this article as well as all of our content, including E-Guides, news, tips and more.
SD-WAN vs. MPLS is how quality of service differs between the two.
Layer 3 MPLS VPNs provide end-to-end privacy, with service-level agreements (SLAs) that specify bandwidth, quality of service (QoS), latency and uptime. Although prices for MPLS network services have decreased among MPLS providers, the pricing correlates to the higher demands of corporate businesses.
The internet vs. private infrastructure
The typical enterprise must balance cost-effectiveness with the need to meet specific business objectives. Companies are consuming more cloud-based services across the internet, as the workplace is no longer tethered to the office. In many respects, an MPLS VPN underserves users working outside corporate headquarters, because the typical remote access connection is often supported by an IPsec VPN client with limited functionality.
Let's identify the potential downsides of SD-WAN over internet connections:
The internet is a collection of networks; therefore, application performance cannot be guaranteed on an end-to-end basis.
The internet doesn't recognize QoS markings and sees all network traffic as the same, regardless of type.
SD-WAN providers typically fall into three camps. The includes service providers that are often agnostic where connectivity is concerned. To keep costs down, these service providers may source low-cost internet connectivity from various providers across the globe.
The second set of service providers is the same as the , but their strategy is to use a single public IP backbone where possible.
The third category includes the traditional telecom providers -- think AT&T, Verizon and BT -- that use their own single public IP backbone.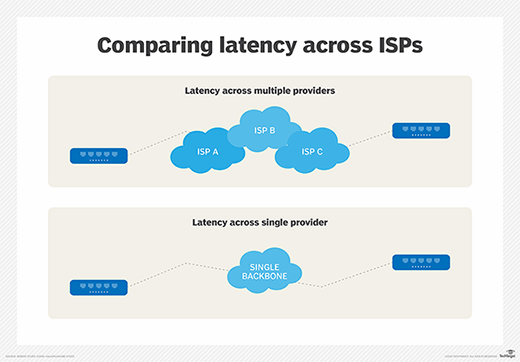 Business application data that travels over numerous public IP backbones -- i.e., internet connections -- will often suffer from unpredictable performance. While many applications will operate well, delay-sensitive traffic may suffer and become unusable.
In comparison, the use of a single internet backbone is a more predictable for corporate traffic. In many cases, premium internet connectivity is backed by latency and uptime guarantees.
If we agree MPLS is a superior platform, based on the benefits of end-to-end privacy and granular SLAs, where are SD-WAN's advantages? Let's consider what's driving the use software-defined networking technology across the internet:
users that need remote access for mobile phones, tablets and laptops;
real-time applications in the cloud that are easily accessible using internet connectivity; and
the cost reduction of using SD-WAN vs. MPLS and SD-WAN's more in-depth capabilities, including a single device that features reporting, security and granular WAN control.
The choice of multiple paths
The majority of customers should align their business requirements with the right connectivity. The result is usually a hybrid network.
To mitigate against potential internet performance issues, SD-WAN offers some clever functionality.
While MPLS offers end-to-end QoS across a single path, SD-WAN's trump card is the technology monitors the state of current network connections for performance issues. This same benefit may be the biggest differentiator of SD-WAN vs. MPLS. Depending on budget, companies can use multiple connectivity types that will fail over based on state. If the primary connection becomes degraded, the typical MPLS service won't offer an alternative path unless a complete outage occurs.
Regardless of circuit or connection type, SD-WAN offers further functionality by sensing network conditions. For example, if latency or packet loss exceeds a certain level, the feature set will look at alternative connectivity for packet delivery.
SD-WAN also supports error correction to assist with data loss -- if an error occurs, the packet is sent again. With a voice conversation, for example, the forward error correction feature will result in the conversation being saved if packet loss occurs.
Finally, if the SD-WAN appliance senses connectivity is untenable for specific applications, it will remove selected functionality based on its software intelligence.
SD-WAN vs. MPLS: The QoS comparison
Ultimately, MPLS is a predictable technology for sending mission-critical or delay-sensitive traffic end to end across the network, with strict QoS against the SLA.
Service providers don't market SD-WAN with a uniform feature set. In some cases, they may only offer internet connectivity with their SD-WAN devices. In others, the SD-WAN may support other types of circuits -- i.e., MPLS, virtual private LAN service or internet.
While QoS on internet-based SD-WAN links is feature-rich, the simple fact is QoS control is local only, with no support for end-to-end traffic control. That said, the benefits of internet SD-WAN are in cost and flexibility. Instead of looking at the choices as SD-WAN vs. MPLS, the majority of customers should align their business requirements with the right types of connectivity. The result is usually a hybrid WAN that can use SD-WAN and MPLS together.
This was last published in
February 2018