kosmin - Fotolia
Network functions morph with SD-WAN deployment strategy
Companies are approaching network infrastructure upgrades with SD-WAN deployment, but a new survey shows they're weighing issues like service chaining and integrated functionality.
Software-defined WAN is redefining how enterprises implement network functions and services.
While functions like routing, firewalls and WAN optimization traditionally run on specialized appliances, the developing SD-WAN market presents alternative strategies for enterprises planning network infrastructure upgrades with SD-WAN deployment.
For example, enterprises can service chain virtual network functions on customer premises equipment in a process that works alongside SD-WAN deployment. On the other hand, SD-WAN appliances increasingly come with integrated functionality and third-party support, which can minimize enterprises' hardware footprints.
But this surplus of options could be slowing the rate at which companies deploy SD-WAN, according to Roopa Honnachari, industry director for business communication services and cloud computing at Frost & Sullivan.
"It's challenging. There are so many different options than ever expected, and we've had the traditional hardware-focused WAN infrastructure for such a long time in the market," Honnachari said. "Enterprises aren't exactly confused, but they're taking their time."
Findings from the 2018 Frost & Sullivan Global SD-WAN Survey, conducted on behalf of Silver Peak, reflect the delayed time frame in which enterprises are deploying SD-WAN. Of the 350 survey respondents in the U.S., 61% said they plan to deploy SD-WAN within the next two years. In contrast, a combined 33% had already deployed or were in the process of deploying SD-WAN.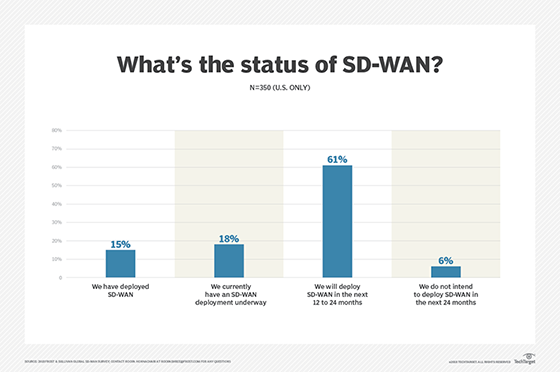 How SD-WAN affects traditional network functions
The slower time to SD-WAN deployment doesn't mean enterprises aren't familiar with the technology, however, Honnachari said. On the contrary, she said she was surprised at how familiar respondents were with SD-WAN technology and the available options for feature integration.
Instead of rushing into network infrastructure upgrades, companies are steering their SD-WAN deployments based on business and network requirements, she added.
"The enterprise side is starting to show some segmentation based on what their core needs are," she said.
The majority of survey respondents said, for example, they would choose an SD-WAN platform that can interoperate with existing WAN optimization services or that comes with integrated WAN optimization. When it came to routing, many U.S. respondents said they would replace their dedicated routers with an SD-WAN service with integrated routing capabilities. And it's no surprise security often takes center stage, according to Honnachari.
"It completely boils down to where the enterprise is coming from," she said. "Security is a key part of any deployment, no matter what you're doing with your digital transformation trend."
SD-WAN vendors are aware of these security concerns, she added, and they are taking the time to highlight security partnerships, interoperability and integration with their SD-WAN offerings. Many vendors, for example, partner with security vendors like Zscaler and Fortinet to integrate SD-WAN with cloud-based security services.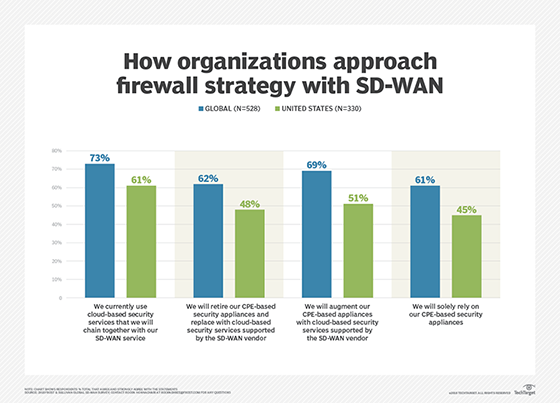 A hybrid approach to SD-WAN deployment
Enterprises aren't exactly confused, but they're taking their time.

Roopa Honnachariindustry director for business communication services and cloud computing at Frost & Sullivan
Because enterprises, vendors and SD-WAN platforms are adapting at the same time, no single SD-WAN deployment strategy exists.
"It's a transitional phase, so there's no clear-cut strategy to what enterprises want to do," Honnachari said.
As enterprises face network infrastructure upgrades, some might opt to wait for their legacy networking vendors to support the integrated functionality they want in an SD-WAN platform, she said. Cisco customers now have the option of using Viptela SD-WAN functionality on Cisco routers, she added.
Other companies might dabble in the developing technology options, taking a hybrid WAN approach. One branch site could deploy an SD-WAN appliance with integrated routing functionality, while another branch site kept its existing router, she said.
In the next few years, however, vendors and their respective SD-WAN offerings will mature, she said, allowing enterprises to settle on their choice of vendor and finalize their network infrastructure upgrades.
For enterprises evaluating service chaining versus integrated functionality, Honnachari recommended going with integrated functionality, emphasizing the differences in service-level agreements and performance levels.
"An integrated option is much better than where you have to service chain and manage it separately," she said. "You can still achieve the same, but [service chaining] is more complex and more time-consuming."
This was last published in
September 2018