SD-WAN deployment in the works? Consider these 3 things
SD-WAN can simplify the deployment and management of new branch WANs, but there are some key configuration and technical choices you must make to get started.
For businesses running wide area networks, the challenges with deploying and managing new branch locations can create a host of headaches. A software-defined WAN helps simplify much of the deployment and management chores, but making the move to SD-WAN is not a straightforward task. Network teams will need to explore some key configuration and technical decisions to ensure success.
To begin, any business looking at an SD-WAN deployment almost certainly has a WAN infrastructure already in place. The SD-WAN will be an overlay on top of that existing infrastructure. But SD-WAN is available in different deployment models, and the actual architecture can vary -- there is no one-size-fits-all option.
Match SD-WAN deployment to WAN architecture
Centralized businesses, where headquarters makes all of the decisions, may choose to deploy SD-WAN in a hub-and-spoke model that forces all traffic through the headquarters. More decentralized businesses, where branches have more autonomy, could choose a direct connection to cloud services, which reduces the load on IT at headquarters.
Another option is a cloud-hosted model. If an organization uses a third party to run SD-WAN, then the managed service provider will most likely host the software in the cloud so that it has full access at all times.
Another option is a hybrid model -- not to be confused with a hybrid cloud -- that enables a hub-and-spoke architecture along with a second direct connection to cloud services. This is a popular variation for business that are highly reliant on the cloud or for branches with large amounts of internet traffic.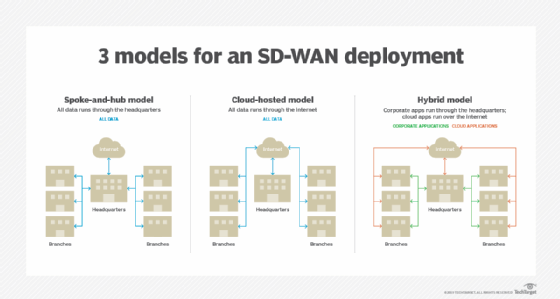 Evaluate where to deploy the SD-WAN controller
Every SD-WAN requires a centralized controller, but network teams have flexibility in choosing whether they deploy the controller in the data center or the cloud.
Businesses with experienced IT personnel may want to deploy the controller in their data center, whereas businesses that outsource WAN management or have IT resources in branch locations might opt for a cloud-based deployment instead.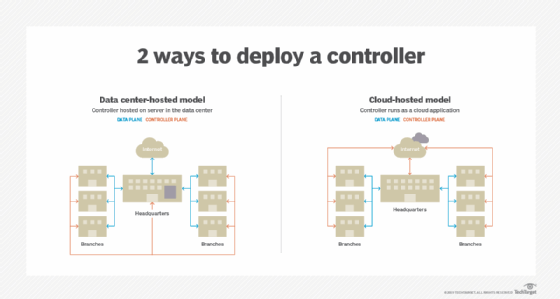 Assess connectivity choices for SD-WAN deployment
By default, every WAN requires a primary connection. In the past, the most prevalent choice for this connection was usually MPLS. A second connection, whether for load balancing, redundancy or traffic segmenting, was typically difficult to configure.
With SD-WAN, network teams can easily provision and manage multiple connections through the SD-WAN controller. The transport types do not need to match, and one could argue that transport diversity can lead to better overall reliability, as the two connections will most likely traverse different circuits and physical layers.
Again, centralized businesses may opt for dual connections to the headquarters for redundancy. More decentralized businesses, or those looking for better traffic segmentation, may choose alternate paths for data over different physical connections.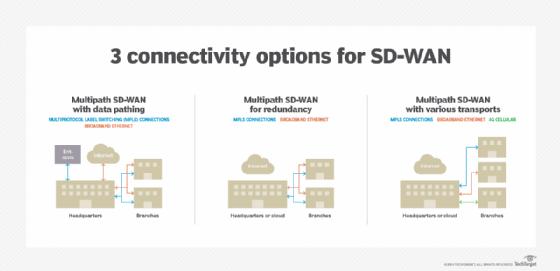 You may notice a trend: The introduction of SD-WAN brings more flexibility and choice to the business. This is true for data handling and also for the management of the business.
SD-WAN can empower branch organizations and give them more ownership, provided that's something headquarters is keen to do. Additionally, if decision-makers at headquarters still want to exert a higher level of control, they have the ability to host the controller internally and route all traffic through their location.
Dig Deeper on WAN technologies and services