Getty Images/iStockphoto
White box networking use cases and how to get started
Rising cloud costs have prompted organizations to consider white box switches to lower costs and simplify network management. Here's what to know about white box networking.
In an effort to reduce cloud costs, some enterprises are removing certain workloads out of the cloud to run them in their data centers.
When enterprises bring workloads home, they focus attention back on data center operations, which renews interest in ways to reduce data center operations costs. This might motivate organizations to explore white box networking to generate considerable savings at scale.
What is white box networking?
White box networks use unbranded network hardware. Original device manufacturers (ODMs) build switches for big-name network vendors to add to their proprietary firmware and software. But ODMs also build unbranded network switches, known as white box switches.
Enterprises load white box switches with their own software in place of proprietary material. This software can take the form of a standalone switching OS that makes the box an unmanaged switch or a data plane device OS. A data plane OS makes the device part of a software-defined network, which a separate device acting as an software-defined network controller manages.
Manufacturers use commodity network chips -- also known as merchant silicon -- from vendors such as Broadcom or Intel and general-purpose x86-type CPUs to build white box switches. Organizations typically buy these switches directly from the manufacturer or from a VAR.
Big-name network vendors sometimes sell gray box switches without their intellectual property, but the switches remain subject to their quality checks and remain eligible for support. This is also known as brite box networking.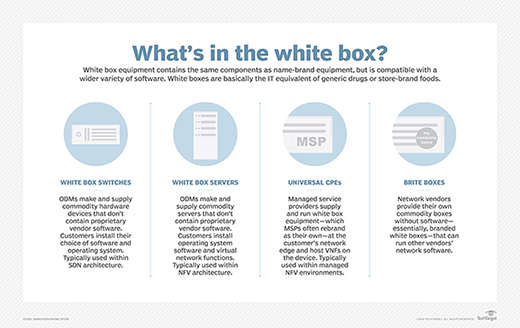 Some switch software is free and open source code, such as Linux Foundation OpenSwitch or Open Compute Project's Open Network Linux platform. Proprietary options are also available from vendors like Arista Networks or Pica8.
White box switches can fill any switch role: core, distribution, edge, spine, leaf and data center. Also, because network pros can deploy white box switches in a full software-defined network, these switches can serve the more flexible role of the software-defined network data plane device.
White box switches can perform the following tasks and more:
Move packets like a switch.
Block packets like a firewall.
Distribute packets like a load balancer.
White box switch use cases
Enterprises have two main reasons for why they might want to fold white box switches into their strategies: cost and independence.
On the cost side, white box switches can save a significant amount when compared to conventional vendor-driven platforms. Research models from Nemertes, based on multiple organizations, found that organizations could save from 30% to 70% on hardware alone, compared to discounted name-brand switches. Enterprises without shelf-spare models could yield additional savings on maintenance and support.
On the independence side, many organizations feel locked in by their primary network vendor and its approaches to licensing, maintenance and support. Enterprises with advanced needs can find themselves limited to the products their vendor releases and when their vendor releases them.
Enterprises with basic needs carry the weight of expansive feature sets full of capabilities they never use. These features bloat the software and increase the volume and frequency of bug fixes. This also increases the threat surface of the platform and creates more opportunities for misconfigurations.
Not only do white box switches use network OSes that tend to be free of needless features, but they can also run a variety of platforms, which enables enterprises to find platforms that serve them best.
How to make the change to white box switches
Enterprises that plan to replace proprietary switches with white box switches should plan for the transition. Organizations must consider the following steps:
Replace their hardware.
Transition staff skill sets.
Transition processes and support tools.
Enterprises should test and communicate at every stage of the transition.
White box switches can drop into a network and replace any existing switch. However, because there are differences in how to implement and manage configurations, network engineers must plan out how they re-create essential configurations in the new platform.
Network professionals must also test white box switches in a productionlike environment. In that environment, network pros should confirm that existing or new monitoring tools have the necessary visibility for the new platform. Network teams can draft revised documentation, based on the tested procedures used to configure and monitor the new switches, for operations teams to use.
Network teams can then begin a phased replacement of traditional hardware due for replacement. Phases can focus on the migration of a rack at a time or the migration of clusters of racks grouped together functionally to make the replacement process more manageable and create less risk for ongoing operations.
For example, network engineers can replace hardware aging out of use along with hardware with years of service left so the entire rack or segment of the data center is on the new platform. In that case, network pros can also let switches with life left in them enter other racks or segments where traditional switches will soon become outdated.
This was last published in
March 2023