Share this item with your network:
Building the infrastructure for the changing face of IT

ltstudiooo - Fotolia
Small SDN providers' cost, flexibility appeal to enterprises
VMware's NSX and Cisco's ACI are the main SDN providers on the stage, but smaller vendors can offer enterprises flexibility and cost savings.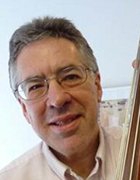 By
When it comes to software-defined networking, there's VMware's NSX, there's Cisco's Application Centric Infrastructure and then there's everything else.
Included in "everything else" is a number of SDN providers that enterprises continue to find attractive. As organizations consider their SDN options, they should look into what those smaller vendors have to offer.
The benefits of using the bigger SDN providers are that they are focused on security and features like automated configuration and policy management that can scale across large enterprise networks. But the smaller players can also offer cost savings and flexibility that appeal to small and midsize businesses, according to network professionals.
To prove the point, the need for greater agility drove U2 Cloud LLC, an IT company that provides desktop as a service to government, financial services and commercial clients, to consider different options for building its network infrastructure, according to Pete Valentine, executive vice president for the company, based in Green Cove Springs, Fla.
Developing flexible protocols and software that lets network managers mix and match traditional switches from any vendor was the original goal of SDN
U2 Cloud already uses a VMware environment, Valentine said, but when the company began looking at SDN providers four years ago, VMware's NSX network overlay product wasn't yet mainstream. Instead of going with VMware automatically, the company's primary choices were Cumulus Networks or Big Switch Networks Inc.
Big Switch won because U2 Cloud liked the way its operating system could be integrated into its VMware environment, Valentine said.
"We like that we can use an engineer [trained on VMware] to run this system," Valentine said. Big Switch's software enables U2 Cloud to create its own policy and security settings and gives the company more visibility into the network to see the logs and know where each packet has gone, he added.
Cost was also a big motivator. Valentine said a traditional proprietary switch with the vendor OS running on it costs around $40,000, but U2 can buy a white box switch for $6,000. The white box approach also provides flexibility in terms of how much microsegmentation his smaller organization really needs.
"I don't need to put that ramped-up security with only 10 to 15 users," Valentine said.
SDN providers think inside the white box
Developing flexible protocols and software that lets network managers mix and match traditional switches from any vendor was the original goal of SDN, according to Dan Conde, an Enterprise Strategy Group analyst who covers networking and cloud technologies.
As various elements of SDN hit the market over the last several years, many businesses found that running an open, separate operating system from SDN providers, like Cumulus Networks -- which works by replacing proprietary switch interfaces from large, legacy switch vendors with common Linux interfaces -- and Big Switch Networks on commodity white box switches, offered flexibility and cost savings. For network managers who still wanted to purchase a networking product from a single vendor, Arista Networks took a different SDN approach, providing both commodity-style switches based on so-called merchant silicon chips and proprietary network software.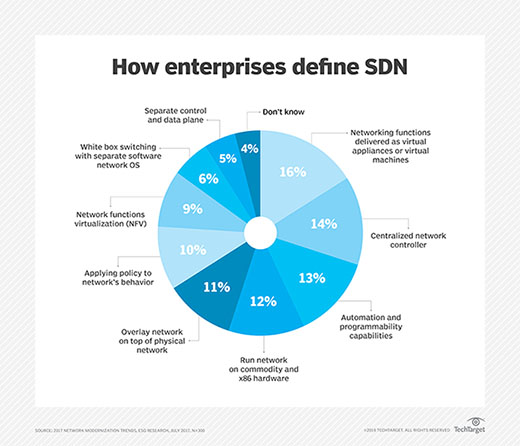 Networking customers have started to respond to these new trends, pointing out that many networking devices and software from Cisco and the other incumbents now run on commercial off-the-shelf chips, including x86 chips and other merchant silicon, as opposed to more expensive, custom, proprietary chips.
That said, enterprises are conservative and have been largely unwilling to try a white box switch and install a disaggregated network OS on it, primarily because they don't know who to call, the hardware or software company, if something breaks down, Conde said.
So while firms like Cumulus and Big Switch have blazed the trail with separated operating systems and switches, their business model isn't mainstream in the enterprise yet, largely because networking customers still prefer to purchase a networking switch and hardware from a single vendor, Conde said.
"The tricky part is that white box switching is more than x86 -- you need to put on a network processor, so you can't just convert a plain server into a network device," Conde added. "That's why white box switches include a CPU and some network processing power based on Broadcom processor chips."
Vendors like Arista have successfully integrated merchant network processors and software into one box, Conde said. Over time, traditional network vendors have also adopted merchant silicon, like Cisco did in its Nexus 9000 series switches.
Consolidated OS streamlines operations
The allure of white box switching to modernize its network led SaaS company LogicMonitor Inc. to look at Cumulus Networks' SDN product. The company, based in Santa Barbara, Calif., developed a SaaS application to monitor enterprise IT and needed a network infrastructure that could be as fast and agile as the applications it delivered to customers.
In the past LogicMonitor ran multiple network devices, each with its own operating system, feature set, and licenses, LogicMonitor network engineer Andrew Martin said. Managing the different devices was time-consuming and expensive. Having one operating system through Cumulus streamlined its operations.
Test your knowledge about SDN and modern data center networking architecture
Evolving business needs demand a new approach to data center networking. Keep yourself updated on SDN, virtual extensible LAN and other technologies with this quiz.
"If we need to spin up 20 racks in a hurry to meet demand, we didn't want to have to deal with four separate vendors, each one with a different license, possible bugs and configuration disparities," Martin said. "With Cumulus, we now have one operating system and don't have to worry about four or five different configurations."
The basic function of a switch is to enable networked devices to talk to each other efficiently, Martin said. By running Cumulus over white box switches, LogicMonitor saves significant money on switching and licensing costs. The company also reduced labor costs because it can cross-train its engineers to operate the Cumulus operating system.
"Another big benefit is that Cumulus is built over Linux, so our engineers can do automated configurations and policy management with tools like Puppet and Ansible," Martin said. LogicMonitor can utilize its existing staff to help get tasks done because utilizing tools like Ansible eliminates the need to train employees on vendor-specific configuration interfaces, he added.
The software-based networking options offered by Cisco, VMware and other vendors to improve network efficiency are enough to keep enterprises interested in being part of the evolution of SDN. Where the larger players can offer advanced security and features, the cost and flexibility offered by smaller SDN providers continue to be attractive alternatives for organizations.
This was last published in
February 2018
Dig Deeper on Network Infrastructure