cherezoff - stock.adobe.com
Pica8 Nymble provides branch network automation
Pica8's second branch product provides network automation and provisioning. But the jury is out on whether Pica8 Nymble can compete with offerings from established vendors.
Network software maker Pica8 has introduced technology to remotely provision and configure white box switches across branch offices, providing a necessary tool, but no clear overall cost savings, in competing with incumbent vendors like Cisco and Aruba.
This week, Pica8 formally launched its Nymble Automation Framework, which has been generally available since the end of the first quarter. The announcement came the same week Cumulus Networks, another maker of white box switching software, also released enterprise-friendly network management software.
The Pica8 Nymble announcement came almost a year after the vendor released an application it said would simplify the deployment of branch and campus switches running Pica8's PicOS network operating system (NOS). The product, PicaPilot, which was for wired infrastructures only, marked the privately held company's entry into the campus and branch market led by Cisco and Aruba, a Hewlett Packard Enterprise company.
What's in Pica8 Nymble
With Nymble, Pica8 provides network automation and configuration management through the use of an open source platform called Ansible. The technology supports provisioning of PicOS-powered switches, centralized installation of configuration files, and automatic upgrades.
The Nymble framework comprises a web-based interface for creating switch-specific configurations that the software would store in the customer's database. Connected to the latter is an Ansible-running server connected to the PicOS switches.
The Nymble framework runs on the customer's cloud computing environment. Pica8 includes the product with a PicOS license.
Customers who deploy Nymble on an open Dell switch, for example, would get hardware support from Dell and software support from Pica8.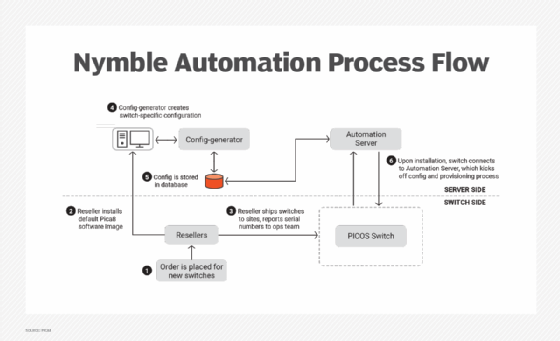 Pica8 versus incumbents
Pica8's entry into network automation for the branch comes as more established networking vendors offer similar capabilities and more. Cisco and Aruba, for example, are selling management software that spans WANs, as well as wired and wireless LANs.
Network management and automation tools are among the top five most popular areas in IT spending this year, said Bob Laliberte, an analyst at Enterprise Strategy Group, based in Milford, Mass. Companies want tools that let "IT teams spin up new services more quickly and eliminate time-consuming manual processes."
The business case for Pica8 as a campus and branch solution would have to be built around saving time and saving money -- both.

John Burke Analyst, Nemertes Research
But whether Pica8 or other NOS makers offering software on open hardware provide less expensive networking -- based on the total cost of ownership -- than proprietary systems is a long-standing debate. In 2015, Forrester Research reported there was "little cost difference" between white box switches and proprietary hardware when both are running merchant silicon.
Therefore, Pica8 will have to show savings that outweigh the risk associated with leaving an incumbent vendor for a smaller, less-established supplier.
"The business case for Pica8 as a campus and branch solution would have to be built around saving time and saving money -- both," said John Burke, an analyst at Nemertes Research.
Nevertheless, an opportunity does exist for vendors focused on open hardware. Burke has found many companies unhappy with their incumbent vendors, citing high costs, feature bloat, and complicated licensing and maintenance.
"If folks have to rip and replace what they have in campus and branch closets to get real SDN [software-defined networking] and automation from their current vendor, that definitely opens the window of opportunity for Pica8," Burke said.