Andrea Danti - Fotolia
The future of SPARC/Solaris is cloudy -- in multiple ways
Cutbacks by Oracle have put the future of SPARC and Solaris in doubt, but the vendor says it's still committed to the technologies as part of its enterprise cloud strategy.
On more than one occasion, Oracle's SPARC hardware platform and Solaris operating system have been pronounced dead and relegated to the technology graveyard by industry pundits.
Oracle has continued to revive the duo, though, first with the introduction of its SPARC M8 processor last fall, and then with the open beta release of Solaris 11.4 in January. Oracle updated the 11.4 beta in April and has indicated that general availability is just around the corner -- likely this summer.
The dire proclamations that have surrounded the future of SPARC/Solaris are to a great degree the fault of Oracle's own actions and mixed messages. At one point, for example, the SPARC processor roadmap clearly indicated that Oracle planned to deliver new versions of both its M and T processors in 2017. Instead, since 2015, the company has based all of its new M and T systems on the M7 and then M8 chips -- with little explanation of the T processor family's demise.
Also, in 2017, Oracle laid off a significant number of employees on the SPARC and Solaris teams -- as much as 90% of the teams, according to some accounts. The layoffs came after a joint announcement with business partner Stromasys of an emulator that enables SPARC applications to run in the Oracle Cloud, suggesting that Oracle is moving toward a more cloud-centric future and perhaps leaving SPARC behind.
A reset on SPARC and Solaris?
Given the signals coming out of Oracle, it's no surprise that many people have concluded that SPARC and Solaris are on their way out. But Oracle appears unwilling to fully close the door on the technologies. This past March, the company published a new roadmap that clarified its SPARC/Solaris development plans, at least to an extent.
If all goes according to plan, Solaris 11.4 will be followed by another OS update currently referred to as Solaris 11.next. That's in keeping with Oracle's transition of Solaris to a so-called continuous delivery model last year, when it dropped plans for a Solaris 12 version. Instead of the traditional major releases that include lots of new features, Oracle now says it will provide Solaris updates through annual dot releases that are meant to be less disruptive to users and more consistent with current cloud trends.
Servers and engineered systems based on a planned SPARC M8+ processor will become available in 2020 or 2021, according to the roadmap, which also indicates that Oracle will continue to offer its SPARC IaaS cloud technology.
The roadmap doesn't provide any other information about the future of SPARC and Solaris except to suggest that the OS, SPARC hardware and IaaS offering will be ongoing concerns for the foreseeable future, as indicated by a set of arrows that point beyond 2022. Separately, Oracle has promised to continue Premier Support for Solaris 11 until at least 2031 and Extended Support until at least 2034.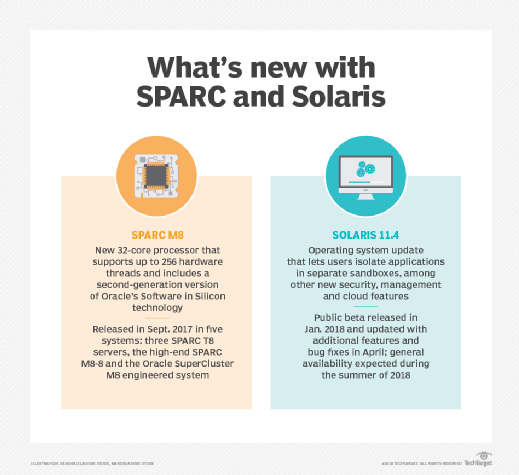 Oracle's SPARC/Solaris sales pitch
Despite Oracle's efforts to turn public opinion around, there's still a lack of specific details about the long-term Oracle SPARC/Solaris strategy and how the company plans to keep the technologies relevant to today's enterprise.
However, a closer look at the marketing materials surrounding these products -- along with their newly introduced features -- makes it apparent that Oracle has at least one clear target in mind: the enterprise cloud environment. For example, the company's data sheet for the Solaris 11.4 beta release includes 32 references to the cloud.
Oracle is backing up its cloud ambitions with an assortment of features aimed at supporting cloud workloads. For example, in Solaris 11.4, IT administrators can run periodic assessments of system security, set up the results to be pushed or pulled to a central location, and create graphs of security compliance status over time -- all critical considerations in a cloud infrastructure.
Solaris 11.4 also supports data encryption at rest and in motion, and it provides what Oracle describes as a set of cloud-safe access management tools that support features like multifactor authentication, activity-based user access, and remote auditing and alerting.
Few seem as gung-ho about the future of SPARC and Solaris as Oracle itself professes to be.
Additionally, the OS offers built-in virtualization, as well as these other features to help support more cloud-friendly implementations:
Its Tamper Evident Software feature is designed to ensure that only trusted software that has been properly signed by administrators can be installed on a SPARC/Solaris system.
Admins can use an application sandboxing capability added to Solaris 11.4 to isolate applications from each other and to isolate data in virtual machines.
Solaris supports an immutable lifecycle, allowing administrators to control what gets installed and to lock down environments for tighter security.
Unified Archives make it possible to archive multiple system instances in a single file format, making it easier to move existing on-premises installations to the cloud.
Future of SPARC and Solaris remains unclear
While Oracle is trying to reset the SPARC and Solaris discussion to a more cloud-centric agenda, it's not yet clear to what degree the technologies will be part of the future enterprise IT landscape. That will depend to a great extent on whether Oracle can overcome the trepidation that many user organizations feel as a result of all the bad press. Few seem as gung-ho about the future of SPARC and Solaris as Oracle itself professes to be.
Even so, at least one other vendor is willing to swear continued allegiance to the platform. Oracle's die-hard partner, Fujitsu, has stated quite publicly that it is 100% committed to SPARC and Solaris, going so far as to provide its own roadmap for the development of SPARC-based systems through 2020.
Whether all of this is enough to convince Oracle users sitting on the sidelines that there's still a SPARC and Solaris game to jump into remains to be seen. No doubt much will hinge on Oracle's own follow-through on its promises -- and whether it's truly serious about continuing to invest in the SPARC/Solaris line.
Dig Deeper on Oracle architecture and integration