Luiz - Fotolia
What's new in SAP HANA Cloud Services and why it matters
Access to HANA in-memory data processing from a scalable elastic cloud and new options for balancing cost and speed are the main benefits of SAP's important new HANA offering.
At Sapphire 2019, SAP announced the upcoming SAP HANA Cloud Services. While most of the announcement was covered in the conference keynote, its ramifications and the exact details of what will be provided, and how, are missing.
I'll go through what was announced with an eye to trying to understand what SAP is providing with HANA Cloud Services and how the offering will affect customers' experience with HANA.
What is SAP HANA Cloud Services?
Currently, HANA Cloud Services isn't a product available to customers, even as a trial. It was announced, with a marketing website and beta signup, but with no services that you can either try or buy. SAP has promised a set of capabilities for HANA Cloud Services, as well as applications running on top of it, including SAP Analytics Cloud and SAP Data Warehouse Cloud.
The promised capabilities include much of what is available with an on-premises HANA system, with additional capabilities. Some features are also left out, such as the XS Advanced runtime. A partial list of the features includes:
semantic layer;
tiered data storage;
virtual data access;
replication;
security; and
a variety of data stores and data sources.
The promise of SAP HANA Cloud Services appears to be to make HANA's data processing features truly available under an elastic cloud model: able to scale on demand to grow to meet customer needs, then shrink when it is no longer needed, to keep budgets under control. Meanwhile, the tiered data storage options and virtual data access allow tradeoffs between cost and speed that were not previously possible with HANA.
Perhaps the most compelling feature for the swath of HANA on-premises customers is the option to use SAP HANA Cloud Services as an elastic scale-out option to even out bumpy usage patterns, allowing smaller sizing of on-premises HANA systems. But how exactly this elastic scale-out feature might work was not directly addressed, nor was it demonstrated. So we will have to wait and see what use cases it addresses.
The need for HANA Cloud Services
SAP HANA Cloud Services is a welcome addition to SAP's product line, especially because it focuses on HANA's data processing and integration capabilities, which I believe are HANA's strongest features. HANA in a cloud context has suffered to some extent due to the lack of a competitive cloud-delivery model. The HANA Service for SAP Cloud Platform and the deployment options on Google Cloud Platform and AWS are the closest we have now. But they are not at feature parity with services like AWS's Relational Database Service (AWS RDS), Amazon Aurora or Amazon Redshift, which allow for push-button scaling, transparently applied updates and automated high-availability deployment. None of these services completely mitigate the need for a database expert, but they certainly reduce it.
If SAP HANA Cloud Services can deliver a solution that provides push-button scaling, high availability, and zero-downtime updates on a pay-per-use model, then it will greatly ease HANA adoption for potential customers.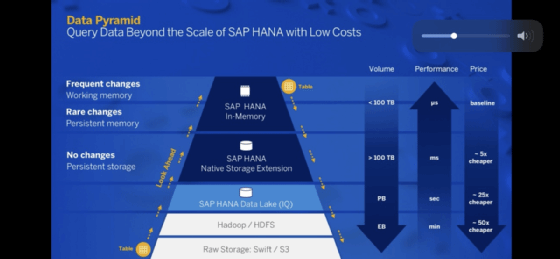 The wait and see
This brings me to the point where I must recommend a large dose of caution. None of this functionality is currently available for customers to try. We will have to wait and see what SAP is able to deliver at what times. It is unlikely that the first release will fully deliver on the feature set discussed at Sapphire, but perhaps we will be surprised. It will remain difficult to plan IT architecture and purchasing decisions around HANA Cloud Services until we know more about the planned roadmap and are able to test it under our own workloads to verify performance and behavior.
Additionally, some of the features that SAP is promising are extremely difficult to deliver. Such features include virtual data access and multiple data storage options with smooth price-performance tradeoffs. Applications can be built with tiered storage concepts when access patterns are well known, but a general-purpose solution has yet to be seen because behavior can vary wildly depending on exactly how data is being used. I expect that SAP will deliver tools to implement applications using different storage tiers as well as virtual or replicated data access but will not attempt to make these processes fully automatic, at least in the early releases.
What we don't have to wait for
Fortunately, we don't have to wait for all of the features that will come as part of HANA Cloud Services. SAP has delivered HANA Native Storage Extensions as part of HANA 2.0 SP04, so customers can start keeping live data on the disk today (see figure). It appears that Native Storage Extensions are a result of the work on separating compute and data storage in the HANA engine that SAP discussed in the Sapphire 2019 keynote. Hopefully, more of that work will continue to be available on premises.
Similarly, some features of SAP Cloud Data Warehouse are already available in an earlier form in BW/4HANA, especially the Workspaces concept. And SAP Analytics Cloud is currently available. So, it is possible to start looking at these products and beginning to think through how they might fit into your future data management architecture, with added features SAP has said are part of HANA Cloud Services.