Definition
cloud workload protection (cloud workload security)
Cloud workload protection is a process of safeguarding workloads spread out across multiple cloud environments. Businesses that use public and private clouds can use a cloud workload protection platform to help defend themselves against cyber attacks.
Cyber attacks can be used to target enterprises and have the potential to severely compromise their systems. In addition, as an organization's use of cloud computing infrastructure grows, so does the attack surface and number of potential vulnerabilities. If an organization is going to use multiple cloud services, then it is a good idea to also use a cloud workload protection platform.
Cloud workload protection relies on two different methods of protection: microsegmentation and bare-metal hypervisors.
Microsegmentation divides the data center into separate security segments before then establishing security protocols for those segments. Comparatively, bare-metal hypervisors use virtualization software to create virtual machines (VMs). It involves separating the software from the hardware on a computer. If a virtual machine is compromised, the issue will be restricted to workloads on that server and not to workloads on other virtual machines.
What is a cloud workload?
A cloud workload refers to the cloud-based resources and processes that are required to operate an application, service or capability. Some examples of cloud workloads would include databases, web servers, virtual machines and containers.
A cloud workload can also be described as an independent service or repository of code capable of being executed.
Why is cloud workload protection important?
The workload encompasses the application, generated data, entered data and the network resources that facilitate a connection between the application and user. Cloud workload management is critical because an application won't work as intended if any portion of the workload is adversely affected. If an organization that uses cloud services is attacked, then cloud workloads can become compromised and potentially stop working.
Cloud workload security is a complex matter since workloads pass among various hosts and vendors, so protecting the workload can become a group effort. However, protecting cloud workloads will help ensure the security of an organization.
Cloud workload security threats
Misconfiguration is one potential cloud workload security threat. If access management systems are not set up correctly, higher instances of vulnerabilities can be created. A study from Divvy suggests that close to six in 10 cloud data breaches stem from misconfiguration issues.
Access is another potential security threat affecting cloud workloads. This issue surrounds cybercriminals who employ phishing techniques to obtain access credentials. To help avoid this issue, an organization should have a complete and limited list of who can access sensitive data. Those employees should then be trained to know how to avoid suspicious emails and email attachments.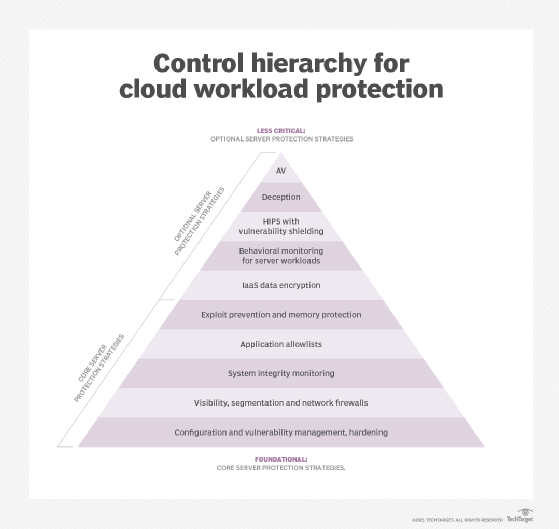 Benefits of cloud workload protection
Implementing cloud workload protection can aid in:
Managing workload behavior.
Consolidating security alerts to one dashboard view.
Increases workload visibility and management in multiple cloud environments.
Handling memory protection. This aids in thwarting cybercriminal attempts that take advantage of vulnerabilities.
Getting consolidated log management to eliminate the need to monitor multiple security technologies.
Challenges of cloud workload protection
Challenges of cloud workload protection arise due to the fact that workloads may move through multiple cloud-based environments. These environments, in turn, may be owned and safeguarded by multiple vendors. Each of these vendors must play an active role in security and must focus on workload protection to eliminate the sort of vulnerabilities that cybercriminals focus on.
Cloud workload security best practices
Cloud workload security best practices include:
Adopting a zero-trust policy that requires all internal and external results to be verified.
Processes to control and keep track of inbound and outbound traffic -- to differentiate between legitimate requests and illegitimate requests.
Occasional company-wide tests to gauge the effectiveness of corporate security preparedness.
What is a cloud workload protection platform?
Cloud workload protection platforms (CWPPs) are used to safeguard containers, physical servers, virtual machines and cloud infrastructures from online threats. They are security tools that home in on the specialized protection needs of workloads across corporate environments. This software, often agent-based, is especially critical to the race to keep up with the evolution of cloud-native software.
If an organization uses the cloud, then a CWPP is recommended to protect against the ever-present threat of cybercriminals or bad actors. These platforms help an IT cybersecurity team to assess risk, find vulnerabilities and discover misconfigurations on an ongoing basis -- to ward off online threats.
Differences between CWP and CSPM
The main difference between cloud workload protection (CWP) platforms and cloud security posture management (CSPM) platforms is that CWP requires data from operating systems while CSPM centers around cloud application programming interfaces. When looking beyond that difference, however, CWPs and CSPMs are more alike than they are different, since both focus on safeguarding sensitive information in the cloud.
Popular cloud workload protection vendors and platforms
Some of the most popular cloud workload protection vendors and their respective platforms include:
CloudGuard, with CloudGuard IaaS Cloud Network Security;
Google, with Google Cloud Platform Security Overview;
Qualys, with Qualys Cloud Platform;
Trend Micro, with Trend Micro Deep Security; and
Symantec, with Symantec Cloud Workload Protection.
As an example, CloudGuard allows users to have a single pane of glass for management and security to their cloud environments. The tool also has features such as dynamic security policies or elastic scalability.
This was last updated in
February 2021
Continue Reading About cloud workload protection (cloud workload security)