A closer look at Kaspersky antimalware protection services
Expert Ed Tittel looks at Kaspersky antimalware product Endpoint Security, which provides multilayered protection against malware, phishing attacks and other exploits.
Any organization with internet-connected computers or mobile devices that exchange sensitive documents with outside sources needs some type of endpoint antimalware. Kaspersky endpoint antimalware products provide multilayered protection against malware, phishing attacks and many other kinds of exploits.
Kaspersky Lab offers Small Office Security for environments up to 25 employees, four packages aimed at businesses with 26 to 1,000 employees -- Endpoint Security for Business Cloud, Endpoint Security for Business Select, Endpoint Security for Business Advanced and Total Security for Business -- and Endpoint Security for Enterprise, which is designed for organizations with 1,000+ employees. The Business Select, Business Advanced and Total Security versions include the same base feature set, but build on one another to give organizations a choice of the components that may be needed in their environments.
This article focuses on Small Office Security and Total Security for Business, which include all the features and can be adopted by small, midsize or enterprise environments.
At the time of this writing, the latest Small Office Security product is version 5 and the latest Total Security for Business product is version 10.
Feature set
Kaspersky Small Office Security has a large feature set that includes antimalware protection for Windows workstations and file servers, antimalware and antitheft protection for Android devices, a firewall, application and web controls, file-level encryption, antiransomware protection, online banking protection, antiphishing and antispam features, online backup and password management, and centralized and remote management.
Total Security for Business is Kaspersky's pinnacle endpoint security product, which is designed for large and complex networks, but is flexible enough for small environments that need a comprehensive feature set. The package includes every feature currently available through Kaspersky for endpoint protection. That means everything covered in Small Office Security, as well as mobile device management; vulnerability scanning; patch management; distribution of OS golden images; full disk encryption; role-based access control; device control; and protection of web gateways, email servers and collaboration systems. The System Watcher feature collects system information for current and previous sessions, detects malicious activity on the system and can roll back actions taken by malware.
Platform coverage
Kaspersky Small Office Security 5 supports Microsoft Windows XP Home Edition (Service Pack 3 or higher) through Microsoft Windows 10 (32- and 64-bit). Supported servers include Microsoft Windows Server 2008 R2 Foundation (Service Pack 1 or higher) through Microsoft Windows Server 2016. The product also supports Macs (macOS 10.9 and higher) and many versions of the Android OS and Apple iOS mobile operating systems.
Total Security for Business supports the same operating systems as Small Office Security, along with Windows Enterprise editions, Microsoft Exchange Server, Microsoft SharePoint Server, Microsoft Internet Security and Acceleration Server, and Linux workstations and file servers.
Performance
In tests conducted by AV-Test in November and December 2016 on Windows 10, Kaspersky Lab Small Office Security 5 scored 18 out of 18 when evaluated for protection, performance and usability, which tied for first place out of 12 tested solutions. During the same period and same set of tests, Kaspersky Lab Endpoint Security 10, on which Total Security for Business is based, scored 17 out of 18.
AV-Test bestowed Kaspersky Endpoint Security and Small Office Security the Best Protection 2016 award, given annually to a corporate product for delivering outstanding protection performance. Small Office Security also won the Best Performance 2016 and Best Usability 2016 awards.
Kaspersky achieved a 99.8 percent protection rate from AV-Comparatives during the July-November 2016 real-world protection test period.
Manageability
Small Office Security is installed on individual workstations to run as a stand-alone product, although an administrator can install the management console component on a file server to push updates to the workstations across a network.
Similarly, Total Security for Business can be installed on individual endpoints, but it's designed for central management from a server. No Kaspersky endpoint products for business require a server, but its server-based management component makes administration easier.
Pricing and licensing
Kaspersky Small Office Security products are licensed per user in quantities up to 25 users. Customers can purchase licenses online from Kaspersky, but must contact a preferred software reseller or product provider for quantities above 25. Kaspersky recommends that all customers purchase products through a reseller partner for best pricing, which may differ from the manufacturer's suggested retail price (MSRP).
Kaspersky Total Security for Business -- as well as Endpoint Security for Business Cloud, Select and Advanced -- is licensed per node. Cloud, Select and Advanced licenses in quantities up to 150 nodes can be purchased online from Kaspersky; larger amounts and Total Security for Business licenses must be purchased from a reseller partner.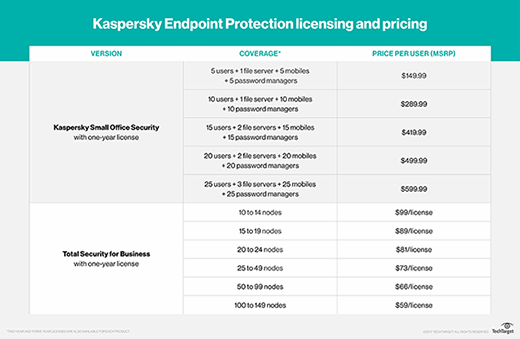 A free, fully functioning 30-day trial for each endpoint security product is available online.
Support
General support consists of free downloadable tools, online help (a detailed knowledge base, articles, how-to videos and a forum), as well as standard customer support by phone during usual business hours, Monday through Friday.
Customers can purchase premium support for priority issue resolution and for direct access to Kaspersky Lab technical experts. Kaspersky offers four packages: MSA Start, MSA Plus, MSA Business and MSA Enterprise. Each package provides assistance with increasingly larger numbers of premium incidents, and offers shorter response times and more access to technical experts.
This was last published in
August 2017