Symantec Endpoint Protection and the details for buyers to know
Expert Ed Tittel examines Symantec Endpoint Protection, an intrusion prevention, firewall and antimalware product for physical and virtual endpoints.
Symantec Endpoint Protection is a client-server software platform that provides layered security for physical and virtual endpoints aimed at environments with more than 250 users.
A similar product, Symantec Endpoint Protection Small Business Edition, is designed for smaller environments with more limited administrative support. A cloud-based version -- Symantec Endpoint Protection Cloud -- is also available for small to medium-sized organizations.
This article focuses on version 14 of Symantec Endpoint Protection.
Feature set
Symantec Endpoint Protection includes antivirus and antimalware, a firewall and intrusion prevention component, host integrity checking, external media control, application control, network access control, and website browsing protection. Behavioral monitoring uses machine learning to prevent most zero-day attacks, as well as to stop the spread of an infection if an attack breaches network or system security. The Power Eraser component enables administrators to scan an endpoint from the management console to remove an infection remotely, and System Lockdown handles application whitelisting and blacklisting.
Endpoint Protection does not protect mobile devices, and Endpoint Protection Small Business Edition does not include email protection, application control or support for virtual environments.
The Symantec Global Intelligence Network, one of the largest of its kind, analyzes data from hundreds of millions of users and sensors and works with Symantec's Insight and SONAR (Symantec Online Network for Advanced Response) technologies to identify and categorize current threats.
To increase performance, Endpoint Protection uses scan elimination and deduplication techniques to reduce the number of files it must scan on each pass. Additional Endpoint Protection features then prevent malware and other threats from affecting customer endpoints.
Platform coverage
Symantec Endpoint Protection supports Microsoft Windows Vista through Microsoft Windows 10 client systems, macOS and several Linux distributions. Supported server systems include Microsoft Windows Server 2008 through Server 2016, Microsoft Windows Essential Business Server, Microsoft Windows Small Business Server and several flavors of Linux (Red Hat Linux Enterprise and SUSE Linux Enterprise, among others).
For virtual environments, the solution supports Amazon WorkSpaces, Citrix XenServer, VMware vSphere Server (ESXi), VMware ESX, Windows Azure, Microsoft Hyper-V and VirtualBox by Oracle.
Symantec Endpoint Protection Small Business Edition does not support Linux operating systems, virtual environments or mobile.
Performance
In tests conducted by AV-Test in November and December 2016 on Windows 10, Symantec Endpoint Security 14 scored 17 out of 18 when evaluated for protection, performance and usability.
The highest-ranking products during that period were Kaspersky Small Office Security and Bitdefender Endpoint Security, which both scored 18. Symantec Endpoint Security won the AV-Test Best Protection 2016 award for delivering outstanding protection performance.
Manageability
Symantec Endpoint Protection for on-premises includes a management console that runs on a server and pushes agent software to each client. Administrators can view and manage Windows, Mac, Linux and virtual machine clients and make policy configurations using the console.
Small Business Edition works similarly, but is designed for easier setup and administration. This product enables customers to use a cloud-based host, or to install the management console on an on-premises server.
Pricing and licensing
Symantec Endpoint Protection products are licensed per endpoint with essential support included. Customers can purchase licenses online at the Symantec Store or through a partner for quantities higher than those offered online. The following table lists the manufacturer's suggested retail price per license; additional quantities are available at special pricing. Symantec offers a 45-day money-back guarantee on Endpoint Protection purchases.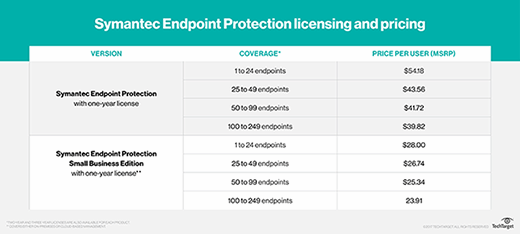 A free, fully functioning 30-day trial of Symantec Endpoint Security or Endpoint Protection Small Business Edition is available from each product's respective website.
Support
General support for Symantec Endpoint Protection includes access to the company's online knowledge base, eLibrary, support videos, a community forum, the SymDiag diagnostic tool, product documentation, and downloadable updates and upgrades.
Endpoint Protection customers may open a support ticket by visiting Symantec's technical support website or by contacting a Symantec support technician by telephone 24/7. Paid support plans, which include direct access to support engineers, faster response times and so on, are available through Symantec resellers.
Support for Small Business Edition includes maintenance, service updates and 24/7 telephone support.
This was last published in
August 2017