What you need to know about blockchain storage
Using blockchain for data storage is growing in popularity. Here, we answer five frequently asked questions about this emerging technology to help you get started.
There's a lot of hype around blockchain storage and its underlying distributed ledger technology. That makes sense, what with IDC forecasting worldwide spending on the technology hitting $12.4 billion in 2022, with a five-year compound annual growth rate of 76% from 2018 to 2022.
However, the reality is it's early days for blockchain and its use in data storage. There are still many details for companies to understand and work out.
Blockchain is based on peer-to-peer, distributed network technology used to validate transactions. It breaks up data and distributes it across thousands of nodes. The technology enables participants to see all the transactions as they happen.
There's a lot to recommend with blockchain when it comes to tracking the movement and storage of data, but there are still a lot of questions surrounding its use for storage. How will enterprises be adequately compensated for being part of a blockchain environment? What strategies are best to minimize risks to participants? What new data security threats will emerge as blockchain storage gains a foothold? How does blockchain compare to other distributed data storage options?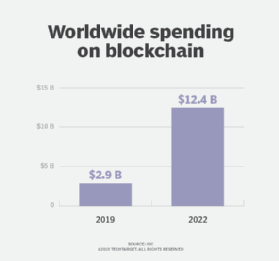 Below, we answer five key questions about blockchain's use for data storage and highlight others that have yet to be answered.
Dig Deeper on Storage architecture and strategy