Melpomene - Fotolia
Tintri by DDN storage customers unsure of roadmap
After buying Tintri in 2018, DataDirect Networks moved to rebuild the VM storage vendor's engineering. But customers claim DDN hasn't communicated product roadmap plans.
Eight months after acquiring Tintri out of bankruptcy, DataDirect Networks said the hybrid storage vendor is on the rebound. The vendor boasted strong sales last quarter, although it provided no numbers.
But DataDirect Networks (DDN) may need to step up outreach efforts to retain loyal Tintri users.
DDN said it has rebuilt Tintri support and engineering. Tintri by DDN operates as a separate engineering division. The vendor said product enhancements this year will center on containers and multi-cloud security.
DDN's only Tintri release so far was a version upgrade to Tintri Global Center that added live migration of virtual machines independently of VMware ESXi. The vendor claimed it has retained most of the 1,400 Tintri customers it inherited, which included more than 20 Fortune 1000 firms.
While many are keeping their Tintri storage, some have expressed frustration at what they perceive as a lack of clarity regarding the long-range Tintri by DDN product roadmap.
'Lack of communication' bothers customers
Tintri storage is "beautiful and simple," said Danny Santiago, a systems administrator for the city of Lewistown, Idaho. The city relies on Tintri as its workhorse, although Santiago said he is adding other storage systems to hedge his bets, including a Pure Storage FlashArray for virtual production storage.
Santiago said DDN needs to clarify its future direction for Tintri. Since DDN consummated the Tintri deal, Santiago said he has had only one contact with a DDN representative.
"There was a dramatic lack of communication when Tintri first got acquired. I know it was a turbulent time, but I feel like this new company should have gotten Tintri's customer list and started marketing aggressively," Santiago said.
He said he learned of the Tintri bankruptcy from a rival storage vendor.
"I got a random phone call from a sales rep who knew we were a Tintri customer. He asked me, 'How do you feel about Tintri shutting down?' I was like, 'What are you talking about?'" Santiago said.
Tintri customer Scott Zemke expressed a similar sentiment. Zemke is a strategic business architect for IT at the University of Arkansas in Fayetteville. Aside from a call shortly after the acquisition, Zemke said DDN has provided few details on the Tintri product blueprint.
"It's surprising, since we had seven or eight Tintri units at the time, so it's not a real small installation. But, yeah, not a lot of contact after the acquisition," Zemke said.
Santiago and Zemke each praised the Tintri storage, however, offering suggestions for future Tintri by DDN feature upgrades.
"I hope they adopt [the ability] to add capacity by adding another blade. It seems they were headed in that direction a little bit, so it will be exciting to see what they're up to now," Zemke said.
Santiago said he wants Tintri to add a VMware plugin "so I could see into my Tintri environment through a plugin tab for storage."
At least one Tintri customer said he had the opposite experience, however. Brock Mowry, a chief network architect with Whoa Networks, a managed service provider based in Hollywood, Fla., said DDN remained in regular contact regarding Tintri's transition.
"We were kept up to date by DDN on the post-acquisition activities and I was even in the booth at VMworld for the [DDN-Tintri] announcement. I'm surprised to hear others had a different experience," Mowry said.
He said Whoa Networks was able to get support and replacement parts promptly while DDN and Tintri worked through the merger process. "We were very impressed with how the transition took place and, in some cases, felt like it never skipped a beat."
Kurt Kuckein, a senior director of marketing at DDN, based in Chatsworth, Calif., said the company is taking a deliberative approach to plan its Tintri by DDN strategies.
The first step was to rebuild support and engineering, including hiring many former Tintri engineers, Kuckein said.
"It was important that we prove to customers that Tintri is back as a viable business. We are spinning the release cycle back up and will be showing customers a healthy roadmap in the not-too-distant future," Kuckein said.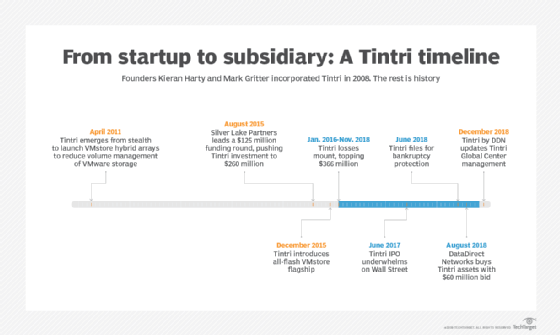 DDN enterprise moves
Former VMware executive Kieran Harty launched Tintri with former Sun Microsystems engineer Mark Gitter in 2011. From the start, Tintri focused on VM-aware storage. Tintri VMstore arrays provide granular analytics for managing virtual machines, helping it gain a foothold in VMware shops.
Tintri launched all-flash VMstore arrays after most storage vendors got into that market. Tintri completed an initial public offering (IPO) in June 2017 amid staggering losses. Observers viewed the IPO as an exit strategy for Tintri's private investors, but the stock received lukewarm acceptance on Wall Street. Tintri filed for bankruptcy in June 2018. DDN in August won a court-sanctioned bid to acquire Tintri for about $60 million.
On Monday, DDN finalized its acquisition of Nexenta software-defined storage to address AI and big data edge environments. The purchase prices was not disclosed. As with Tintri, Nexenta by DDN will run separate engineering and product teams, Kuckein said.
Greg Schulz, a senior advisory analyst at StorageIO, based in Stillwater, Minn., said DDN gains "lots of upside" by adding Nexenta and Tintri customers. He said the challenge will be allowing those engineering teams to operate and innovate as independent brands under the DDN umbrella.
"If DDN simply assimilates the acquired technology with different branding as just another revenue stream, they risk losing customers to competitors who are hungry for new logos," he said.