WavebreakMediaMicro - Fotolia
Michael Dell on Dell cloud strategy: On-premises cloud rules
Dell's CEO lays out his company's cloud plan, which is to connect on-premises with public, edge and 5G clouds though integrated infrastructure and subscription pricing.
AUSTIN, TEXAS -- Michael Dell says public cloud providers are just a small part of what constitutes cloud in today's IT world. He wants people to also think of on-premises infrastructure as cloud.
"The cloud is also the on-premises cloud. In fact, on-premises is the biggest part of the cloud," the Dell Technologies CEO said at the Dell Technologies Summit this week. "A lot of companies are figuring out that the cloud is not a place. It's an operating model. Clouds can exist anyplace. We have a 5G cloud, an edge cloud, there are public clouds, there are SaaS clouds. And the biggest of them all is the on-premises cloud. The key, is how do you connect them all together?"
Dell Technologies is among the leaders in most of the on-premises infrastructure markets, including storage, servers, virtualization and networking -- all of the pieces of on-premises IT. The vendor spent $67 billion for storage leader EMC and virtualization leader VMware in 2016 to give it the complete on-premises stack. Now it is working to make the Dell IT stack into a Dell cloud stack.
Dell cloud moves: Automation, subscription pricing
This week, Dell took steps to bring cloud automation and pricing models on premises. It launched Dell EMC PowerOne and Dell On Demand. PowerOne is converged infrastructure with an autonomous engine to automate provisioning and updating hardware, and On Demand prices IT as a service.
When asked how he defines on-premises cloud, Dell said, "The idea of an on-premises cloud is bringing together all of the infrastructure and automating the whole process. If you think about what a public cloud is, it is virtualized everything and software-defined everything. Great idea, but that can be done on-premises, as we've done with converged, hyper-converged and bringing all of our solutions together into an autonomous offering.
"It won't just be the public clouds or private clouds; it will be both. And increasingly the edge."
We have a 5G cloud, an edge cloud, there are public clouds, there are SaaS clouds. And the biggest of them all is the on-premises cloud.

Michael DellCEO, Dell Technologies
PowerOne and Dell On Demand are early steps for the Dell cloud strategy. PowerOne combines Dell EMC PowerMax enterprise storage, PowerEdge MX servers, PowerProtect backup, PowerSwitch networking and VMware virtualization. The new piece is PowerOne Controller, an autonomous management engine designed to automate provisioning and management. Dell's roadmap calls for an expansion of PowerOne in the first half of 2020, adding Dell's coming midrange array platform and Isilon unstructured data storage.
Dell is also working to expand the autonomous engine for products sold outside of PowerOne -- starting with VxRail hyper-converged appliances. Tom Burns, Dell general manager for networking and solutions, said the vendor is attempting to make the PowerOne Controller work with VxRail management.
Enterprise Strategy Group senior analyst Scott Sinclair said he considered the autonomous management the most valuable part of PowerOne.
"I'd like to see them add that for everything, but converged and hyper-converged is a good place to start," Sinclair said.
"These are steps in the right direction," he added, of PowerOne and On Demand. "Now it's up to Dell to see how far down the path they will go."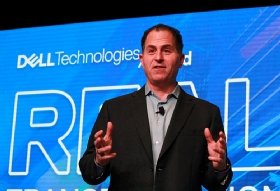 The Dell cloud pricing follows rivals down the on-demand path as the public clouds -- mainly Amazon and Microsoft -- continue to grab billions of dollars of IT spending annually.
Gartner this week forecasted public cloud revenue to increase 17% over the next year, with the highest growth rate projected for infrastructure as a service (IaaS). Gartner predicted IaaS revenue will growth 24%, from $40.3 billion to $50 billion.
Success of the public cloud has on-premises infrastructure vendors changing their pricing models and procurement strategies.
Hewlett Packard launched its GreenLake services program in 2018, and claims all of its IT technology will be available as a service by 2022. Storage vendor NetApp unveiled its Keystone as-a-service pricing last month, and makes its storage software available through public clouds. Dell On Demand is an expansion of its Dell EMC storage as a service (SaaS) initiative, and Dell executives said this week they will continue to make more products available with utility pricing.
"Every vendor is going to have to do it," Evaluator Group senior strategist and analyst Randy Kerns said of as-a-service pricing. "If you don't do it, you're in trouble. It's the best way to get an off-cycle sale. When IT needs to buy something, they usually have to wait until the next buying cycle to get it in the budget. [With on-demand pricing] you can buy resources now."
Do converged and hyper-converged equal on-premises cloud?
Michael Dell said the ability to bring the entire infrastructure stack together was the main impetus of the EMC acquisition that closed three years ago. PowerOne converged infrastructure and VxRail hyper-converged systems are examples of how his original strategy has come to fruition, he explained.
"Just storage and just networking and just compute, and just software and just hardware was not the answer; we had to bring them all together," he said. "One thing we never hear from customers is, 'Would you please operate like 20 different companies?' All the efforts we've been involved in, from the converged infrastructure, hyper-convergence, VxRail and now PowerOne, we've been working on creating the on-premises clouds."