Getty Images/iStockphoto
Pure Storage adds service options for FlashStack, Portworx
Pure Storage users can now choose consumption-based pricing for FlashStack converged infrastructure and Portworx storage for containerized workloads.
Pure Storage has made new pay-per-use options available for FlashStack converged infrastructure and Portworx storage for containerized applications on Kubernetes.
FlashStack, introduced in 2014, combines Pure Storage all-flash arrays and Cisco Systems compute networking infrastructure in pretested, validated reference architectures to address common enterprise workloads. The new FlashStack as-a-Service will give customers a subscription alternative based on consumption, with performance and capacity service-level agreements, proactive monitoring and nondisruptive upgrades.
"Having the ability to manage it in a cloudlike model is really at the core," said Michael Sotnick, vice president of global alliances at Pure Storage. He noted that FlashStack has more than 4,000 customers, and the new full stack as-a-service ties directly to Cisco Plus Hybrid Cloud, due later this year.
FlashStack as-a-Service is a "meet-in-the-channel" option uniting Cisco Plus Hybrid Cloud compute and networking and Pure as-a-Service storage. Partners offer flexible purchase choices for compute and networking, and Pure provides storage and metering in the pay-as-you-go model.
Portworx expands Kubernetes storage options
Portworx Cloud Consumption represents the latest expansion of the Kubernetes storage platform, since Pure acquired Portworx in September 2021. The new consumption option lets customers buy storage for containerized applications based on hours of usage, rather than having to buy one or more annual Portworx software licenses in advance, with each tied to a single server.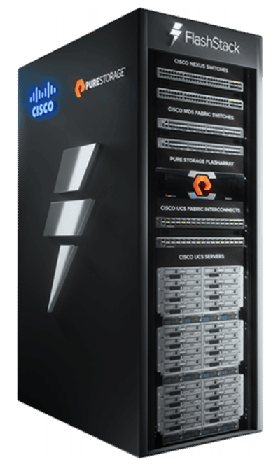 Applications that enterprises run on Kubernetes-based container platforms tend to be "bursty" in nature and put variable demands on compute and storage that can be tough to predict, said Gou Rao, co-founder of Portworx and CTO of the cloud native business unit at Pure Storage. Customers often prepurchase compute and storage for their anticipated peak usage only to realize later that they aren't using all of it and they're incurring high cloud costs, Rao said.
Under the new Portworx Cloud Consumption model, the software would "intelligently figure out the optimal usage" based on monitoring and measuring the consumption patterns, Rao said. Customers no longer need to buy Portworx licenses per node in advance and can instead pay on an hourly basis.
"They're paying exactly and only for what they are using, both on the Portworx front end but also ultimately on the back-end physical infrastructure side as well," Rao said.
Portworx software-defined storage runs on commodity hardware and works with any vendor's Container Storage Interface (CSI)-compatible storage, whether on premises or in the public cloud. Portworx can now allocate more physical infrastructure on demand, as customers need it, with the new consumption-based option, Rao said.
Hybrid Kubernetes environment
Portworx Cloud Consumption allows customers to build "a very hybrid Kubernetes environment" and migrate and replicate data between public-cloud and on-premises sites, said Juan Orlandini, chief architect for the cloud and data center transformation division at IT consultancy Insight. He said Portworx has become a well-known choice for developers seeking capabilities that CSI-compatible cloud storage may not support.
"It's too early to tell whether it's going to shift it in one direction or the other," Orlandini said. "But what it's most definitely going to do is give the consumers of public cloud more options on how to architect and leverage innovations other than what is provided by the cloud providers themselves."
CSI-based storage ties an application to the interface and the specific cloud provider's storage. By contrast, Portworx provides an abstraction layer that can make it easier to switch from one cloud to another or create a multi-cloud model, Orlandini said. Many organizations simply want to connect to storage via an API and consume and pay for as much or as little as they need, without having to worry about how it runs beneath the covers, he added.
The new Portworx and FlashStack consumption-based options -- both of which Insight will sell in addition to competitors' offerings -- could help some users to reduce or retire a portion of their cloud commitments, Orlandini said. Enterprises often commit to a specified level of consumption to get discounts when negotiating contracts with public cloud providers, he noted.
As-a-service infrastructure options tend to be most useful for enterprises that have variable workloads or uncertain short- or long-term needs, Orlandini said. But those with static and predictable workloads might find it cheaper to stick with a Capex model, he said.
Insight has already sensed interest for FlashStack as-a-Service, according to Orlandini. Two of the appealing aspects of the as-a-service model for converged infrastructure are the single contract and the single management portal, he said.
"Imagine having compute as a service from one vendor and storage as a service from a different vendor," Orlandini said. "You have to manage multiple relationships on the money side and manage multiple portals on the operating model."
Other converged infrastructure offerings that compete with Pure Storage FlashStack include Dell EMC VxBlock, NetApp FlexPod, Hewlett Packard Enterprise ConvergedSystem, Hitachi Unified Compute Platform CI Series, and IBM VersaStack.
Carol Sliwa is a TechTarget senior writer covering storage arrays and drives, flash and memory technologies, and enterprise architecture.