Software moved needle for enterprise storage in 2022
Consultants and analysts say SaaS and cloud sales will dominate enterprise storage market into 2023. But hardware innovations are still possible and on the horizon.
Advances in storage software eclipsed hardware developments in 2022 -- a necessary shift if vendors want to stay part of the enterprise IT evolution, according to industry experts.
Hyperscalers and storage vendors increased software offerings in the cloud, both as managed services and self-serve consumption models this year. This storage software often includes data management tools and pricing forecasts -- increasingly important features for IT departments, according to Ray Lucchesi, president and founder of Silverton Consulting.
"The [storage] ecosystem is undergoing a transition," he said. "You see a lot of innovation in pricing, data management, data fabric [improvements]."
Storage analysts and consultants said work by storage vendors is ongoing to improve IOPS and seek times. But customers are more interested in lowering costs and shifting to managed services instead of overseeing on-premises hardware. Instead of hardware investments, customers are turning to storage services to keep their software up to date and flexible.
This focus on software and the cloud has contributed to a malaise in new hardware developments as storage hardware itself continues becoming commoditized, according to some analysts. In fact, one of the biggest hardware stories of 2022 involved the demise of a storage product. Intel ended its Optane 3D Xpoint storage hardware this past summer -- a final moment in a seven-year struggle to find a place in the market for its storage class memory product.
"A few years ago, the scale of IT was smaller so that everyone could geek out about new technology, features and techniques," said Scott Sinclair, practice director at Enterprise Strategy Group, a division of TechTarget. "Now, the scale has grown, and so has IT's importance. Businesses need results, and focusing on nuances isn't a priority."
Buy now, pay forever
Software as a service and storage as a service releases dominated in 2022 from small and large vendors alike. Many new storage services were designed for the increasingly popular Kubernetes container standard, enabling stateful storage in normally ephemeral infrastructure. Examples include DataCore Bolt, a stateful, container-native storage for Kubernetes built off MayaData technology and unveiled in May, and Backblaze's B2 cloud storage, which will -- in January -- become a backup target for Kubernetes data protected by Veeam's Kasten K10 cloud management software.
Hyperscalers such as AWS, Microsoft Azure and Google Cloud Platform introduced new services and features ranging from managed file systems to backup and disaster recovery products. Vendors traditionally associated with on-premises hardware like NetApp, Dell and IBM expanded their managed services and cloud consumption models instead of releasing new arrays with new capabilities.
"The innovation has moved to software," Lucchesi said. "There was a high profit margin on storage hardware for a long time. That's declining with competition from the cloud."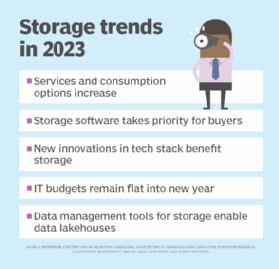 Simplifying the buying and managing process for storage hardware and software made headlines all their own. At its annual conference in June, Pure Storage used its keynote to not only summarize hardware updates but also introduce new ways of purchasing its hardware. Evergreen Flex, a new infrastructure consumption model released by Pure this year, turns on-premises hardware ownership into a subscription service alongside software and other services. In November, NetApp unveiled BlueXP, a web console to manage all NetApp services a customer owns. It also makes buying additional services seamless for the customer.
The shift to services is vital for storage companies to survive, said Marc Staimer, president of Dragon Slayer Consulting. Larger companies are not looking to purchase additional storage hardware, and smaller companies prefer to experiment and iterate using cloud services.
"The big guys aren't buying anymore," Staimer said. "Smaller companies will start in the cloud now -- they're not going to start on-prem."
Storage vendors themselves echo a similar sentiment. Jill Stelfox, executive chair and CEO of Panzura -- a cloud file storage and data management vendor -- said more customers are turning to the cloud as a way to remain flexible to their company's storage needs without a hefty price tag up front.
"Legacy storage hasn't changed dramatically in 20 years," she said. "Hybrid cloud gives you the ability to change. If [storage] is a commodity, why not use the cheaper alternative?"
New technology, tomorrow
While software and services took the lion's share of storage's attention in 2022, new technologies not specific to storage could create waves for data repositories in the next year and beyond.
Storage experts see potential in Compute Express Link (CXL), an open source standard used in high performance computing connecting, and AWS' new Scalable Reliable Datagram (SRD), a proprietary optimization to TCP/IP connections. Neither technology directly affects storage hardware or software but could provide faster connections and interoperability with other parts of the data center stack.
Analysts believe CXL could improve application performance starting in 2023. CXL was built to alleviate memory constraints and enable high performance and higher-capacity connections between memory and processors. More specifically, CXL is aimed at connecting PCIe to memory -- even in external arrays -- and work with multiple generations of memory, such as DDR4 and DDR5, in the same pool.
Those capabilities could potentially apply to storage too.
"If you start putting storage on the back of the CXL fabric, what's that going to look like?" Lucchesi said. "What's to say you can't put storage behind the memory?"
CXL combined with storage could give applications a lager memory cache to work from. The coupling of the two still has a ways to go, however. It's dependent upon advances and the adoption of the PCIe Gen 5.0 specification. The PCIe Gen 5.0 spec is expected to become part of enterprise tech products in 2023 but isn't likely to reach mass adoption by enterprise technology buyers until 2025 or 2026.
Another technology that experts are keeping an eye on is AWS SRD, which could improve application response times in the largest global hyperscaler.
SRD is an Ethernet-based transport that enables packet delivery across all possible network pathways rather than adhere to in-order delivery, according to AWS. This capability could more easily feed unstructured data from S3 object storage into data-intensive applications such as those using AI and ML while avoiding traditional slowdown due to network traffic, said Naveen Chhabra, principal analyst at Forrester Research.
"Training [machine learning] requires tons and tons of data," he said. "You're talking about thousands of VMs, CPUs [and more] talking to each other simultaneously."
The drawback to in-house, proprietary innovation compared to open source developments like CXL means only AWS customers will benefit.
"It's fair to say it's only AWS that's going to gain the benefits of this new development," Chhabra added.
New developments in either software or hardware, however, still need to compete with an ever-demanding business environment before being able to stand out, said Chris Evans, owner and founder of Architecting IT, an analyst firm. To wit: the demise of Intel Optane, even if the technology finds a way to live on through CXL.
"It's difficult to create something new that gets a degree of mindshare," he said.
Tim McCarthy is a journalist living on the North Shore of Massachusetts. He covers cloud and data storage news.
Adam Armstrong is a news writer covering storage hardware, flash and other memory technologies for TechTarget Editorial.