igor - Fotolia
Hedvig storage upgrade adds flash tier, encryption options
Hedvig software-defined storage enables 'all-flash hybrids' by supporting tiering across different types of solid-state media inside of commodity hardware systems.
Hedvig Inc. today launched the third version of its software-defined storage product featuring support for flash...
Continue Reading This Article
Enjoy this article as well as all of our content, including E-Guides, news, tips and more.
tiering, built-in encryption technology and new plug-ins for third-party backup and container technologies.
Hedvig storage software runs on commodity hardware. Hedvig doesn't sell the hardware, but it supports moving data between fast flash-based SSDs and a tier of slower, less expensive HDDs. Hedvig's new FlashFabric enables two storage tiers in all-SSD server clusters that can span on-premises and public cloud environments.
Hedvig Distributed Storage Platform 3.0 detects performance differences in SSDs, according to Rob Whiteley, Hedvig vice president of marketing. He said those SSDs can be traditional SAS or SATA, newer latency-lowering NVMe-based PCI Express, or emerging 3D XPoint technology from Intel and Micron.
Our system has always been very flash-friendly from a write perspective. There were just some additional things we wanted to do from a read perspective.

Rob Whiteleyvice president of marketing, Hedvig
"There are configurations where the customer will have some amount of higher performance, higher cost NVMe flash, plus some amount of more traditional enterprise-grade flash," Whiteley said. "And what they actually want is the ability to automatically tier in and out of different flavors of flash."
Howard Marks, founder and chief scientist at storage test lab DeepStorage LLC, said Hedvig's 3.0 release is not major from a technological standpoint, but the company is early with its support for "all-flash hybrids" with more than one type of SSD.
"The majority of the all-flash systems we see today have one pool of flash. But between NVMe and upcoming post-flash memories like 3D XPoint, we are going to have at least two tiers of solid state," Marks said. "That means folks like Hedvig, who have the logic for dealing with multiple tiers built into their system, have an advantage."
Whitely said the Hedvig storage software tracks data reads and writes at a granular level to ensure the hottest data lands on the highest performing storage media. To enable the SSD tiering, Hedvig engineers created write-through read caches that could take advantage of different flash tiers, he said.
"Our system has always been very flash-friendly from a write perspective," Whitely said. "There were just some additional things we wanted to do from a read perspective."
Hedvig storage security enhancements
New Hedvig storage security features include software-based encryption for data in use, in flight and at rest; advanced audit logging designed to enhance the product's monitoring and analytics engines; and improved multi-tenant role-based access control tying into Lightweight Directory Access Protocol and Microsoft Active Directory.
Hedvig's 256-bit Encrypt360 technology secures data through proxy software deployed on host compute servers to minimize the performance hit. The software supports the Advanced Encryption Standard New Instructions from Intel to accelerate host encryption.
Hedvig software deduplicates data before encryption. As with deduplication and replication, Hedvig enables customers to turn encryption on and off on a per-volume, or virtual disk (vDisk), basis, Whiteley said.
In the past, Hedvig advised customers to use self-encrypting drives or third-party products for in-flight encryption, Whiteley said.
"What we've found in the software-defined storage world is self-encrypting drives are often a generation or two behind in hardware technology, and they're a lot more expensive," he said. "Plus, how you then do the key management becomes a very difficult proposition for a lot of large enterprises."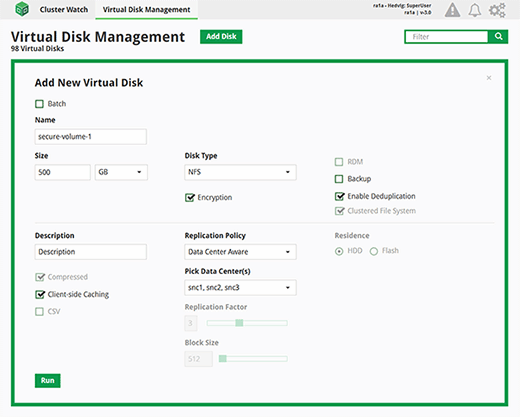 Hedvig does not supply a key management system. The company tested and validated Amazon Web Services' Key Management Service option, and depending on the API, could plug into other third-party key management systems, according to Whiteley.
When setting up a cluster, the Hedvig storage proxy reaches out to the key management system for a unique encryption key for each vDisk. The vDisk keys are cached at the proxy and stored in Hedvig's metadata engine, according to Eric Carter, the company's senior director of product management.
CloudScale Plugins
The third feature set in Hedvig's new 3.0 storage software is CloudScale Plugins for Veritas, VMware and Red Hat products, to add to the company's existing support for Docker and OpenStack.
The new Veritas OpenStorage Technology plug-in will enable NetBackup customers to connect to Hedvig for deduplicated backup storage. Whiteley said the Veritas NetBackup plug-in is "probably the most-requested customer feature besides encryption."
Hedvig already had a VMware vSphere Web Client plug-in, but it is now certified with new backup and security capabilities. In addition, Hedvig Storage Proxy containers are now Red Hat-certified and published in the Red Hat Container Catalog. The containers support Red Hat Enterprise Linux and Red Hat's OpenShift container application development platform.
Pricing remains unchanged for the Hedvig Distributed Storage Platform, which becomes generally available Friday. Hedvig partners with Cisco, Dell EMC, Hewlett Packard Enterprise (HPE), Lenovo, Quanta and Super Micro Computer on hardware.
Hedvig and HPE in June launched a validated bundled option combining Hedvig's software-defined storage with HPE Apollo 4200 servers. Whiteley said the bundled product, for which HPE provides first-line support, has already grown to about half the opportunities in the company's sales pipeline.
"Just having the HPE sales force boots on the ground is going to be a big driver for both their growth and their market acceptance," Marks said. "If an HPE sales guy sells Hedvig, it counts against their storage quota. Sales guys sell what you incent them to sell."