Share this item with your network:
Managing and protecting all enterprise data

GP/stock.adobe.com
Why cloud block storage deployments are on the rise
Move over object and file storage; use of block storage in the public cloud is increasing as more businesses prepare to move or have already redeployed workloads to the cloud.
The hyper-growth in the use of cloud storage over the past decade has been driven by low-cost object-based repositories, mainly due to the popularity of AWS S3. Business-critical workloads, however, remain stubbornly on premises where the most resilient block storage arrays reside. Earlier this year, our firm, the Taneja Group, conducted research on how cloud block storage use has evolved beyond caching for web-tier applications and test/dev.
Organizations continue to prefer the object storage approach for global content distribution and archiving in the cloud, and now file storage is available in the cloud to enhance file sync and share, collaboration and other office and productivity applications. But as we learned in two Taneja Group cloud research studies from November 2018 and July 2019, firms are increasing their use of cloud block storage services as more block-based workloads run in the public cloud.
Adoption rates of hybrid and multi-cloud infrastructure
Before assessing public cloud adoption and the effect of block storage, we first evaluated current trends around the move from traditional on-premises infrastructure to public and hybrid clouds. Figure 1 highlights findings from our most recent survey conducted earlier this year, where we asked 239 IT practitioners to describe their predominant architecture today versus in the near future.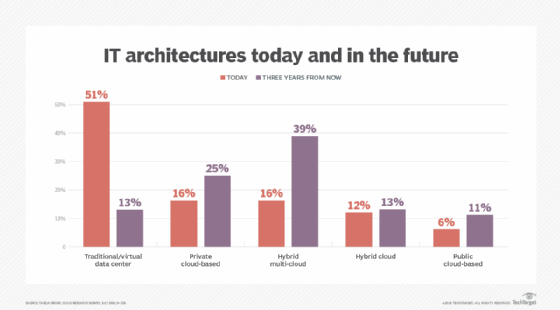 We continue to find the market rapidly moving from traditional or virtualized, on-premises data centers to hybrid cloud variants. Currently, 67% of infrastructure is primarily deployed on premises in traditional data centers or private clouds, but that number will drop to a mere 28% within three years, leaving a whopping 72% of respondents predominantly using public cloud services. Multiple public cloud deployments will grow from 16% to a dominate choice of 39%. To realize this transition, organizations will increasingly deploy block storage workloads in public clouds. So it is critical that block storage services become more portable and predictable across these various cloud environments.
Even though we find the prevailing IT architecture today to still be on premises, respondents are trying out the public cloud in record fashion. More than two-thirds of the 274 corporate respondents to an earlier cloud survey use one or more block storage services in the cloud, up significantly from 2015. Azure Disk Storage (HDD/SSD) and Amazon Elastic Block Store are the two most popular services, with 38% of respondents using each of them. As shown in figure 2, companies use block storage services to support relational databases and other business apps, in addition to secondary workloads such as backup, analytics and archiving. Test/dev continues to gain in popularity as companies move business apps to the cloud or run them in a hybrid fashion.
Roughly a quarter of respondents run 5 TB to 20 TB of block storage in one or more clouds, but more than 25% use 21 TB to 100 TB, and 18% have greater than 100 TB of cloud block storage. This reflects some serious use of database and business apps in one or more public clouds today.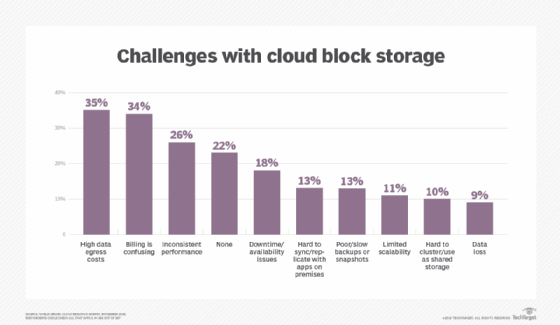 Block-based cloud storage: Business issues outweigh technical issues
What challenges are companies encountering in their use of cloud block storage services? As shown in figure 3, high data egress charges vex customers the most, as some find they are penalized when migrating data to other clouds or back on premises. Confusing billing also ranks near the top of the list, as customers try to track and manage monthly storage service costs. It's interesting that these two business-related issues far outweigh any technical challenges, with performance the only nonbusiness challenge cited by more than 20% of respondents. And, encouragingly, 22% reported no challenges in using block-based cloud storage, reflecting the growing maturity of both user adoption and cloud providers' services.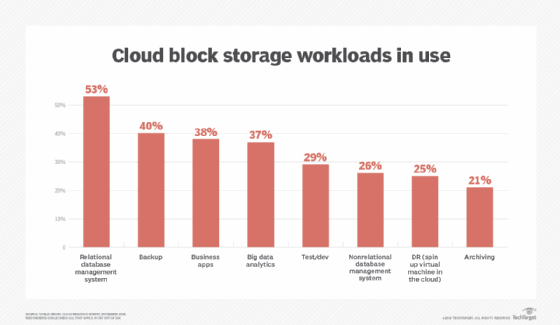 Even with these challenges, nearly 60% of those surveyed are mostly to highly satisfied with their cloud block storage experience, with another third somewhat satisfied. Based on these satisfaction levels and commonly cited cloud deployment benefits, such as increased agility and pay-as-you-grow services, we expect the use of block-based cloud storage services to continue to grow.
Rise of colos: Bring your tier-1 block storage to a public cloud near you
For organizations not yet ready to move their block storage to the public cloud, a colocation facility can be a good first step toward enabling public or hybrid cloud block-based workloads. For example, users can connect primary storage in a colo via high-speed pipes to business apps running in one or more public clouds.
Public cloud providers often have a point of presence at the same colo facility, enabling high-performance access. This approach allows IT to maintain greater control over their storage infrastructure while fulfilling top-down mandates to start moving workloads to the cloud.
Takeaways for your organization
Our recent research shows four out of 10 companies plan to "lift and shift" at least some application data to cloud compute in the next two years, an increase of more than 30%. Even more compellingly, more than 25% of respondents plan to move at least some of their primary app storage to the cloud, more than twice the amount of current deployments. The only way to meet this public cloud mandate will be greater use of block storage in the cloud.
If your company is preparing to move or is already redeploying business apps to the cloud, then you are or will soon become a cloud block storage customer. We hope you can quickly overcome the types of challenges confronted by our research participants to enjoy a positive customer experience.
Dig Deeper on Cloud storage