Getty Images/iStockphoto
Advantages and disadvantages of storing data in the cloud
Organizations that want to reduce on-site storage costs can consider cloud for easy pricing models and scalability. However, take note of drawbacks such as lack of data control.
Cloud storage is one of the most popular and growing forms of data storage as organizations look for ways to avoid capital expenditures involved with running their own storage systems. The ability to offload storage from on-site systems to the cloud provides lots of opportunities for organizations to simplify their storage, but vendor lock-in and reliance on internet access can be an issue.
Cloud storage brings the simplicity and availability many organizations are looking for, but there are drawbacks with control over data. When it comes to storing data in the cloud, look at the advantages and disadvantages to decide whether cloud storage is a good fit for certain data or applications.
Advantages of cloud storage
Disaster recovery and backup capabilities
Disaster recovery is a crucial part of a storage strategy to help protect data from adverse events. Many organizations store data with a cloud provider, in addition to their own infrastructure, as part of their DR strategy, either through cold, warm or hot cloud DR.
If on-site infrastructure fails or an incident affects it, organizations can recover all or part of their workloads in the cloud. They may also use cloud to store backup copies if on-site storage systems experience data loss.
Flexibility in pricing and scalability
Pay-as-you-go pricing is one popular feature of cloud storage. This is ideal for smaller organizations that don't have a clear idea of how much storage they need, need little or don't have the capital to run storage themselves. Cloud storage also reduces the need for upfront investment in storage infrastructure and staff. Organizations simply pay the rates the cloud provider charges, and the provider scales storage resources up or down for clients as needed.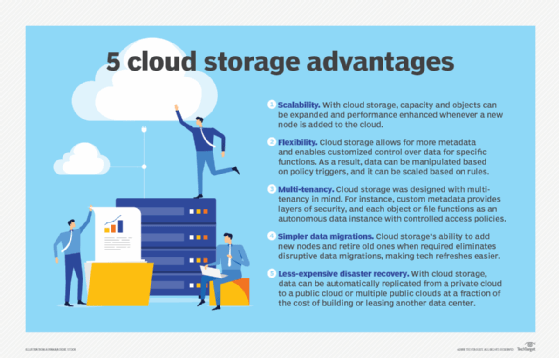 With many cloud providers, organizations have the option to scale their cloud storage up or down as their needs evolve. Unlike with on-site storage systems, organizations that want to scale up can do so on demand with many cloud providers. This feature of cloud alleviates any of the needed storage or personnel expenditures of scaling up or down.
Delegating security
Organizations that lack in-house cloud security expertise can benefit from the various security measures cloud providers take with customer data, such as encryption and two-factor authentication. Many public and private cloud vendors are required to comply with data protection standards in the cloud, like GDPR and ISO, and employ security teams that specialize in cloud storage security.
Widespread and remote accessibility
Cloud storage enables users within an organization to access data remotely or abroad with an internet connection. This is beneficial to organizations with dispersed workforces, such as remote or traveling employees.
Disadvantages of cloud storage
Lack of control over data and storage resources
Organizations that use cloud storage offered through an external provider do not have as much visibility into how the cloud is set up. For organizations with strict data governance policies, either internally or because of compliance needs, moving data to a cloud provider may not be the best option.
Some providers may have documentation on how they treat data, so check with them on that management.
Transparency regarding privacy and security
To the same tune of lack of control, cloud providers do take measures to protect data and ensure security in the cloud, but it is much more difficult as a client to gauge just how stringent and thorough those measures are. Without knowing exactly how a provider manages, moves or transfers customer data, it can be difficult to know if data stored with a cloud provider is truly protected or compliant with regulations.
When organizations manage data through their own storage infrastructure, they have a much better understanding of how data is treated. Organizations that consider a cloud provider partner should thoroughly research the vendor and ask questions regarding privacy and security in the cloud.
Access is dependent on internet connectivity
Users of cloud storage always need the internet to access their data. Organizations that experience internet downtime -- or if their remote users or employees lose internet -- may lose access to data for a short or prolonged period of time, which can cause serious business ramifications. Additionally, users with slow internet connections can have a hard time accessing cloud data, especially larger files.
If the provider has downtime itself, it can also cause outages and disruptions to services, leading to clients losing revenue or disruption of operations. Be sure to ask providers how they manage outages, how much uptime to expect from their service and how data is protected in the event of unexpected or expected downtime.
Migrating data from or to the cloud can be difficult
Cloud migration requires a great deal of expertise, planning and processes so that data is available and protected throughout. Organizations may also have trouble with cloud storage in the form of vendor lock-in, which makes it difficult to change cloud providers in the event of dissatisfactory service or changing storage needs.
Discuss cloud migration options with prospective providers to avoid issues with vendor lock-in and other problems. Plan accordingly for any migrations to and from the cloud.
Dig Deeper on Cloud storage