The true cost of network downtime for your business
Network brownouts could be the biggest under-the-radar threat to your network. Calculate the potential costs of downtime to save your organization's productivity and money.
Hopefully, your business has a spare $600,000 or so because that's what undiscovered network brownouts could cost annually.
Network brownouts are unanticipated and unplanned drops in network quality that cause unexpected downtime. The average cost of network downtime from brownouts may be greater than organizations expect, according to a survey from Netrounds, a network monitoring software provider based in Sweden. The survey examined common network interruptions organizations face -- network brownouts, in particular, and the extent of a brownout's potential damage. Netrounds surveyed 400 U.S. respondents from companies with more than 1,000 employees.
Overall, respondents claimed IT teams didn't notice more than 60% of network brownouts, as some alarm systems didn't detect these network interruptions. This means customers and employees discovered around 40% of brownouts, the survey said, while 14% went unreported. Although 90% of respondents said networks are business-critical, network brownouts remain a persistently silent but detrimental foe.
Differences between expected and unexpected downtime
Network brownouts differ from network outages, which are complete network interruptions, while brownouts are drops in network quality. Brownouts can result in unexpected downtime because most IT teams miss them, while network outages arguably cause more expected downtime, as most organizations include outages in business continuity and disaster recovery (BCDR) plans.
However, the average cost of network downtime from a brownout is nearly as drastic as an outage. Respondents ranked persistent brownout damage as the third most impactful network interruption they face, falling behind damage from network outages and security breaches, the survey said.
Persistent brownouts aren't uncommon. Most survey respondents claimed their networks experienced five to nine brownouts over two years, while others said they experienced more than 10 brownouts in that same time. These network interruptions can last from three to over 10 hours, resulting in intangible costs for organizations, which are felt in areas beyond the network.
Yet, as networks become more critical to business operations, the complexity of network monitoring for IT teams also increases, said Cyril Doussau, Netrounds' vice president of marketing.
"Networks are more complex, so it's difficult to identify if a network … or a network service is performing or not," Doussau said. "The only way to do this is to measure performance as if you are an end user."
If an IT team believes its organization is facing expected or unexpected downtime, the team should ask these five questions to determine if the network is down:
Does the equipment have power, including sufficient battery life and secondary backup links?
Are software and network configurations up to date, or did an overnight update occur and negatively affect configurations?
Have any hardware devices failed?
Does the server have issues, such as capacity or failover problems?
Is your SaaS provider experiencing a failure or downtime?
These questions can determine the extent of network interruptions. After the IT team determines the issue's source, it can calculate recovery costs required to mitigate customers who experienced the downtime or to replace hardware or services, among other costs.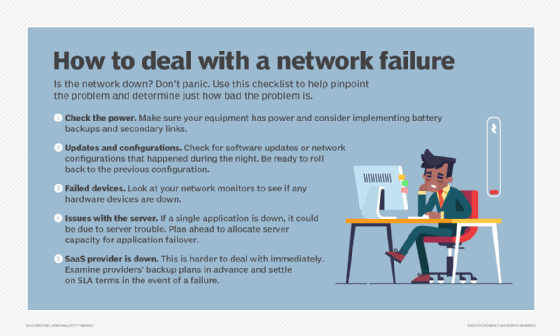 Calculating the cost of network downtime
The top five costs of network downtime are lost revenue, employee productivity declines, reputation damage, monetary damage and general Opex costs. Organizations should calculate these costs individually and then add them together for the total cost of network downtime, Doussau said.
Lost revenue. Lost revenue is an unavoidable, tangible cost of brownouts. An organization may lose revenue due to downtime if one of its services doesn't work, so it can't bill customers, or if quality of service (QoS) declines or becomes insufficient to support end users.
How to calculate cost of revenue loss
Total hours of data center downtime x average hourly revenue from data center-hosted applications
Employee productivity decline. While 83% of respondents said brownouts caused serious network damage, they also claimed brownouts increasingly frustrated end users and employees. More than 70% of respondents said a decline in employee productivity was the greatest loss their organizations faced due to brownouts.
Employee productivity declines when employees can't access business-critical applications, such as video conferencing apps, and therefore can't work. High latency, or increased lag times, can also negatively affect employee productivity, Doussau said.
How to calculate cost of employee productivity decline
Total hours of downtime x average full-time employee salary x number of employees
Reputation damage. Less than half of the surveyed organizations recognized network brownouts as a serious network performance issue, Netrounds said, but brownouts frustrated one-third of end users, which led some to leave the office to work elsewhere.
Insufficient QoS can lead to customer churn, or turnover, so an organization could not only lose existing customers due to a damaged reputation, but also potential new customers.
"Today, a lot of business is done by word of mouth. People talk to one another and recommend a service to someone. If your service is not performing, you're not going to be recommended," Doussau said.
How to calculate cost of reputation damage
Average monthly revenue per customer x customer churn rate
Monetary damage. The annual monetary cost of network downtime from brownouts ranged from $250,000 to $700,000 in losses, with an average cost of $600,000 per organization. The main reason for this was organizations' inability to proactively prevent and detect problems or resolve issues in a timely manner, the survey said.
Service-level agreements spark the most monetary damage for providers, Doussau said, because SLAs provide strict guidelines for them to follow. If the provider doesn't meet these standards, it has a tangible price to pay.
"If you look at products from a service provider standpoint, you're not selling just the technology, but technology at a certain availability and response time based on qualities in the contract. If you're not delivering this, there are going to be penalties and rebates to pay," Doussau said.
How to calculate other monetary damages
Average monthly SLA customer rebates
General Opex costs. Network downtime can negatively affect Opex, the money organizations spend on day-to-day operations. If an organization's services are unavailable to customers for any amount of time, IT teams must restore the services, which can be costly yet also avoidable, Doussau said.
"[Organizations] that are proactive by using active testing to test services as if they were a customer and continuously monitor it … are able to know before their customer that there is an issue," Doussau said. "They are able to avoid damage."
How to calculate general Opex costs
Service delivery failure rate x average cost of service restoration
Organizations should recognize how common network brownouts are, Netrounds said, and include brownout recovery in BCDR plans. The survey claimed this performance issue is increasingly common, so IT teams should stay aware of brownouts to mitigate further performance degradations -- and lost revenue -- in the future.
This was last published in
May 2020
Dig Deeper on Network management and monitoring