James Thew - Fotolia
How do you use VMware ESXi logs to troubleshoot your host?
With access to logs, you can troubleshoot your ESXi host and track issues as they crop up. You can access your logs via the console or a web browser with only a few simple steps.
You can troubleshoot an ESXi host in a few different ways. The exact method depends on which version of ESXi you're...
Continue Reading This Article
Enjoy this article as well as all of our content, including E-Guides, news, tips and more.
trying to troubleshoot and if the host is part of the vCenter server or accessible remotely via Secure Shell. VMware doesn't recommend that you allow access via Secure Shell, so this guide will concentrate on using VMware ESXi logs with access via console or web browser. Therefore, this article won't include situations in which you completely lose connectivity to your ESXi host. In these cases, a hardware problem, such as a physical switch, network interface card or cable, could be the cause.
Access VMware ESXi logs via console
It's easy to troubleshoot ESXi via logs if you know where to look; this saves you the effort of looking at everything to locate the root cause of your problems.
In order to access VMware ESXi logs from the ESXi Direct Connect User Interface, you have to be in the server room, at the console itself. You might be able to access the server remotely via the Intelligent Platform Management Interface (IPMI), Dell Remote Access Card, Hewlett Packard Enterprise Integrated Lights Out or another hardware remote access system; if so, you can use any of these technologies to fire up the remote ESXi host's console.
At the console prompt, hit the F2 key, enter your root login and password, and click View System Logs. As its name suggests, this will pull up a list of available system logs, highlighted in Figure A. Choose the log you wish to view.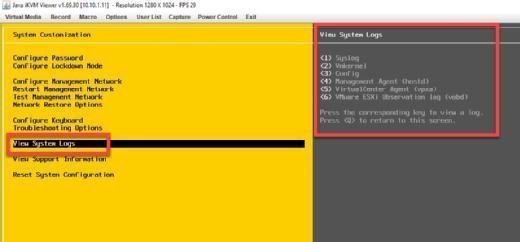 The log window that results isn't user-friendly. Press the Q and ESC keys to quit the log window and the current login session.
There are six different types of VMware ESXI logs: Syslog captures message from the VMkernel and other components. Vmkernel shows the uptime and availability statistics. You use Config when a host hangs or crashes or an authentication issue occurs. Management Agent (hostd) records which logs are specific to the host services that connect your vSphere client to your ESXi host. VirtualCenter Agent (vpxa) records additional logs that appear when vCenter connects to and manages your ESXi. Finally, VMware ESXi Observation log (vobd) tracks all changes to the configuration of your ESXi host and results.
Access VMware ESXi logs via web browser
You can access your host directly from a web browser, which is especially useful for older versions of ESXi that don't have the Host Client yet.
Put your host's IP address in the address section of the following URL to access the host: https://address/host. When you receive a prompt to log in, use the root username, and enter the root password. This will allow you to access a window from which you can download or view logs directly via your browser.
Newer releases of ESXi have the ESXi Host Client built in, which gives you access to the logs and makes browsing and troubleshooting more convenient.
In your web browser, go to the following URL, replacing "address" with the IP address of your ESXi host: https://address/ui.
Select and expand your host on the left-hand side of the screen, and then choose the Logs tab. The logs should appear in the lower pane. You can choose a log by selecting a specific line; in this case, we're looking for syslog.log. You also search for specific logs and log lines with the search mechanism highlighted in Figure B. Once you locate a log, right-click the line to copy and paste. You can also generate a support bundle for the log via the Actions button.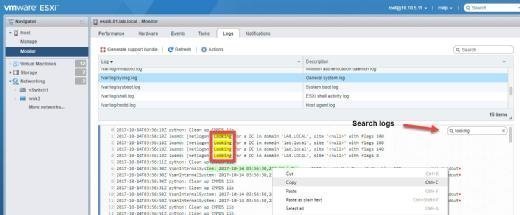 Depending on what you're looking for, it can be complex to troubleshoot ESXi. If your environment has central management via vCenter, there are built-in tools that can help. There are also other VMware products for monitoring and troubleshooting, usually available within the vSphere vCloud suite.
I suggest vRealize Operations Manager or vRealize Log Insight, which can ingest many gigabits of logs per day and provide synthetic graphics based on keywords or particular repetitive issues within your infrastructure.
Dig Deeper on VMware ESXi, vSphere and vCenter
A vSphere administrator can use VMware Remote Console to remotely access a VM's peripherals, configuration and desktop remotely through the vSphere ... Continue Reading
You can set up your infrastructure to better take advantage of new technology in just a few steps. Perform a VM version upgrade to get the most out ... Continue Reading
FTT dictates how many failures can occur in a vSAN cluster without sacrificing availability. How can you use a VM storage policy to define the amount... Continue Reading