ra2 studio - Fotolia
Learn the tricks for using Microsoft Teams with Exchange
As Microsoft Teams gains prominence for business collaboration, administrators should investigate the integration options with their Exchange Online or on-premises Exchange setup.
Using Microsoft Teams means Exchange administrators need to understand how this emerging collaboration service...
Continue Reading This Article
Enjoy this article as well as all of our content, including E-Guides, news, tips and more.
connects to the Exchange Online and Exchange on-premises systems.
At its 2017 Ignite conference, Microsoft unveiled its intelligent communications plan, which mapped out the movement of features from Skype for Business to Microsoft Teams, the Office 365 team collaboration service launched in March 2017. Since that September 2017 conference, Microsoft has added meetings and calling features to Teams, while also enhancing the product's overall functionality.
Organizations that run Exchange need to understand how Microsoft Teams relies on Office 365 Groups, as well as the setup considerations Exchange administrators need to know.
How Microsoft Teams depends on Office 365 Groups
Each team in Microsoft Teams depends on the functionality provided by Office 365 Groups, such as shared mailboxes or SharePoint Online team sites. An organization can permit all users to create a team and Office 365 Group, or it can limit this ability by group membership.
When creating a new team, it can be linked to an existing Office 365 Group; otherwise, a new group will be created.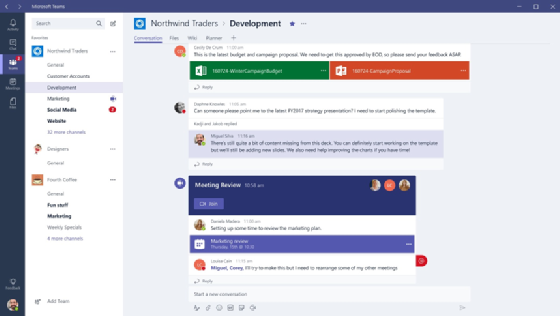 Microsoft adjusted settings recently so new Office 365 Groups created by Microsoft Teams do not appear in Outlook by default. If administrators want new groups to show in Outlook, they can use the Set-UnifiedGroup PowerShell command.
Microsoft Teams' reliance on Office 365 Groups affects organizations that run an Exchange hybrid configuration. In this scenario, the Azure AD Connect group writeback feature can be enabled to synchronize Office 365 Groups to Exchange on premises as distribution groups. But this setting could lead to the creation of many Office 365 Groups created via Microsoft Teams that will appear in Exchange on premises. Administrators will need to watch this to see if the configuration will need to be adjusted.
Using Microsoft Teams with Exchange Online vs. Exchange on premises
As an Exchange Online customer, subscribers also get access to all the Microsoft Teams features. However, if the organization uses Exchange on premises, then certain functionality, such as the ability to modify user profile pictures and add connectors, is not available.
Microsoft Teams' reliance on Office 365 Groups affects organizations that run an Exchange hybrid configuration.
Without connectors, users cannot plug third-party systems into Microsoft Teams; certain add-ins, like the Twitter connector that delivers tweets into a Microsoft Teams channel, cannot be used. Additionally, organizations that use Microsoft Teams with Exchange on-premises mailboxes must run on Exchange 2016 cumulative update 3 or higher to create and view meetings in Microsoft Teams.
Message hygiene services and Microsoft Teams
Antispam technology might need to be adjusted due to some Microsoft Teams and Exchange integration issues.
When a new member joins a team, the email.teams.microsoft.com domain sends an email to the new member. Microsoft owns this domain name, which the tenant administrator cannot adjust.
Because the domain is considered an external email domain to the organization's Exchange Online deployment, the organization's antispam configuration in Exchange Online Protection may mark the notification email as spam. Consequently, the new member might not receive the email or may not see it if it goes into the junk email folder.
To prevent this situation, Microsoft recommends adding email.teams.microsoft.com to the allowed domains list in Exchange Online Protection.
Complications with security and compliance tools
Administrators need to understand the security and compliance functionality when using Microsoft Teams with Exchange Online or Exchange on premises. Office 365 copies team channel conversations in the Office 365 Groups shared mailbox in Exchange Online so its security and compliance tools, such as eDiscovery, can examine the content. However, Office 365 stores copies of chat conversations in the users' Exchange Online mailboxes, not the shared mailbox in Office 365 Groups.
Historically, Office 365 security and compliance tools could not access conversation content in an Exchange on-premises mailbox in a hybrid environment. Microsoft made changes to support this scenario, but customers must request this feature via Microsoft support.
Configure Exchange to send email to Microsoft Teams
An organization might want its users to have the ability to send email messages from Exchange Online or Exchange on premises to channels in Microsoft Teams. To send an email message to a channel, users need the channel's email address and permission from the administrator. A right-click on a channel reveals the Get email address option. All the channels have a unique email address.
Administrators can restrict the domains permitted to send email to a channel in the Teams administrator settings in the new Microsoft Teams and Skype for Business admin center.