markrubens - Fotolia
How to navigate a Microsoft Teams migration from Skype for Business
A Microsoft Teams deployment seems inevitable for Skype for Business users. Learn how to prepare your organization, whether you're in the cloud or on premises.
What does a Microsoft Teams migration look like? For many organizations, the path to Teams will be shaped by their current Skype for Business deployments and plans for the cloud.
The Microsoft Teams migration is not simply a rebrand, like the transition from Lync to Skype for Business. Microsoft Teams is an entirely different, cloud-based product, said Kevin Kieller, partner at consulting firm EnableUC in Oakville, Ont.
"The path ahead can indeed be twisty for some organizations," he said.
Microsoft announced in September 2017 it would replace Skype for Business with cloud-based Teams as the main communications hub for Office 365. The announcement has left both cloud and on-premises Skype for Business customers wondering how to approach the transition.
Teams, however, isn't quite ready to be a complete replacement for Skype for Business. Kieller said Teams must offer 70 key features in order to be the enterprise-grade platform that Skype for Business is, such as Skype Room Systems support, Teams and Skype chat interoperability and telephony capabilities. He said Microsoft's roadmap has delivered about 40 of those features so far, including guest access and audio conferencing.
Organizations must also consider data residency, detailed analytics, third-party extensions and federation with external suppliers, partners and clients when planning a Microsoft Teams migration, he said.
Pilot Teams alongside Skype for Business
Testing Teams becomes critically important when tackling the migration, Kieller said at an Enterprise Connect panel on navigating the migration process. When running a Teams pilot, organizations should keep a detailed comparison of quality, reliability, usage, and adoption and satisfaction statistics to compare with Skype for Business.
Nearly 70% of Skype for Business users have started using Teams either as a pilot or a complete migration, said Lori Wright, general manager of Microsoft Teams and Skype. Microsoft has encouraged organizations to run Teams parallel to Skype for Business to get the platform running and to get employees used to the Teams experience.
On-premises Skype for Business customers should also start piloting Teams, Wright said. Later this year, Microsoft will release Skype for Business Server 2019, which can support on-premises users. Microsoft currently does not have plans for another server beyond the 2019 release, but would not rule out any future updates, Wright said.
"As we continue to build features, and as [on-premises users are] ready to go from on premises to cloud, Teams will be the place for them to go," she said.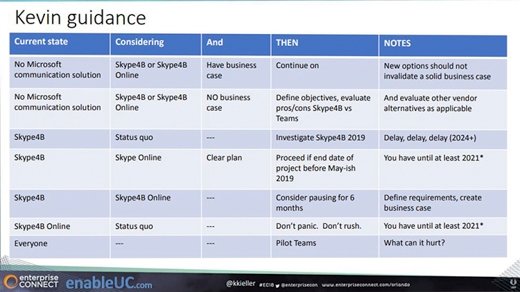 Finding the right Microsoft Teams migration
A Microsoft Teams migration will not be a one-size-fits-all strategy for organizations. How an organization has deployed Skype for Business will dictate how to approach the migration.
Organizations that are fully in the cloud and intend to stay in the cloud should start piloting Teams, Kieller said. Organizations planning to move some or all of their users to the cloud can continue with their plans to move users to Skype for Business Online. While Microsoft has said organizations can move to Teams once they're ready, Kieller suggested Microsoft will more aggressively push organizations to Teams in 2021.
On-premises organizations that are happy with their current setups should delay a Microsoft Teams migration and consider deploying Skype for Business Server 2019. On-premises organizations that don't have a definitive plan for Teams should take time to define their specific requirements for a migration and wait to see if Microsoft delivers on its roadmap, Kieller said.