Get started
Bring yourself up to speed with our introductory content.
Open IoT accelerates digital twin adoption
Now with a firm hold on the industrial world, the internet of things is being used by companies across industries to transform their business operations with digitization. As the industrial process becomes increasingly digital, a more complete convergence for the virtual and physical worlds is imminent, offering companies the opportunity for a complete digital footprint of their products, facilities and plants. We've entered the age of the digital twin.
Forty-eight percent of organizations that implement IoT said they are already using or plan to use digital twins in 2018, according to a recent IoT implementation survey by Gartner. Further, the number of surveyed organizations using digital twins will triple by 2022. As manufacturers look to digitalization to transform operational effectiveness, improve safety and increase production, and simply build better products, interest in digital twin technologies is rising.
Despite the growing awareness of the benefits to manufacturers and other industrial entities, many questions remain in the minds of decision-makers who are considering a digital twin strategy: What does the lifecycle look like? What sort of environment needs to be in place before implementation? What are the best practices for continuing to derive business value?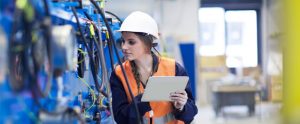 First, let's take a step back and outline what we mean by Digital twin. Born from growing connection points brought on by IoT, a digital twin is a digital representation of a physical asset — such as a pump, motor, turbine or an entire plant — that represents the structure and behavior of that asset in real life. Digital twins provide a near-real-time digital image of the physical object, process or plant to help optimize performance.
The power of a digital twin is that it allows the manager or operator to observe the behavior of the asset and learn from past and present operations to make predictions about future operations. This knowledge is incredibly valuable because it allows you to anticipate problems before they happen and uncover new opportunities, resulting in safer, more efficient and profitable operations.
The maximum value of such a digital twin is derived through the continuous and consistent capture of relevant data throughout the entire lifecycle, from engineering to operations, converting the data to business contextual information and enabling a digital closed loop of value to every aspect of the lifecycle.
Until recently, digital twin capabilities have been limited because of the massive amounts of data it takes to process and create the digital replica. However, led by advances in the IT/OT convergence and more advanced computing and storage capabilities, the capability is now available to the masses, at scale.
Using the example of a manufacturing plant, I'll illustrate what a complete digital twin lifecycle looks like and why ensuring the continuity of the digital value loop is key to maximizing one's investment in the strategy.
Closing the loop on the digital twin lifecycle enables a 360-degree view into operations
As part of the process design early in the lifecycle, a "first born" digital twin of the plant is created through a model to simulate the entire plant before the assets are even designed.
The processes, equipment and operations are analyzed through multiple simulations for optimal safety, reliability and profitability.
This digital twin matures further to incorporate the physical assets' design information associated with the process design of the entire plant. Aspects of the plant digital model are used to train operators with virtual reality-based immersive training environments.
During the operational stage of the plant, variations from optimal process and asset design are captured during runtime, and the digital twin is updated with this information.
Operations and maintenance personnel use augmented and virtual reality technologies with mobile devices to address plant- and field-based maintenance issues for the involved assets. Given the current state of an asset, the digital model with predictive learning technology enables proactive identification of asset failures before they occur.
Using artificial intelligence, predictive learning technologies used with advanced process control, control strategy design and process optimization, the necessary variations from process and asset design are fed back to the engineering stage of the lifecycle, enabling a complete and efficient digital value loop.
Closing the loop through the digital link across process engineering, augmented reality-based asset performance, cloud-based predictive analytics and artificial intelligence-based process optimization enables you to tap into the high-value reservoir of information provided by a true 360-degree digital twin of the plant.
The success of digital twin technologies relies on the standardization of open IoT
While many players have emerged in the digital twin space, there's still work to be done to ensure the technology realizes its full potential. A digital twin can only be as good as the data on which it is built and the real-time data it continuously collects. But if the various hardware and systems involved are proprietary and not able to integrate, the amount of meaningful insights generated by the available data is significantly reduced. Interoperability is a critical factor in the power of digital twin technologies to drive effective, business-driven decisions.
Most digital twin implementations are not greenfield projects. In reality, digital twins are being introduced at many different stages in the asset's lifecycle or in the overall process. That's why it's important that we arrive at a common industry standard of open, interoperable and hardware-agnostic IoT systems, so operators don't have to worry about replacing operationally sound assets to take advantage of new technological developments such as digital twins.
Greater benefit also comes from open collaboration and co-innovation between technology leaders, not one player working to capture the market with a single magic bullet solution. Customers win bigger with interoperable systems that can take data from multiple vendor products and systems to create more sophisticated insights. It also encourages developers to spur innovation faster: Companies can build their own industrial applications to make their existing assets perform better.
Having a more robust vendor ecosystem and empowering developers to create more value around digital twin technology will speed that adoption of the strategy across industries. This will lead to even more efficiencies when you consider that the explosion of digital twins can ultimately help create an open database of ready-made digital assets. Rather than having to spend time and resources to develop digital twins of common equipment or parts, companies can use the database as a starting point to roll out digital twin strategies faster.
We've only reached the tip of the iceberg in realizing the full potential of digital twins, especially as technologies such as machine learning, AR/VR and edge computing evolve alongside best practices for modeling and implementation. One thing is for certain — having an open, interoperable standard for digital twin technologies will be paramount to reaping future benefits and achieving true digital transformation.
All IoT Agenda network contributors are responsible for the content and accuracy of their posts. Opinions are of the writers and do not necessarily convey the thoughts of IoT Agenda.