kantver - Fotolia
2 IoT technology trends reshape the edge
As the data created at the edge grows, IT/OT convergence and edge-as-a-service offerings could be the future go-to for data processing in IoT deployments.
IoT and edge computing rank as two technologies driving the top trends for enterprises today. Tech leaders that combine edge computing and IoT technology might also notice that edge as a service, as well as the convergence of operations technology and IT have emerged as essential pieces to a thriving IoT strategy.
"Both the edge and IoT have achieved celebrity status today," said Hewlett Packard Enterprise Vice President and Hewlett Packard fellow Tom Bradicich during IoT Day Slam 2020's headline keynote.
As much as 80% of IT, operations technology (OT) and consumer data will be generated at the edge, with most of it coming from IoT devices, Bradicich said. The keynote, "Two dynamics revolutionizing the edge and IOT," highlighted organizations' need for efficiency when it comes to distilling value from IoT devices at the edge.
Why the edge and its structure matter
Edge data helps organizations with business insights such as whether inventory is running low, if a machine will fail and making new discoveries. These insights drive three types of value for an organization: monitoring businesses, factories and customers; maintaining technology, such as updating software; or monetizing products. Effective edge data processing can lower response times, bandwidth and connectivity costs, as well as improve security from not transferring data, reduce storage needs, increase reliability and keep adherence to data policies.
IoT data can go right from the devices to the cloud, or it can transfer from the devices to actuators, through data acquisition and control, edge IT, then finally to the cloud. The two trends of IT/OT convergence and edge as a service have been improving the process. IT and OT teams tend to be at odds when IT experts have a mission to protect and the OT experts continue to manufacture, provide power or provide whatever the process might be.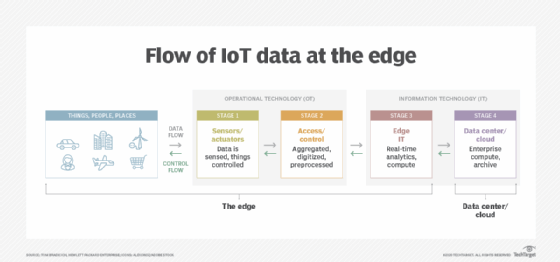 "Understanding [data acquisition] and OT is really important, because when you go to the edge, it's there. [The edge is] not just about compute and not just about sensors and not just about things," Bradicich said.
IT/OT convergence powers more efficient edge analytics
First, organizations must determine what their edge is and what their things are, such as factories with IoT sensors on their machines. OT consists of sensors, actuators, data acquisition systems and control systems for technology such as robotic arms, autonomous vehicles and industrial protocols, such as controller area network bus.
There are three types of convergence for IT and OT: process, software and data, and physical convergence. OT cooperates with IT on security and network support, though it can be challenging. This agreement on the process and working together moving forward is the first convergence. The second is software and data convergence where edge data flows directly into IT systems, such as budgeting or customer research management. Finally, physical convergence merges the actual box equipment of OT and IT functions, including routers, control systems, data acquisition, compute and storage.
Being able to [combine OT and IT systems] and have the same analytics running at the edge is extremely powerful for customers.

Tom BradicichVice president, Hewlett Packard Enterprise
When organizations put IT and OT together, they will use less space, time and energy, and have less to purchase and manage. In traditional systems, organizations that analyze data at the sensors or actuators get immediate results, but not deep results, Bradicich said. As data analysis moves closer to the cloud or remote data centers, the depth of results increases, but the time increases.
"Much of the data expires and it's useless after a while. By the time it hits the cloud, it might be useless. Being able to [combine OT and IT systems] and have the same analytics running at the edge is extremely powerful for customers," Bradicich said.
Conduct data analysis with edge as a service
Data analysis predominantly happened in the cloud in recent years, but cloud capabilities have been shifting to the edge. Organizations face some challenges at the edge not seen in the data center, such as limited bandwidth, mission-critical OT systems, hostile physical environments, unreliable connectivity and increased security vulnerabilities. Organizations are turning to edge-as-a-service offerings to manage these difficulties.
Edge as a service for IoT deployments can provide lifecycle management for OT and IoT devices, remote cloud interface management, management of multiple networks and industrial protocols, stable connectivity, and autonomous disconnect operations. To create machine learning algorithms at the edge requires strong compute power, but organizations might still want to send data to the cloud for analysis or just send edge data analysis results to the cloud.
The vendor or a partner might run the edge-as-a-service offering, or organizations could be responsible for the operation. Organizations interested in using edge services are still the experts of their edge. There are many unique edges depending on the industry -- such as agricultural or manufacturing -- and great precision might be necessary to integrate offerings with machines. Organizations know their systems best and whether the data is useful in a way that vendors or partners would not.