Applying smart building technology in multi-tenant properties
Today's tenants expect the benefits of smart buildings in their homes and at work. Yet deploying smart building technology to multi-tenant spaces isn't the easiest of tasks, regardless of the benefits.
The benefits of smart buildings are many: From smart energy consumption and cost-savings to smart fire extinguishers...
Continue Reading This Article
Enjoy this article as well as all of our content, including E-Guides, news, tips and more.
and smart lighting, smart building technology is making a difference. However, many buildings -- be they residential, office or commercial -- remain largely unconnected, creating a significant opportunity for suppliers of smart home and smart building technology.
Yet, this opportunity for IoT-enabled uses in multi-dwelling units, such as apartment buildings, and multi-tenant properties, including office spaces, is tempered by the challenges owners and managers face in adding smart technology to their buildings, including cost and tenant security and privacy.
"Cost, far and above all other factors, is the biggest barrier to adoption by owners, operators and developers, followed by occupant privacy concerns," reads the Continental Automated Buildings Association's (CABA) "Connected Multi-Dwelling Units and the Internet of Things" study conducted by Harbor Research.
However, CABA also noted that most of these stakeholders are aware of the many benefits of smart buildings.
"The main challenge is the upfront investment that's required to incorporate these types of technologies into buildings," said Harry Pascarella, a consultant and project manager at Harbor Research in San Francisco. "Depending on the size of the building or the number of units that they own, the upfront investment could be too much or just not worth the pain."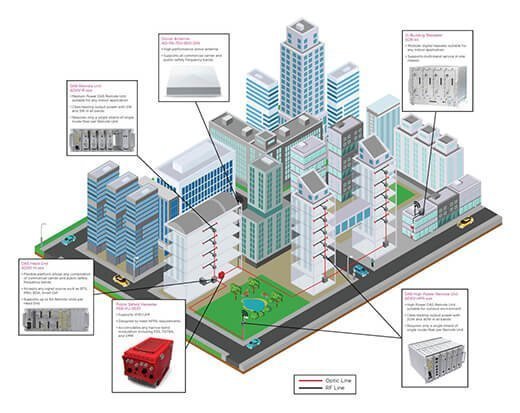 To overcome the cost issue, many developers are starting to offer technology in a percentage of their units and charging higher monthly rates for these upgraded units, said Doug Jacobson, director of residential technology for Crestron Electronics Inc. in Rockleigh, N.J.
This upgrade concept has been used for many years in the residential sector with things like upgraded countertops or closets, but using tech as an upgrade is a more recent development, driven by younger renters' affinity for connectivity as well as the proliferation of smartphones and tablets, he said.
However, when it comes to deploying smart building technology in multi-tenant spaces, it's not as easy as just installing a thermostat, for example, Pascarella said. "You also have to make sure the thermostat is connected to the Wi-Fi or to the cellular connection that it's supposed to be connected to," he said. "And then from there, one of the biggest issues we're seeing today is that tenants might not be open to others having that kind of data, for example, their energy use on them."
Pascarella said this brings up an ethics concern: Is the owner telling the tenants that this data is being collected? How would the owner deal with it if a tenant didn't want to participate?
Dean Freeman, a former analyst with Gartner, agreed that data privacy is an issue building owners and managers must contend with.
"If I'm going to do IoT in a smart building, I'm going to have to put in intelligent lighting, put in a smart thermostat, and now I have this intelligence that is measuring what the people are doing in the house," Freeman said. "But where is that data going and do the tenants want that data to be ported out?"
However, according to the CABA report, if suppliers can prove that tenants' personal devices and data are safe from external attacks, users would be more willing to share that data with suppliers in exchange for more personalized, higher value services. Therefore, CABA recommended building owners look to suppliers that "embed data capture and two-way communications into offerings, make clear the benefits that users will capture by sharing data, and clearly define data usage terms."
Jacobson said there are other considerations multi-tenant building managers and owners should be mindful of when implementing smart building technology:
Ensure any automation systems installed can integrate with "bring your own" hardware. Many renters, especially younger, more affluent ones, as well as businesses will bring or purchase their own technology.
Make certain it's easy to reset the system back to a default state. Many renters, for example, will get the most value and enjoyment out of their smart apartments when they're able to customize them to suit their lifestyles as preferences differ by tenant.
Set up the systems so maintenance and management can be notified automatically of a problem, even before the occupants notice. This eliminates frustration and lets management look like heroes.
Challenges hindering the benefits of smart buildings
Providing wireless coverage in buildings can also be challenging. Like electricity, water and HVAC, robust in-building wireless coverage is no longer a nice-to-have but, rather, a key must-have for building owners, property managers and tenants, according to Advanced RF Technologies Inc. (ADRF), a provider of in-building wireless technologies, based in Burbank, Calif.
ADRF provides active fiber distributed antenna systems (DAS), repeaters (cell phone signal boosters) and other equipment that enable a "rich wireless experience throughout any building or corporate campus," according to the company's website.
However, providing adequate cellular coverage for smart building technology in multi-tenant properties is difficult because the diverse structures of the buildings, for example, steel, concrete and glass, which are often built to be Leadership in Energy and Environmental Design (LEED) certified, are not easy for radio frequencies to penetrate, said Seri Yoon, ADRF's marketing director.
"People are trying to conserve energy, and one of things they use is LEED-graded glass. But every time you use these LEED-certified materials, it blocks [radio frequencies]," Yoon said. "When you look at high-rise buildings with all these LEED-certified materials, you don't get coverage inside the building. So, when you talk about cellular coverage, small cell, DAS and repeaters are almost always required."
Another challenge owners and managers face is the immature standards for security and interoperability of these components.
"There are so many insecure IoT products," said Mark Benson, CTO at Exosite, which provides an enterprise IoT platform for companies that make smart, connected devices for multi-tenant spaces, including smart water heaters, appliances, smoke detectors and fire extinguishers.
"We exist to basically make it easier and more secure for these manufacturers to just create smart, connected products quickly," Benson said.
However, the companies that make these devices also face intense cost pressures.
"Companies that make fire extinguishers, for example, are not first and foremost information security companies," Benson said. "So, when they start adding sensors and smarts to these products, they don't always follow even industry best practices for security, let alone the fact that IoT presents a whole new set of security vulnerabilities that we're all just starting to hear about now."

IoT Security Patterns - Mark Benson, CTO @ Exosite from PubNub on Vimeo.
Benson said security isn't a problem to be solved, but rather a problem to be managed. To that end, there are technology pieces that have to come into play to make a connected product secure.
"There are embedded security chips that can be implanted inside a fire extinguisher or smoke detector that can add some really strong security features that make it and its communication with the cloud very secure," he said.
When it comes to security, building owners need to ask their vendors whether the data from these connected devices is encrypted because, ultimately, it's all about the data, Benson added.
"The device itself could be smashed with a hammer or burned, but it's the data that's really the sensitive part that you want to protect with security," he said. "Owners should buy devices that are backed by reputable companies, like Honeywell, for example, that pay great attention to data integrity and the security of their products."
Another problem the industry is struggling with is what happens when tenants of multi-tenant properties move in or out of a smart, connected apartment or office space.
Take an internet-connect fire extinguisher, for example. There are two identities in that situation: one that identifies the fire extinguisher using a serial number and a unique identifier, and one that identifies the tenant using email and login credentials.
"The data that gets generated from that device needs to be visible and accessible to the user," Benson said. "So, in a sense, you're tying the identity of the user with the identity of the device."
But when one tenant moves out and another tenant moves in, the fire extinguisher stays the same.
"You essentially need to break that association between those two entities and start a new one," Benson said. "Same fire extinguisher, new tenant. The best way to do that is in the software platform itself."
While platforms such as Exosite's offer features for this use case, Benson said manufacturers need to create a web or mobile application that makes it easy for the owner of a multi-tenant building to exercise this process.
The era of buildings that don't create tailored value for tenants who expect connectivity-enabled convenience in all aspects of their lives is rapidly ending, according to the CABA report, which also said that it will be the offerings that are creating value for building operators while also delivering personalized value to tenants that will evolve and dominate the buildings space. The benefits of smart buildings also extend beyond building operators and tenants to those manufacturers that come up with innovative offerings that solve the challenges associated with deploying smart building technology.
Dig Deeper on IoT industry and vertical markets