3darcastudio - Fotolia
Hospitality IoT checks in to Royal Park Hotel
By integrating smart hotel technology, one Michigan hotel hopes to revolutionize the guest experience, while optimizing business processes.
When guests arrive at their hotels after a long day of travel, they don't want to wait in line to check in. Thanks to hospitality IoT, this is a decidedly real scenario -- and one that's about to go into action at Royal Park Hotel.
The boutique accommodation, located in the Detroit suburb of Rochester, Mich., may have the English manor design of a historic landmark, but it contains some of the newest technologies available to offer its guests a comfortable and connected stay. Soon, guests will be able to go directly to their rooms, easily gain access and relax while reading the latest news, watching Netflix or catching up on email on their phone or tablet.
Improving the guest experience was the key driving force of the recent smart hotel technology upgrade, said Scott Rhodes, director of engineering at Royal Park Hotel.
The 143-room hotel, which opened in 2004, partnered with Ruckus Wireless nearly a decade ago to install 30 Wi-Fi access points for its guests. Ten years later and with the growing use of mobile and smart devices, Rhodes knew upgrading the hotel's wireless bandwidth was critical. The property is now equipped with 160 Ruckus access points, one in each room, as well as others across the property. The access points installed under the desk in each guest room also contain an IoT module with a unique MAC (Media Access Control) address.
"Guests are coming in with two or three devices each, and if you have two guests per room, you have five or six devices," Rhodes said. "Being able to give them the platform with that reach and stability is a game changer."
The improved bandwidth builds off Royal Park's existing Wi-Fi infrastructure.
"We use pretty much all the same infrastructure already deployed in a Wi-Fi network and add an IoT controller to manage IoT traffic," said Mark Grodzinsky, senior director and general manager of IoT at Ruckus Networks, now CommScope. The access points and the IoT controller, an on-premises virtual machine, are bundled into Ruckus' IoT Suite. The access points speak three languages -- Wi-Fi, Zigbee and Bluetooth Low Energy (BLE) -- and can accommodate nearly any IoT device or system.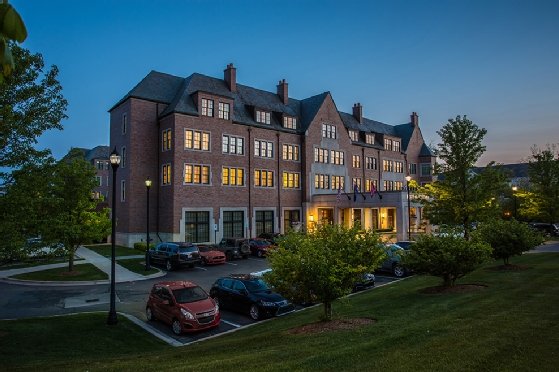 Another benefit Royal Park will enjoy thanks to IoT Suite is an integration with smart locks. Seven years ago, Royal Park upgraded its Assa Abloy locks to a fob option, but Rhodes always knew there was something more to offer guests.
"We had the card insertion piece, then we went to the fob," he said. "And, at the time, I was really curious -- you could see the opportunity on the horizon: the app for the phone." Yet, the technology just wasn't there yet. Six months ago, the opportunity to upgrade to smart locks arose.
"Now, after they make a reservation, the guest's phone or smart device can access their room once they hit the site in the period of time the reservation's good for," Rhodes said. Thanks to the connected locks, management can monitor when doors are open or closed, locked or unlocked.
IoT Suite also includes what Rhodes called a "joiner piece" -- if someone has a reservation in a guest room and is also renting a meeting room, the app will provide seamless access to both.
"It helps lessen the frustration," he said. "You're a meeting coordinator -- you have a lot on your mind. You don't need to go down to the front desk to get another key."
Beyond convenience, the smart locks, which run on the Assa Abloy Visionline software system, provide increased security for guests. If someone attempts to open a door lock with a device it is not associated with, the smart lock will notify management through a "wandering intruder" feature. The key on the wandering intruder's app will be null and void, and with mapping capabilities, the IoT system will alert management of the wandering intruder's location so security staff can investigate. Guests can rest easy if, for example, they leave their key or phone at the pool or lose it.
Hospitality IoT benefits more than guests
Royal Park Hotel's IoT deployments -- current and future -- aren't just for guest convenience. A beta test of TraknProtect's safety buttons aims to improve staff and guest safety. BLE beacons installed on staff lanyards signal Ruckus IoT Suite when pushed, notifying management of the employee's exact location and a potential issue.
The safety alerts will also be instrumental in helping the hotel comply with an upcoming industry security regulation.
"The hospitality industry, the unions, the brands -- they've all been moving in the same direction," Grodzinsky said. "There was this 5-Star Promise that came from the [American Hotel & Lodging Association], where it said all properties in North America will have safety alerts in the hands of their staff by the end of 2020. It's a huge commitment, and this technology can be used to meet that promise."
Rhodes said the hotel also plans to complete a 90-day trial of IoT asset tracking, adding TraknProtect beacons to carts, trays and other hotel equipment, such as rollaway beds, used throughout the property. This will help manage inventory in storage, hallways and guest rooms, as well as notify staff when items, such as food carts or bed trays, should be picked up. A geofencing feature will also alert management when assets leave the property.
Down the line, Rhodes said he hopes to connect the hotel's lighting and HVAC (heating, ventilating and air conditioning) system through IoT Suite, adding smart thermometers to monitor room temperatures.
"In each of the rooms and across the property, you've got a deployment that has Wi-Fi, BLE and Zigbee, so you can connect other IoT devices to that same network, whether it be a TV or an HVAC system or lighting," Grodzinsky said.
In-room automation, Grodzinsky said, is a major benefit of hospitality IoT and can help expand the guest's comfort and experience.
"The magic really happens not when you have any one thing individually connected, but when you consider what you can do now with the interactions," Grodzinsky said. "Say I open the door, which is a trigger event, and as I'm walking in, the drapes come up, the thermostat adjusts, the lights come on, the welcome screen happens on the TV -- it's your welcoming event."
Smart hotel technology can also put the room to sleep when it detects there aren't any occupants.
"The ability to control [lights and HVAC systems], or just see what's going on in the rooms, lets you be a little more aware of your carbon footprint," Rhodes said, a potential source of major energy and cost savings in the hotel industry.
Rhodes said the smart locks will be usable by guests on June 1, and its trial of the TraknProtect smart hotel asset tracking technology will take place in June.
Dig Deeper on IoT industry and vertical markets