fotohansel - Fotolia
Industrial IoT powers distributed work during novel coronavirus
IIoT devices make remote work a possibility with the use of asset tracking, remote monitoring and support to keep supply chains running smoothly.
Industrial IoT offers significant advantages during times of increased workforce distribution and automation.
Remote work is on the rise, even more so amid the COVID-19 pandemic, pushing businesses to find ways to continue work outside of traditional workplace settings. In the U.S., 69% of businesses say they have a flexible workspace policy, according to the 2019 International Workplace Group Global Workspace Survey, and that percentage is only poised to grow, given the current global health crisis. Industrial IoT (IIoT) plays an important role in keeping workforces connected to each other and organizations' assets, machinery and equipment, especially when employees are encouraged to keep social distance and, often, work from a remote location entirely.
Track valuable equipment and tools remotely via device sensors
Organizations in the construction, healthcare, manufacturing and retail industries can easily connect shared and often-used assets with sensors to track their location and maintenance status in the factory, warehouse, worksite, hospital or store. When employees can't be on site because of health concerns or are otherwise more distributed than usual, leaders can keep operations moving efficiently by remotely monitoring assets to reduce loss, increase productivity and plan for shortages. Sensors on equipment can even indicate if the machine has been misused, needs maintenance or needs replacement. Combining multiple antennae and signal triangulation, equipment is projected in a 3D plane and displayed on a map. Analytics software can learn where assets should be located and offer alerts when uncovering irregularities. Rather than deploying people to locations to perform inspections, IIoT-connected sensors can detect vibrations, monitor overall conditions and identify when preventive maintenance is needed using AI.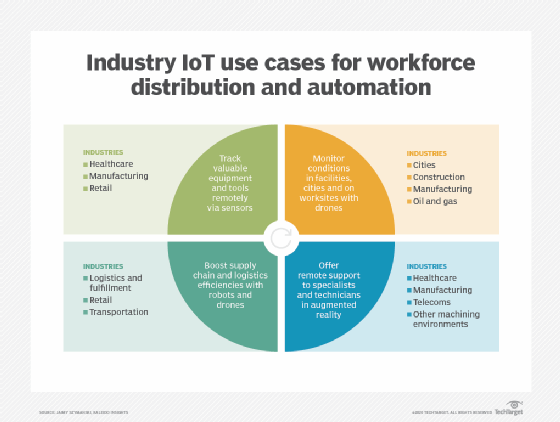 Monitor conditions with unmanned aerial vehicles
When employees are encouraged or mandated to spend less time on a worksite or in a factory because of social distancing guidelines, drones can take the place of their eyes and ears to autonomously monitor facilities -- both indoors and out.
In the municipalities, manufacturing, construction, oil and gas industries, using AI and computer vision in unmanned aerial vehicles can augment existing workforces for even greater distribution. Drones can identify hazards or noncompliance issues and notify site managers to prevent errors that lead to accidents.
When employees are encouraged or mandated to spend less time on a worksite or in a factory because of social distancing guidelines, drones can take the place of their eyes and ears to autonomously monitor facilities -- both indoors and out.
Over time, remote monitoring reduces costs and boosts revenues in low-margin industries through quality assurance. In construction, drones may use laser scanning to accurately measure progress at the site, comparing data collected with computer-aided design models for the project.
Offer remote support via augmented reality
In distributed networks where real-time support remains critical -- including healthcare, manufacturing, telecommunications and machine-intensive industries -- augmented reality (AR) can be used to reduce the cost and time required to train new employees, upskill current employees or provide assistance in operation or repair situations. AR is especially helpful in high-turnover industries that remain essential during times of crisis, such as healthcare and manufacturing.
Organizations can use AR headsets connected to IoT networks for on-the-job training, offering step-by-step instructions annotated in the field of view. Workers can do more, faster and safer with higher accuracy because of the hands-free and click-free usability of AR. To keep the AR hardware lightweight for comfort, a high-speed, low-latency connection links it to high-performance computing located at the edge of the IoT network.
Boost supply chain, logistics efficiencies with connected transport and drones
Organizations can use IIoT technology throughout supply chain management and logistics. As concerns rise globally surrounding logistic and fulfillment worker health during the coronavirus pandemic, organizations can continue operations in retail, logistics and fulfillment, transportation, and delivery services by using connected machinery, automated robots and drones.
By investing in connected fleets of autonomous vehicles and drones, organizations can use IoT connectivity and blockchain technology to transmit digital shipping manifests wirelessly. This informs the loading and unloading of shipments by robotic cranes or forklifts that move containers onto nearby transport for further distribution without human intervention. The automation of processes via machine-to-machine communication offers the potential to reduce costs and fraud, improve transparency and delivery times, and increase capacity.
On the next logistics stop along the supply chain, a team of robots and drones may roam through a warehouse or store, scanning shelves to take inventory. In a time of increased precaution surrounding worker health and staffing, robots and drones can use 2D and 3D cameras to automate the tedious and time-consuming process of stocktaking and building a picklist. The IoT network connects the robots and drones to the store's central systems, and a high-bandwidth connection smooths the upload and analysis of high-definition imagery used to create stocktaking records.
Finally, autonomous robots and drones that connect via IoT can rapidly and efficiently deliver goods to their next destination, whether that is another point in the supply chain or consumers directly. Delivery vehicles must also be connected to the robots and drones, receiving instructions from a central cloud-based delivery computer. The connected system of delivery drones and robots can amplify the delivery capability of the single driver and serve many customers simultaneously. Organizations will witness reduced cost of deliveries and more-efficient deliveries.