Fotolia
At LiveWorx 2018, PTC CEO touts importance of IoT partnerships
During his keynote presentation at LiveWorx 2018, PTC president and CEO, Jim Heppelmann, advocated the importance of IoT partnerships to the company's endeavors.
When it comes to succeeding in an IoT-enabled world, it's not just those implementing the finished IoT system that...
Continue Reading This Article
Enjoy this article as well as all of our content, including E-Guides, news, tips and more.
need an army of IoT vendors, it's the vendors themselves that also need a little help from their friends.
During his keynote at LiveWorx 2018, PTC president and CEO, Jim Heppelmann, described the numerous IoT partnerships the company has created over the past year to enable a smooth, efficacious connected enterprise venture for its customers.
"It's a very big world out there," Heppelmann said, "And we can't do it all alone."
PTC, which found early success in engineering-oriented product design tools, hit a low in the early 2000s, but rebounded greatly after Heppelmann's 2010 hiring and a slew of acquisitions, including the ThingWorx IoT platform, Vuforia augmented reality (AR) technology and Kepware data integration software.
Now, however, the company is slowing its acquisitions and focusing on IoT partnerships to extend its reach.
CAD and real-time simulation
At the fourth annual LiveWorx conference in Boston, Heppelmann announced engineering software vendor Ansys Inc. partnered with PTC to combine their simulation and computer-aided design (CAD) technologies.
Embedding Ansys' Discovery Live real-time simulation software into PTC's Creo CAD software, engineers can see the implications of design changes as they are made. PTC's senior vice president of CAD, Brian Thompson, demonstrated the tool for the audience, using real-time simulation to demonstrate the effects of adding cross-supports to a CAD model of snowmobile hardware to alleviate stress.
Ansys' president and CEO, Ajei Gopal, noted the Discovery Live-Creo combination will help engineers "innovate at the speed of thought" -- calling simulation "not only pervasive but absolutely critical to innovation."
Being released this fall, Thompson added, "Ansys is the only one who has real-time simulation, and PTC is the only one embedding it in CAD."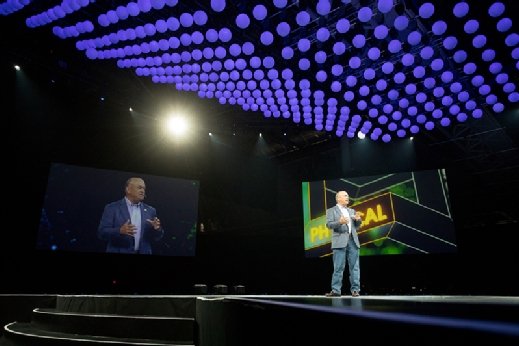 IoT involves augmented reality
Another key IoT partnership the company has pursued is with Microsoft. Announced in January, PTC made Microsoft Azure the preferred cloud platform for ThingWorx.
"With Azure IoT, we're helping customers aggregate and analyze data; and with ThingWorx, we're helping them build the applications that put it to work in their business," Heppelmann said. "This is exactly the combination our collective customers require in order to unlock the data in their IoT-enabled digital transformation journeys."
Microsoft's VP of IoT and mixed reality, Rodney Clark, took the LiveWorx 2018 stage and echoed Heppelmann's sentiment on IoT partnerships.
"Partnership is absolutely key and critical in this space," he said. "Our customers want to drive outcomes and they rely on us to provide them with the data and tools to bring these outcomes to life. When we think about the billions of devices that are in the industry and the number of solutions it takes to actually create opportunities for our customers to execute against, it's super clear that no one company can do it alone."
Clark added that it generally takes 20 to 25 partnerships to complete an IoT and AR system for a customer.
Beyond the ThingWorx and Azure combo, PTC's product lifecycle management Windchill platform can be used in conjunction with Microsoft Dynamics CRM/ERP system, and PTC's Vuforia can be used with Microsoft's HoloLens headset.
To demonstrate the pair's capabilities, a service technician from Colfax Corporation demonstrated how ThingWorx based on Azure IoT helped the company remotely monitor the health of its industrial welders. The tech then showed a complete workflow order being sent to a customer. After, a worker from BAE Systems explained how he made a visual training aid using Vuforia and HoloLens to walk employees through the process of building a green bus battery. This combo, he said, has helped the company train new employees up to 40% more efficiently than prior processes.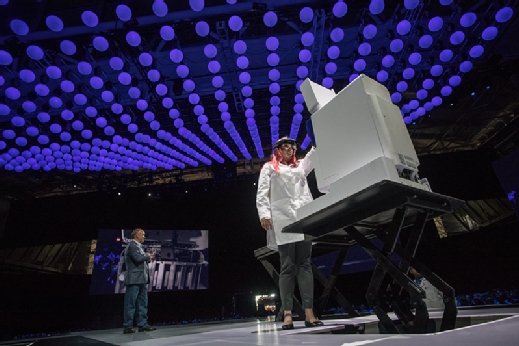 Waypoint and PTC
After demonstrating how its IoT partnership with Microsoft helped connect the physical world to the digital world, Heppelmann wanted to demonstrate how augmented reality can create smart, connected humans.
Andy Hay, COO at Sysmex America Inc., a distributor and supporter of hematology and clinical laboratory products, explained how adding IoT to its systems helped the company verify the status of instruments remotely, affording the company benefits such as providing maintenance based on machine needs versus a prescribed maintenance model.
Building off the success of IoT, Sysmex is setting its sights on AR.
Using Waypoint, a technology borne at MIT and recently acquired by PTC, on Sysmex XW-100 blood analyzer systems -- of which there are 4,500 in hospitals across the U.S. -- Hay said Sysmex has revolutionized the company's process of authoring work instructions.
In an onstage demo, a lab technician showed how to properly perform a daily setup procedure and prep the lab for blood samples. During the process, she recorded instructions using Waypoint and an AR headset to create training and work instructions for employees.
In a second demonstration, Valentin Heun, one of the Waypoint creators and a current PTC employee, demonstrated what Heppelmann called "the future of human-machine interfaces." Using IoT and AR, Heun created digital interfaces for two machines, and then used AR to connect the two and run the feeder.
"This is what a smart, connected human experience might feel like when powered by AR," Heppelmann said.
PTC takes on the factory
"We haven't historically been known for our factory prowess," Heppelmann said. "But in just a few years, our IoT and AR technology has been selected for deployment in 800 factories by 200 companies all over the world. This part of our business is growing very fast, and our unique solutions are creating competitive advantages for these companies."
While PTC wants to capitalize on this prospect, it knows it can't go it alone. This is where one of its most important IoT partnerships comes into play.
"Smart factories, or what we call smart connected operations or SCO, is a big new opportunity for PTC -- maybe it's too big," Heppelmann said. "It's one that's going to require a lot of expertise, a lot of technology, and a lot of skill for us to fully capture and win."
So the company looked for what the PTC CEO called a "big brother type partner" to enhance its expertise, credibility and technology footprint.
First announced last week, PTC's latest IoT partnership is with Rockwell Automation Inc., the industrial automation and information company that serves more than 35,000 customers across the globe. Rockwell will align its FactoryTalk Analytics and manufacturing execution systems (MES) with PTC's ThingWorx, Vuforia and Kepware in an integrated suite, currently unnamed.
Rockwell's chairman and CEO, Blake Moret, took the stage to tell attendees, "We serve customers in discrete, hybrid and process industries around the world. With many of the same automotive and industrial accounts PTC has strengths in, we also complement PTC with our strength in places like pharmaceuticals, consumer packaged goods, oil and gas, chemicals, mining and materials. Between us, we cover a very broad market."
Heppelmann added, "There's nobody out there who has a solution that contains this full range of IoT and MES and augmented reality."
Moret credited PTC's heritage in IT and Rockwell's background in operational technology (OT) as key to the IoT partnership's ability to accelerate its vision of the connected enterprise.
The alliance, which involves Rockwell investing $1 billion in PTC equity to buy back stock, as well as Moret joining the company's board of directors, is what Heppelmann said was "just what we need to capitalize on the SCO opportunity."
PTC and Rockwell will each sell the integrated suite to their respective channels and partners.