Why is the smart factory concept key for manufacturing?
With the growth of connected technologies, the factory of the near-future is expected to work quite differently than the one of today. Here's a look.
The smart factory concept is increasingly discussed in relationship to the industrial sector. So what, exactly, is a smart factory, and why is it important to manufacturing?
While there is no official definition of smart factory, the term is generally used to mean a production facility that is highly digitized and connected. The smart factory concept is often thought of as the outcome or vision of the fourth industrial revolution, or Industry 4.0.
The smart factory concept and connected tech
Smart factories embrace the concept of the digital twin as a basis for digital manufacturing. Production machines participate in the manufacturing execution system's local network to receive orders, report progress, access work instructions and interact with the quality and traceability systems. Plant floor workers have ready access to schedules, instructions, quality data, inventory status and demand changes. The entire enterprise, including engineering, sales and marketing, executives, field service, materials and planning, accounting and even customers and suppliers are electronically linked to monitor needs and activities, collaborate across the extended enterprise and work together to increase speed and efficiency.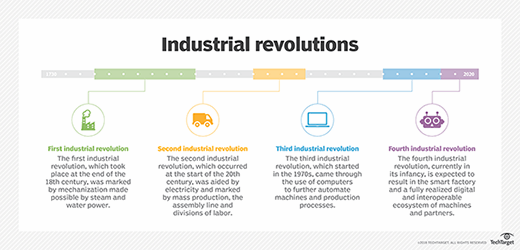 The defining characteristics of the smart factory are visibility and connectivity. Extensive use of industrial internet of things (IIoT) sensors and devices provide much of the enabling technology, while increasingly sophisticated analytics and smart applications based on AI and machine learning take over much of the routine management tasks, enabling workers, managers and executives to focus on handling exceptions and making sound strategic and tactical decisions.
As the vision of the smart factory concept unfolds, expectations are that smart factories will be able to greatly reduce or eliminate defects and unplanned downtime, reduce waste and optimize output and efficiency.
Smart factory concept near-future
While this may all sound like a pie-in-the-sky futuristic vision, the technologies needed to bring this smart factory concept to life are available and in use today, and a growing number of manufacturers are enjoying the benefits of digital manufacturing and IIoT visibility. Technology continues to evolve, of course, and a broader footprint, tighter integration and more automation are certainly in the works. Major developments in human-machine interfaces, including better analytics, augmented reality and voice technology, will serve to bring the people, the factory and the supply chain closer together in the foreseeable future.
A recent report by Capgemini's Digital Transformation Institute suggested that the industrial manufacturing, aerospace and defense, and automotive industries are most aggressively pursuing smart factory initiatives. The report stated that 76% of manufacturers are either planning or pursuing a smart factory initiative, and smart factories could add more than $1 trillion in value to the global economy in five years.