3 ways 5G in retail will propel change throughout the industry
Retailers and supply chain manufacturers can tap into new opportunities for customer service and product visibility with 5G connectivity and IoT sensors.
The advent of 5G combined with IoT connectivity presents ambitious retailers with the opportunity to upgrade from brick-and-mortar stores to create future experiences shoppers could only imagine.
High-speed 5G connectivity will bring retailers an intelligent ecosystem of connected devices and technologies at scale, regardless of location. When available en masse, retailers will witness improvements across the supply chain with new storefront sales opportunities, more cost- and time-efficient delivery practices, and increased visibility into product provenance and authenticity.
5G gives rise to roaming retail opportunities
What would the future hold if the store could travel directly to individual customer locations, driven by an autonomous vehicle? 5G offers the opportunity for roaming retail locations to bring products to the consumer's doorstep and then move on to the next delivery stop. This not only expands the reach of the retailer, but also offers a new level of service to customers who may not have the time or physical ability to visit a brick-and-mortar storefront or showroom. Self-driven retail stores may also yield lower maintenance costs than traditional physical locations thanks to decreased foot traffic and general human-caused wear and tear on facilities and fixtures.
Retailers run autonomous vehicles that house on-the-go stores through a 5G network connection. The cellular connection makes the store accessible from any location the car can travel to and powers a consistently updated map of customer service requests. A secure network slice would reliably and securely handle the personal and financial data associated with each transaction.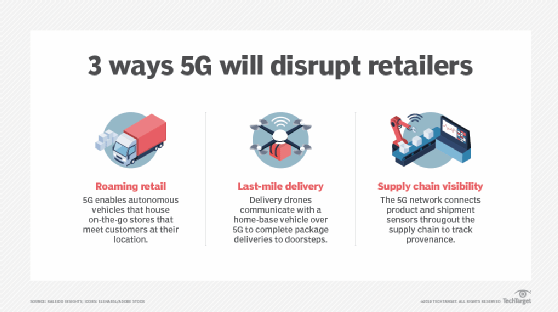 Solve last-mile delivery hurdles with 5G
One of the great hurdles and costs of automating retailer delivery of goods purchased online is referred to as the last mile of delivery -- the small distance between the delivery truck and the customer's doorstep. When delivery organizations are involved, a human delivery driver or postman handles the last mile. 5G offers the promise to close the loop on automating the entire journey by combining self-driving delivery vehicles with high-speed, network-enabled drones that efficiently complete each delivery. The drones will close that last mile as the transport mechanism between van and door. After the drone drops off the package -- following a secure code transfer to verify purchaser identity -- the drone continues its delivery route, circling back to the van home base for another customer's order pickup.
With the myriad IoT sensors and blockchain data storage, 5G has the capacity to disrupt supply chain management in relation to product provenance and authenticity.
The delivery van, its interior fulfillment robots and delivery drones connect to the 5G network to receive their instructions from a central, cloud-based delivery computer. The robots and drones communicate over the high-bandwidth and scalable 5G network to navigate or receive remote guidance from an intervening human if necessary. E-commerce giants, such as Amazon and JD.com, are already exploring similar delivery programs. Microsoft is solving other drone problems with an open source system to train the robots on real-world geography, weather and lighting conditions.
5G boosts visibility throughout the supply chain
With the myriad IoT sensors and blockchain data storage, 5G has the capacity to disrupt supply chain management in relation to product provenance and authenticity. A broad set of wireless IoT sensors track products as they traverse the supply chain at sourcing locations of materials, during transport, during packaging and in stores or warehouses. Location and authenticity data are uploaded to an immutable blockchain for tracking and verification by every member of the supply chain, down to the consumer level. Suppliers can use blockchain tracking to verify shipments, and customers can use it to verify if retail goods are indeed locally sourced, cruelty-free or authentic luxury items, for example.

The 5G network connects all product sensors in the supply chain, regardless of location, which is a huge advantage over the need for a Wi-Fi connection in remote areas. A secure network slice could also augment the blockchain database to increase reliability and data privacy.