Denys Rudyi - Fotolia
Focus on IoT ROI, not potential, during economic uncertainty
During challenging economic times, organizations must carefully plan IoT investments, whether that is to build the technology up or delay any major additions.
COVID-19 has caused economic uncertainty, and organizations might wonder where their money and time is best spent to ensure IoT ROI.
Prior to the pandemic, clear trendlines and market directions provided guidance for IoT decision-makers considering new or continued investments. Despite the disruptions and uncertainty, analysts found that the current environment has encouraged some organizations to start or continue investment in IoT.
"In an industrial and enterprise context, more [organizations] are turning to IoT to assist with social distancing and remote monitoring," said Frank Gillett, vice president and principal analyst at Forrester Research.
But the economic situation and pandemic make IoT initiatives more difficult. Organizations must determine if IoT investments are better to make now or if they should put them off.
Organizations can approach IoT in a couple of ways, said Rich Karpinski, principal analyst at 451 Research, part of S&P Global Market Intelligence. Many existing nice-to-have projects are proceeding as planned or are slightly stalled because organizations had to prioritize IT resources for remote work or security. Very few organizations seem to be cancelling existing IoT projects, Karpinski said.
Some organizations might even question whether projects should be accelerated or added -- in particular, IoT use cases that assist businesses in reopening or ensure employee health and safety.
"We are still seeing a tremendous amount of activity with technology vendors -- both large IT vendors and global consultancies -- in putting together return-to-work IoT solutions that combine new hardware, like thermal cameras or motion or other environmental sensors, and analytics that deliver insights to help reduce risks and ensure safety," Karpinski said.
Despite the effects of the coronavirus, organizations continue to view IoT as crucial to achieve efficiencies and cost savings for business operations, with IoT ROI as another priority. IoT edge and related core network investments will build the foundation for achieving IoT efficacy, said Patrick Filkins, senior research analyst of IoT and mobile network infrastructure at IDC.
To achieve application continuity and performance across the network core and edge is easier said than done. Organizations can invest in technology to support a distributed edge, such as software-defined connectivity to manage the complexity implicit in core and edge networks and a multi-tier edge, where one of the tiers hosts edge gateways or systems, Filkins said. These investments facilitate IT and operational technology convergence to improve continuity.
Options to invest in IoT
The slower pace of business due to COVID-19 may make it easier to implement IoT infrastructure from a resource and time perspective, said Vikrant Viniak, managing director and North American lead for high-tech strategy at Accenture. Organizations have three ways to invest in IoT:
Organizations that experience an accelerated demand could use IoT to optimize operations, increase production and decrease time to market.
Organizations that face a decline in revenues should optimize costs through automation and explore using IoT based products and analytics to drive up sales.
Organizations must invest in creating a digital workplace to compete in today's economy, empower digital workers through remote work and prioritize worker safety.
Organizations that look to digitize their overall business with digital twins, digital factories and other IoT uses have a great opportunity to deploy sensors and software now, Viniak said. Examples include predictive and remote maintenance for organizations in healthcare, digital manufacturing, energy and utility companies as well as building management.
Slower times may make deploying IoT easier, but the economic realities must also be considered. Investments made during difficult economic times must deliver direct value and IoT ROI to the business. When used properly, IoT technology can realize ROI often in a short span of time.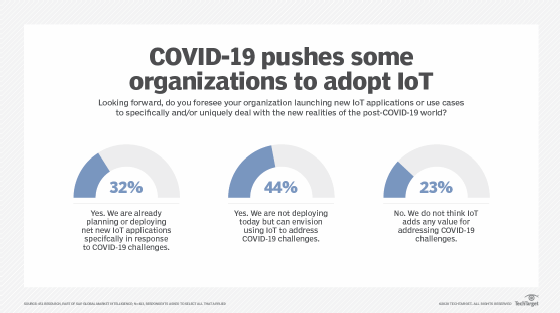 When to slow investments
One continuing problem for some organizations is focusing too much on the technology and what it can do rather than keeping an eye on the business need, said Alfonso Velosa, research vice president for IoT at Gartner. With high stakes, it is important to review the intent of IoT initiatives and strategy.
"Look for the most important metrics for the business and focus on where IoT can deliver value," he said.
For example, an energy company might focus on the delivery speed of the first barrel of oil from a new well as their main KPI. CFOs typically look to shorten the payment time for accounts receivable. IoT could assist in both instances, but not through general investments to improve an organization.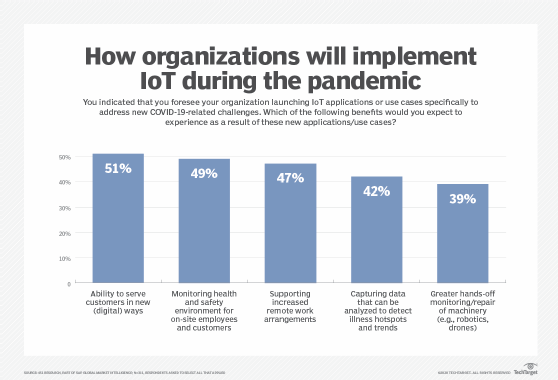 "The time for testing and playing with IoT is passed; organizations must now focus clearly on delivering value," Velosa said.
Organizations should look for clear metrics before they approve a project, he said. Where a three-year payback might have once been acceptable, now the pressure is on to do much better -- perhaps even achieving payback in under six months.