alphaspirit - Fotolia
IoT skills and 4 experts every IoT project needs
Executives must understand the skills needed to get an IoT initiative off the ground and where to find the expertise to lead industry-specific projects.
Executives embarking on IoT initiatives must build teams of internal staffers and external partners who combine the right abilities and IoT skills to successfully deliver value.
Organizations need to draw on a range of professionals for any given IoT initiative, because IoT is not a single technology or platform, but a conglomeration of hardware, software, networking and compute.
"When it comes to IoT, most people think about the technologies, but you have to think about the business needs and what business need IoT is solving. That's what makes a good IoT product. And if you build that, adoption is higher," said Arpit Jain, vice president of delivery at the digital consultancy Nerdery.
Key IoT skills needed for IoT deployments
IoT projects need people with a range of skills and expertise on technical aspects, security, and business and organizational strategies.
According to a Gartner report on enterprise IoT strategy, CIOs "must identify which new IoT skills are required to recruit, train and develop resources accordingly." The firm further advised CIOs to create an IoT center of excellence for cohesive business transformation across the team and to give their IoT products a competitive advantage.
Intelligent Product Solutions (IPS) develops IoT products for client companies and employs 110 people, most of whom are hardware and software developers. IoT requires developers who can work with cloud-based infrastructure and can design user interfaces, said Mitch Maiman, president of IPS. Developers should also be well versed in communications and networking technologies, as well as understanding how data needs to flow in an IoT network.
Developers should invest time in learning how to use different platforms and coding languages. The Eclipse Foundation's 2019 IoT Developer Survey identified AWS, Azure and Google Cloud Platform as the leading IoT cloud platforms, and C, C++, Java, JavaScript and Python as the most common languages used. IT pros must understand protocols, especially MQTT, the dominant communications protocol for developers.
Four professionals vital to IoT projects
Dan Lohmeyer, senior vice president of software strategy and product management at GE Digital, said the professionals and skills he seeks out for IoT projects include:
System integrators and solution architects with working knowledge of protocols, hardware and operating systems, configuration management, system deployment and data validation.
Data science engineers and domain subject matter experts who can create meaningful analytics to generate value, with working knowledge of model building using Python, R, S packages and data quality validation.
Monitoring engineers with domain understanding and working knowledge of SCADA, instrumentation and controls engineer with data analysis and computational experience.
Professionals with leadership and change management capabilities, to knit together disparate teams of experts across organizational silos with the end goals in mind.
Cybersecurity skills and data analysis skills are two of the most sought-after IoT skills for projects, said Jim Johnson, senior vice president at Robert Half International, a technology staffing firm. UI/UX, mobile development skills and expertise in AI, machine learning and robotics closely follow as in-demand skills.
Strategic and soft skills are equally important
Collaborative skills also rank high on the list of critical skills for IoT projects, Johnson said. Other IoT experts agreed and cited collaboration and similar skills, such as the ability to communicate effectively and understand business needs and objectives.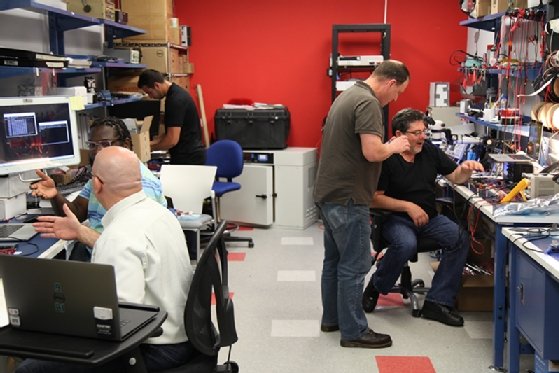 "Strong project management and engineering skills are at the top of the list. Project management helps us to define a project's scope and needs so that we can best plan and allocate resources," said Ezhil Nanjappan, director of IoT and mobility solutions for Otis Elevator Company, which services 2 million elevators around the world.
Similarly, Maiman said he seeks people with solid experience and strong strategic skills, as well as those who are adaptable and willing to learn, because they can keep up with the rapidly evolving technology.
"I want people who can set the roadmap, make sure we're building sustainable code, software that can be maintained into the future that doesn't have a lot of bugs in it. That's what you need the experience for," he said.
Case-specific IoT skills needed
Although there's a list of skills common to all IoT initiatives, some projects do require additional, specialized skills that are specific to the use or the industry, said Baruch Schieber, a professor and chairperson of the computer science department at the Newark-based New Jersey Institute of Technology.
For example, an electric company implementing sensors along its power infrastructure to detect for outages might need to develop sensors to analyze electric current or voltage in order to detect and alert for anomalies. In that case, the utility provider would need data experts who could write the algorithms used for analysis and experts in edge computing to design the sensors.
"You need to define what you're trying to achieve -- you need to think about the problem you're trying to solve -- and then you need people who can solve that kind of problem," Maiman said.
Dig Deeper on Enterprise internet of things