Sergey Nivens - Fotolia
Key considerations for choosing embedded analytics tools
Many organizations benefit from using embedded analytics tools. Here's a guide on some key things to consider before deciding on an embedded analytics vendor.
Rajesh Gill has just a couple of people to help him manage analytics for a billion-dollar product. For the associate director of forecasting and business analytics at pharmaceutical giant Amgen, when it comes to embedding analytics in applications aimed at internal users, including marketing executives, creating everything by hand wasn't an option.
"We didn't have the capability to build everything from scratch," he said. "We have a lean team. We're a pharma company -- we're biotech -- we're not in the technology space."
Instead, he said, Amgen wanted an off-the-shelf product that would be simple to deploy and provide the features that end users wanted but also offer additional capabilities for power users.
"A simple example would be the demand for a certain product," he said. "Are we performing better in the marketplace versus other products compared to the overall market?"
Gill's team uses DataKitchen, a DataOps analytics platform maker, to aggregate information from multiple sources and create a single, 360-degree view of the relevant information. Then, they use Tableau to present the information via embeds in internal applications.
Usability is key
"The selection was based on functionality and ease of use," Gill said. "We wanted something we could make available for business users that would also enable power users to let them do their own thing."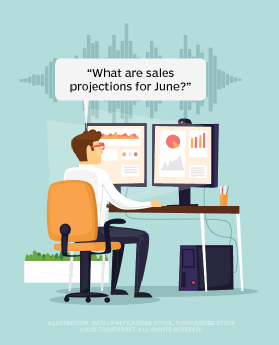 With Tableau, he said, users can drag and drop metrics to produce their own reports. As a result, it's easier for users to manage information.
Embedded analytics and visualizations make it easy for people to track key performance indicators, he said. "We use it on a daily basis."
The analytics have been pushed to mobile applications as well, Gill said. "We have a sales team that promotes this product and have the ability to look at the information wherever they are."
In the future, he said, there might be integration of embedded analytics tools with other enterprise systems.
"We're uncertain right now because of the acquisition," he said -- his unit was bought by Amgen last fall. "But we'll be looking at how to integrate it with other solutions."
If organizations don't have a large development team on staff, this is a really great way to get up and running to give people access to analytics.

Justin RichieData science director, Nerdery
Amgen isn't the only company embedding third-party analytics and visualization tools in enterprise applications. According to a February report from Facts & Factors, the global embedded analytics market reached $30 billion in 2019 and will grow to $78 billion by 2026, with a compound annual growth rate of about 14% from 2020 to 2026.
"If organizations don't have a large development team on staff, this is a really great way to get up and running to give people access to analytics," said Justin Richie, data science director at Nerdery, a digital services consultancy.
Embedded analytics first became popular in internal sites and portals, he said, like SharePoint and Confluence pages. "But it's very widespread now," he said. "Companies are now using it for sharing externally with their customers."
Performance and pricing
For a company that has already standardized BI reporting on Tableau or Power BI , adding on the embedded analytics component can make sense, said Dan Yu, director of AI analytics and engineering at KPMG.
"For enterprises or companies that already use one of those platforms, going the embedded route doesn't add the additional cost of acquiring a new platform," she said.
Plus, users may already be familiar with the tool's dashboards, developers will be familiar with the data connectors and the key integrations may already be complete.
But a bigger cost issue is the pricing structure. Embedded analytics vendors have a variety of revenue models, which can make a big difference in the final cost of the product.
"Typically, with business intelligence products, most have a subscription-based pricing model based on the number of users," said Chandana Gopal, research director for business analytics at IDC.
But, when those analytics are embedded in enterprise-wide platforms -- or extended to customer-facing applications -- the number of users can go up dramatically. Enterprises may prefer a pricing model based on server capacity, revenue sharing or some other metric instead. Vendors are starting to offer these pricing models, she said.
It makes business sense. Embedded analytics tools are usually a more lightweight, scaled-down version of the full-featured BI platform and enable vendors to get their product out in front of a lot more people.
Vendors are even willing to negotiate, Gopal said. "They are seeing a huge amount of value in relationships with applications."
Airlines Reporting Corporation (ARC), which tracks data about airline tickets sold by travel agencies and travel websites, like Travelocity and Priceline, has used a variety of embedded analytics platforms over the past few years. Some of the platforms it previously used include MicroStrategy and IBM's Cognos. Today, the company uses Tableau.
It embeds analytics in both internal and customer-facing applications. After ease of use, scalability was key.
"We're talking about terabytes of data," said Arun Gupta, the company's managing director of data products.
ARC covers 100% of the U.S. airline travel market, all ticket sales except for those sold directly by the airlines. And the next step is to add those airline sales channels, as well as global data from a business partner.
"When we started, many years back, we were using per-user licenses," he said. "But, as we had more and more users using the product, we started to move away from per-user licenses to an enterprise license."
Performance was also an issue.
"For some of our customers, we needed a flexible option where our users would access a lightweight product," he said. "We also needed a highly robust system to provide multiple years of data to customers."
Today, the company has its own instance of a Tableau server running in the cloud, he said. "It offers us more options and keeps our costs down."
In fact, ARC is in the process of moving its entire data set from on premises to the cloud, a multiyear effort that is expected to be completed this summer.
Agencies and airline customers use embedded analytics tools to track performance of particular channels, compare them to peer groups or identify revenue opportunities, Gupta said.
Privacy and security
Security was also a concern when deciding on vendors and platforms, Gupta said. "All of the processing of the data is within our control -- we don't send any data to Tableau or any of our vendors. Everything is in our data lake environment. We create a data mart, then we add a layer of analytics on top of that."
End users can only see the finished charts and presentations, he said, not any of the underlying data that goes into the visualizations. "For us, data security and data privacy are the major thing we take care of."
When the analytics relates to data that is protected, confidential or proprietary, data governance issues can be a significant concern.
Here, third-party analytics tools can offer an advantage to enterprises because the best platforms have them already built in.
"When I'm sharing something, I want to make sure I'm not sending out proprietary information," said Karen Panetta, Institute of Electrical and Electronics Engineers fellow and dean of graduate education at the School of Engineering at Tufts University. Embedded analytics vendors take care of that.
"That's why businesses love it," she said. "It's more secure."
Other factors to consider
In addition to core functionality, good UI, easy integration and pricing model, there are some other factors that companies might consider when choosing an embedded analytics tool, Gartner analyst Joe Antelmi said.
For example, for companies with users in multiple geographies, localization options are important, he said. "Does it support different languages?"
He also suggested looking at the levels of customer support a vendor provides and their development roadmap.
The future is intelligent
For 25 years, ARC has been collecting data. The analytics layer helped customers make sense of that data. Next, Gupta said, ARC will take things a step further.
"We are moving to providing insights, making it clear what the calls to action are, what things changed since the last time they logged on," he said. "AI and [machine learning] are very much part of that plan."
They're not alone. In fact, many of the most advanced embedded analytics vendors are adding AI and machine learning to their platforms.
"AI is the primary differentiator in the platforms today," said Ken Seier, chief architect for data and AI at Insight, a technology consulting and system integration firm.
"Most of the tools that we've traditionally used to create embedded analytics are trying to catch up to the AI game," he said.
That means adding the ability to run AI algorithms right in the platform, he said.
Embedded analytics vendors are starting to use AI to look for strong correlations in data or spot unusual events or activities. Another potential use is to have better predictions and AI-powered decision-making, Seier said. "That technology is not yet commercially available, but it will be the next step."
But AI can also make the tools themselves easier for end users to work with, such as by embedding natural language understanding.
"You can tell it what data you're looking for, and it will just pop up a graph," Seier said. "I've seen some very compelling demos with sales representatives in their field asking for sales information."