pio3 - Fotolia
Tableau-VoiceBase deal brings speech analytics data to users
Tableau's partnership with AI speech analytics vendor VoiceBase enables users both inside and outside of the contact center to easily derive insights from speech analytics data.
Tableau users can now use and visualize advanced speech analytics data as a result of a partnership with AI-powered speech analytics vendor VoiceBase. The two vendors said the Tableau-VoiceBase collaboration will enable users to more easily uncover data insights and extend the benefits of speech analytics beyond the contact center.
Incorporating VoiceBase's speech analytics capabilities could help differentiate data visualization vendor Tableau from its competitors, said Doug Henschen, an analyst at Constellation Research.
"What VoiceBase does is a niche capability associated with text analytics and sentiment analysis, and it's not something that mainstream BI and analytics vendors do deeply on their own," Henschen said.
Tim Crawford, a CIO strategic adviser at AVOA, based in Rolling Hills Estates, Calif., said he thinks the Tableau-VoiceBase partnership will benefit both companies and both sets of customers.
"The ability to turn voice into data in a meaningful way beyond transcription is really key here," Crawford said. "It leads to insights not previously possible due to the sheer amount of time required. Now, you can visualize the data coming from voice."
Along with using its own deep learning neural network to perform speech-to-text transcription, VoiceBase runs machine learning models to surface keywords and topics that are important to the content of the audio, which is usually calls, but also could be webinars, lectures or conferences.
VoiceBase also uses predictive analytics to detect events that may be too nuanced or difficult for a human to define with a rules-based approach. The speech analytics software provides users with data such as sentiment, overtalk and silence ratios, as well as custom call categories, such as "proper agent greeting" or "marketing offer mentioned."
Leading up to the Tableau-VoiceBase partnership, VoiceBase built an extension with Tableau, so users can listen to a call and visualize their speech analytics data directly within interactive Tableau dashboards.
Users also can employ the Tableau platform to combine VoiceBase data with other key data sources. Tableau and VoiceBase said these dashboards will allow users to uncover insights about their organizations' spoken voice data and improve decision-making.
"VoiceBase makes speech analytics data easily digestible for Tableau users to turn previously unstructured data from calls into actionable insights within their Tableau dashboards," said Jay Blazensky, co-founder and chief revenue officer at VoiceBase, based in San Francisco. "Tableau users can now analyze call data for contact center management or compliance monitoring. And, by doing so, [they] will have the ability provide other departments, like marketing, sales or product, access to rich organic customer insight."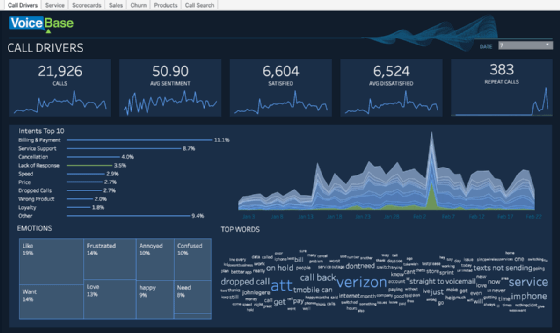 Making speech analytics data more available
What VoiceBase does is a niche capability associated with text analytics and sentiment analysis, and it's not something that mainstream BI and analytics vendors do deeply on their own.

Doug HenschenAnalyst at Constellation Research
The goal of the Tableau-VoiceBase partnership, according to Blazensky, is to provide speech analytics data for the entire enterprise, not just contact centers.
"As an open API solution, VoiceBase speech analytics data is designed to be configurable, flexible and rich with insights that can be leveraged by multiple users within a business," Blazensky said. "By partnering with Tableau, we are able to deliver our customers this data in a platform that enables unlimited use cases and insights."
Blazensky said customers want to better utilize speech analytics data, which he claimed has historically "been trapped in the call center," and to correlate it with the business intelligence of Tableau.
Enterprises are finding speech analytics data increasingly useful, said Nick Brisoux, director of product management at Tableau, based in Seattle.
"Enterprise organizations generate a large amount of speech data from their customer communication channels, including sales teams, service centers and other interactions," Brisoux said. "Being able to uncover insights in this data through an interactive dashboard can drastically improve how organizations interact with their customer base and improve the overall customer experience."
Tableau users can start using VoiceBase's speech analytics data capabilities in their Tableau dashboard now, according to Blazensky.