Sergey Nivens - Fotolia
Success of self-service BI depends on solid infrastructure
A clear data governance policy and effective training are critical to enabling self-service analytics users to make data-driven decisions for their organizations.
To enable effective self-service BI, enterprises need to build a strong infrastructure.
Organizations should take steps to enable self-service BI users, according to speakers during Real Business Intelligence 2020, the virtual conference hosted by consulting firm Dresner Advisory Services. And without first taking those needed steps, self-service users are left without the support they need to carry out BI projects and make data-driven decisions that help their organizations.
In essence, self-service BI is a lot like do-it-yourself home repair, according to Bill Balnave, director of sales engineering and customer success at Pyramid Analytics. Someone can have all the best tools in their garage, but without firm guidelines that person can do more damage than good if they do a project on their own.
"Self-service is something we've been striving for in information technology for a really long time," Balnave said. "The idea of self-service is giving the end user the ability to work with the tools to do the things that they need to do, without there having to be a lot of intervention from an expert."
And giving the end user the ability to work with the tools doesn't mean simply giving them the tools, whether it's BI or a do-it-yourself home project. Stores such as Lowe's and Home Depot not only sell the equipment needed to install new windows or redesign a bathroom, but also offer workshops that enable DIYers to do those projects.
BI is no different.
"They've taken do-it-yourself to a level where I, the common person without a lot of expertise, can go and do it," Balnave said. "All those same principles apply to self-service BI. This is about taking the investment an organization makes in data and giving it to the people who need it to make the right decisions."
The idea of self-service is giving the end user the ability to work with the tools to do the things that they need to do, without there having to be a lot of intervention from an expert.

Bill BalnaveDirector of sales engineering and customer success, Pyramid Analytics
Many of the tools now offered by BI vendors cater to self-service users. Ease of use has been a key development principle for Microsoft Power BI, Qlik and Tableau, and augmented intelligence features like natural language processing -- focal points for recent improvements from ThoughtSpot and Sisense, among others -- are advancing the self-service capabilities of BI platforms.
But without guidance, or an infrastructure that gives users a roadmap for how to properly use the BI tools with the proper data, self-service users can do more damage than good.
Data governance, therefore, is a key part of enabling effective self-service BI. If an organization is going to put data in the hands of end users, give them the power to run queries and make data-driven decisions without going through an IT department with trained data scientists, it needs to have policies in place for data quality, data access, data security and data privacy.
"You don't want to get yourself in trouble," Balnave said. "You want to make sure that you're using the right stuff. One of the downsides of self-service BI if you're not doing it right is you can make a wrong choice, so part of good self-service is making sure you've got that guidance to keep people on the right path."
Another key element of enabling self-service BI users is understanding that perfection is not required. The expectations for a self-service user are not the same as the expectations for a data scientist. And if end users think they need to be perfect, it might serve as a barrier to analytics rather than a portal.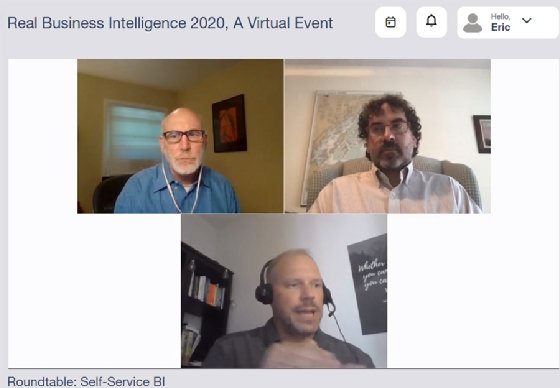 Nor is there an expectation that every report is going to lead to 100% accurate decisions, according to Joshua Merrill, principal reporting architect at Boston Children's Hospital.
"Perfection is not the goal," he said. "The goal is to understand. As you start pulling in data and pulling out data, seeing the relationships between different pieces of data for yourself, that's when you start understanding and learning and being able to answer the questions you may have to drive your business forward."
And training, of course, is a key enabler of self-service BI.
Just as Lowe's and Home Depot offer training for customer home improvement projects, organizations need to train end users in the use of data -- and about their own data governance policies -- before giving them free reign to create reports and make decisions based on their data exploration.
The goal of self-service BI, according to Merrill, is to enable end users to gather, analyze and apply their data, and that can't be done without a certain level of expertise.
"To be effective, a user needs to know what they're doing, and we've built a pretty big education department within Children's," he said.
Ultimately, the structure of an organization's self-service BI plan should resemble that of an iceberg, according to Bill Hostmann, research fellow at Dresner. Before the end user -- the top level of the iceberg -- ever begins working with data, there must be a deep foundation underneath.
"What you see above the surface is a lot less than what it takes to make it happen under the water," he said.
Similarly, Balnave said self-service BI should be built on top of something. Users need an underlying set of standard guidelines in order to work in concert with the self-service analysis someone else in the same organization is doing. Without those standard guidelines, what one person is doing with data could have no relation to what another is doing with data, rendering what each is doing all but meaningless.
"You have to have that operational foundation for self-service to be useful and good," Balnave said.