kalafoto - Fotolia
Knime focused on performance speed of analytics platform
New nodes that enhance speed and efficiency are at the core of Knime's roadmap as the open source analytics vendor prepares its next update for release in December.
Knime on Thursday gave a sneak preview of its roadmap, demonstrating what customers can expect in the vendor's next analytics platform update as well as revealing details about upgrades scheduled for release further down the line.
Knime, an open source analytics vendor founded in 2004 and based in Zurich, Switzerland, unveiled the preview during the Knime Fall Summit, the second of its two virtual user conferences in 2020. In June during the Spring Summit, the vendor rolled out Integrated Deployment, a new feature designed to close the gap between the development of data science models and their deployment.
Key upgrades and new features Knime has planned for version 4.3 of its platform, scheduled for release on Dec. 6, center around improving the performance of its nodes. Given the collaborative nature of the Knime platform, it relies on communication and connection between systems, and nodes are essentially connectors that enable users to easily write, read and move workflows both within and outside the Knime ecosystem.
"The focus [of the update] is on three different parts -- performance speed, enhanced scripting and also our file handling," said Bernd Wiswedel, Knime's CTO.
From an overall performance perspective, Knime is updating the engine that powers its entire analytics platform to increase the speed with which users are able to operate.
Using some popular workflows as an example, Wiswedel demonstrated that running them powered by the current engine takes about two minutes, while running them powered by the engine that will be available next month -- Knime Column Table Backend -- takes just 40 seconds.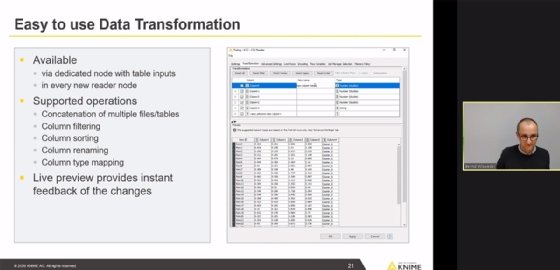 "Once you [update] it, you will use this new data engine and your workflows will run quicker," Wiswedel said.
One of the reasons for the upgrade, Wiswedel continued, is to improve Knime's Python file integration with a node called Conda Environment Propagation that will enable users to seamlessly read and write back and forth between different iterations of Python rather than have to use different nodes for each version of Python.
The node took a year to develop, and will soon be released from Knime Labs, the vendor's development portal, according to Wiswedel.
The reason we're doing all of this and spent so much time on improving our existing framework for reading and dealing with files is that we'd like to have a consistent user experience across all the nodes.

Bernd WiswedelCTO, KNIME
"The reason we're doing all of this and spent so much time on improving our existing framework for reading and dealing with files is that we'd like to have a consistent user experience across all the nodes that allow you to read files and do something with files, and to easily access different file systems," he said. "It should be easy to migrate between different file systems."
Regarding file handling, new nodes will enable better connections to users' file systems of choice -- their data storage locations -- whether on premises or in the cloud.
In another demonstration, Wiswedel showed how much faster a CSV file and an Excel file can be run using the nodes that will be available in the next version of Knime's platform compared with the current version.
"Once you have it, you have full flexibility and can move files between different … environments," Wiswedel said.
Knime CEO Michael Berthold focused on the new file-handling capabilities as the highlight of the December platform update.
"It's super powerful to move stuff around and work pretty much anywhere," he said.
Scott Fincher, a data scientist at Knime who led the session on Knime's roadmap, stressed the value of the new Python node.
"For me, the Python node that was showed with the multiple inputs [is important]," he said. "It's going to replace about five different Python scripting nodes."
Beyond the December Knime analytics platform update, the vendor has developments in the works for 2021 as well.
Among them are a new browser-based user interface, a new edit tool that will enable users to edit workflows, new ways users will be able to run their workflows, and a means to question and review user concepts.
Knime's most recent platform update was released in July, and included new connector nodes with Salesforce, SharePoint and SAP Reader along with a whole suite of nodes connecting to Amazon DynamoDB, a fully managed NoSQL database from AWS. And like its December update, the July update included both improvements to Knime's Python nodes and enhanced file-handling capabilities to make it easier for users to collaborate and share workflows.
Dig Deeper on Business intelligence technology