Fotolia
Architecture firm taps AEC technology to drive digital strategy
Arcadis CIO Justin Wright's pioneering use of architecture, construction and engineering technology brings buildings to life -- and the firm's digital strategy up to speed.
The architecture, engineering and construction, or AEC, sector ranks at the bottom of the industry list when it...
Continue Reading This Article
Enjoy this article as well as all of our content, including E-Guides, news, tips and more.
comes to IT investment.
But Arcadis aims to make AEC technology less of an oxymoron as it harnesses a range of tools including building information modeling (BIM) software, drones and augmented reality (AR) in a still-unfolding digital strategy. The company, based in the Netherlands, offers an array of architectural design, construction management and engineering services and has worked on some of the biggest projects in the built environment. Arcadis, for example, played a design and engineering role on the city of Dubai's Burj Khalifa, the tallest structure in the world at 160 stories and 2,717 feet.
Arcadis -- companywide -- is making digitization a priority as outlined in its "Creating a Sustainable Future" strategy. To shepherd digital transformation in the Western Hemisphere, the company in January appointed Justin Wright as CIO for Arcadis operations in North and Latin America. Wright believes the AEC industry is ripe for digital disruption.
"If you look at the AEC industry, it is one of the industries that has really been slow to adopt new technology or digitization," he said.
Indeed, the 6th Annual Construction Technology Survey, published in December 2017 by JBKnowledge Inc., noted "construction continues to budget the least for information technology compared with other industries."
Wright said the low level of IT investment stems from a mindset that considers every project unique: Building a skyscraper in New York, a manufacturing plant in the Midwest or a house in a rural area are fundamentally dissimilar activities that require different techniques. Wright suggested that's not entirely the case.
"In reality, there are a lot of similarities in the process of designing a piece of infrastructure, and actually bringing it to life, that could be automated and could benefit from digitization," Wright said.
AEC technology disruption on the way
The digital transformation wave may have yet to sweep the AEC technology sector, but the Construction Technology Survey, a report based on responses from 1,974 industry professionals, may indicate some early ripples. The percentage of respondents that reported spending 1% of their annual sales volume on IT increased to 21.8% in the 2017 survey from 14.1% in the 2016 survey. Meanwhile, the segment of respondents that reported spending less than 1% of their sales volume on IT shrank to 46.4% in 2017 compared with 55.9% in 2016.
James Benham, CEO at JBKnowledge, host of the ConTechCrew podcast and guest lecturing professor in the Department of Construction Science at Texas A&M University, said the construction industry may "rise off of bottom place in the next couple of years" when it comes to IT spending.
"We are starting to see them spend more and invest more," he noted.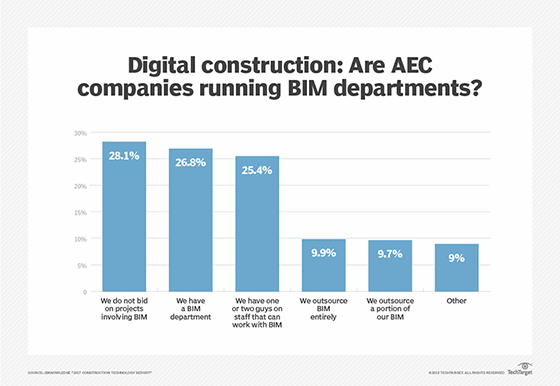 The near-term industry objective is to digitize more paper-based or spreadsheet-driven processes, from planning to construction safety, Benham said. In the long run, technologies such as digital plans and specs, currently in their infancy in construction, will become more prevalent.
As new technology comes online, we have to be the forefront of it.

Justin WrightCIO for Arcadis' North and Latin America regions
Wright said digital disruption is in its early stages within AEC but will accelerate over the next five years. His task now is to prepare Arcadis for the change to come.
"As new technology comes online, we have to be the forefront of it," he said. "We have to embrace it, we have to change with it … or else we won't be able to keep up."
One priority in Arcadis' digital strategy is BIM, which the National Institute of Building Sciences defines as a "digital representation of physical and functional characteristics of a facility" that can be shared to inform decision-making through a building's lifecycle. BIM software and processes can be used from the initial planning and design stages to construction and, eventually, to operations and maintenance.
Wright said Arcadis has committed to "being 100% BIM" by the end of 2018. When all of the company's design work becomes digital, it will be able to capture that knowledge and share it across different parts of the company, with clients and with other partners in the design and construction process, Wright explained.
BIM, in Arcadis' view, is not about a single BIM software package, but rather a framework under which a number of software vendors and technology partners may contribute. Wright said Arcadis works with vendor partners such as Autodesk, Bentley Systems and Esri.
"On those platforms, we develop our own customized applications in order to automate workflow," Wright said.
Addressing schedule slippage
BIM software and other elements of AEC technology aim to address pressing industry problems such as project schedule slippage and cost overruns. Wright said projects routinely exceed their allotted schedules by 20%, while costs may soar 80% over budget. Those numbers, he said, are based on various industry reports and anecdotal feedback from clients.
"Technology and digitization can play a key role in helping improve the accuracy of those projections," he said.
A shortage in skilled labor, from masons to plumbers, contributes to schedule and cost overruns. In booming construction markets such as Southern California, contractors compete for talent in a limited labor pool and often struggle to find the workers they need to build their projects. Against that backdrop, Wright said he is starting to see the emergence of modular construction technology, in which robots assemble parts of building projects.
"Firms are getting very creative about what can be automated in the construction process," Wright said.
In addition, Wright noted builders are using drones to analyze the situation on the ground and determine whether progress advancing according to the schedule -- or falling behind.
Data gathered from construction sites via sensors, meanwhile, can also provide insight into construction projects. Over time, industry will collect more and better data, Wright said. BIM software will bring that data together and make it accessible, helping construction firms -- and their clients -- stay on top of projects.
AR in architecture
Other AEC technology components beginning to emerge include augmented reality. Arcadis' design consultancy uses AR in conjunction with geographic information systems data and satellite imagery to place a data layer -- representing a new structure -- on top of an existing space to show how it would look or explore how people would interact with it, Wright said.
He said AR and virtual reality technology eventually will let construction industry experts remotely connect to construction sites facing challenges. That telemedicine-like intervention is still in the future, he added.