Speed, service, solutions are CIO priorities for Arcadis IT exec
Heading into the final stretch of his first year as CIO, Justin Wright has strong ideas about how to make IT a better partner to the business. Read about his CIO priorities for people, processes and technologies.
Justin Wright is CIO for North and Latin America at Arcadis, a leading global design and consultancy firm and generates more than $3.5 billion in revenues. Prior to taking the CIO position in January, Wright worked at Arcadis for the past 11 years in various director-level and executive positions in marketing, client development and other business-facing areas. He has a Master of Business Administration from Arizona State University's W.P. Carey School of Business.
In a wide-ranging interview, Wright spoke about his thoughts on how digital disruption will shake up the construction industry, chronicled here, and about the steps Arcadis is taking to become a digital leader for the company's construction clients, chronicled here.
In this final installment, Wright discusses:
his CIO priorities for the first year on the job
the technologies his team is focusing on, including cloud and virtual desktops
the three principles he's instilling to make IT a better partner to the business
Editor's note: The following has been edited for clarity and length.
What are your top CIO priorities for this first year on the job?
Wright: My No. 1 priority is people. I recognize that our success as a company is 100% dependent on our people and how motivated they are and empowered they are to deliver, so my priority is to get the right people in place and to make sure they're inspired to do a great job and they have the tools and IT skills to deliver and giving them the freedom to go out and do great things.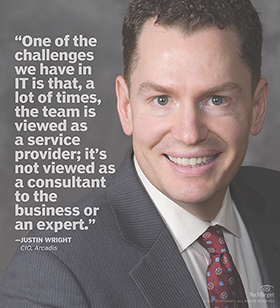 No. 2 is partnership. When the people [at our company] who deliver services to clients have a high opinion of IT -- when they see us as a good partner and see that we have the expertise they need -- they come to use and ask for advice. I'm always focused on being the best partner we can, so we can be part of the solution-creation process. You have to have a great synergy and collaboration between IT and the business lines. That's one of the reasons I was excited about taking on this role, coming with a background in the business lines I have.
And then the third priority is focusing on innovation and creativity and helping great ideas move forward.
And let me add one more to that list: cost efficiency in IT. I see that as critical because it allows us to invest where we need to in order to grow and innovate; if we're really efficient at controlling our costs, we have more funds to invest in our people and our creative ideas.
How do you find cost efficiencies?
Wright: It's looking at how do we reduce our spend on connectivity, hardware and software. We're constantly looking at the way we deliver any of our IT services to see if we can deliver the same quality of services at lower costs.
What are the stumbling blocks/challenges to leveraging technologies within your own company?
Wright: One is obviously [that] we have to focus on what the company needs today and that can tie up a lot of our resources because there's a lot to be done and we're trying to be efficient from a manpower perspective. So, balancing what we talked about, the need to deliver what the company needs today and also preparing for the future, that's a resource and time challenge.
Another challenge would be focusing on what's going to add the most value versus what's always been done.
And, lastly, managing change. We have a lot of people in the company who have been working in a way that has been good in the past but may not be the right thing in the future, so getting them comfortable with the idea of change and that if we don't do it someone else will.
CIO priorities on the tech front: Cloud is a 'big one'
What are the big projects on your docket now?
Wright: Cloud is a really big one. We're migrating our data and our applications to the cloud. We're doing that not only to reduce our costs, but also because it provides that accessibility we want. But this is something you have to put a lot of time and thought into. It sounds like an easy thing, but you have to be able to manage it; it's not just about getting the data there, but doing it in a way that works for people and makes it available in the right way and that it's secure.
The other big thing is data. Our business has a lot of design and engineering; there's a lot of data in that. We need to be crunching it and making it available. That takes a lot of bandwidth. So, we're looking at virtual desktops. It's a way of transmitting data very efficiently. The data could be processed in a server in the cloud, in a very powerful machine, but then the information is available to the end user.
And mobile data capture is a big deal. For example, our environmental business does a lot of monitoring of groundwater that's polluted to make sure it's getting cleaned up the right way. Historically, you'd have someone go out and do all the tests, write it down and bring it back to the office. We're trying to make it more digital by giving them a tablet to take out to the field so they can enter in the data and use a cellular connection to transmit that data.
CIO priorities: A three S's view of IT
How are you managing the IT skills part of digital transformation?
Wright: My philosophy is success is a byproduct of helping others, so by not only picking the right people to do the jobs and giving them the space that they need to work within, but developing them, training them, coaching them, those are my primary ways of leading a team.
How did you approach your personnel needs when you took the CIO position?
Wright: One of the challenges we have in IT is that a lot of times, the team is viewed as a service provider; it's not viewed as a consultant to the business or an expert who can help the company find the direction to go in this digital transformation. So, what we've been working on is three things that I pulled together in my first 30 days on the job after speaking with the business leaders to see their view of IT and see how we could improve and be a better partner.
I call them the three S's.
The first is speed. I heard a lot about the need to move faster and implement solutions more quickly. Service is the second: How to have a service mindset, making sure we see them -- the business -- as our customers. And the third is solutions. What I mean is understanding what the business needs are and then coming up with options to deliver what they need and partnering with them to figure out the best approach. And once we agree on the best option, going out and implementing it.
The result of getting our team to understand these priorities and move in that direction is that they're viewed as more responsive and better partners to the business, the business has a higher opinion of IT and now we're able to become that trusted partner that we want to be.