Digital transformation in the construction industry will rock status quo
Arcadis CIO Justin Wright talks about digital transformation in the construction industry and what his firm is doing to protect clients from being disrupted.
As the new CIO for North and Latin America at Arcadis, Justin Wright aims to make the company a digital leader....
Continue Reading This Article
Enjoy this article as well as all of our content, including E-Guides, news, tips and more.
Arcadis, with its America headquarters in Denver, is a leading global design and consultancy firm that generates more than $3.5 billion in revenues.
Wright has a big task in front of him. The construction industry Arcadis serves has been relatively shielded from the digital disruptors that have roiled the retail, hospitality and other industries. But a shakeup is in the offing, Wright believes. He also believes that the 90 staffers on his IT team are prepared to give Arcadis the technology foundation it needs to serve its clientele.
Wright, who became CIO in January 2018, has worked at Arcadis for the past 11 years in various director-level and executive positions in marketing, client development and other business-facing areas. He held other top-level marketing positions at several companies prior to joining Arcadis in 2007 and holds a Master of Business Administration from Arizona State University's W.P. Carey School of Business.
In his new CIO position, he partners with the company's two other regional CIOs (one serving the Europe/U.K./Middle East region and the other serving Asia-Australia), and he reports to the global CIO based in the company's Amsterdam headquarters. Arcadis' global IT operations unit employs approximately 450 people and has a follow-the-sun operations model.
Editor's note: The following has been edited for clarity and length.
Experts agree that digital transformation in the construction industry will shake up how business is done. But it hasn't happened yet -- why?
Justin Wright: It hasn't happened yet because of the uniqueness of the industry. A lot of the big projects -- the $500 million, the $1 billion, the $3 billion projects -- are built by big contractors that don't have a big motivation to change. They don't have huge margins that they can use to invest in new technologies, and they don't have a tolerance for risk. So, they're trying to keep things as relatively stable as they can. And a lot of the clients have regulations and policies and procedures that don't allow for new technologies. For example, a lot of them are still paper-based.
What's your timetable for digital transformation in the construction industry and why does it need to happen?
Wright: I think there will be a major transformation in the next decade. There is room for technology to come in and help improve situations. A lot of projects go over budget, they're way behind schedule, there are labor cost increases or material shortages and other risks that will force clients who use our services to find new ways to solve these problems. That's where technology will come in, and that's where digital disruptors typically come in.
Are there examples of specific technologies that will drive digital transformation in the construction industry?
Wright: There are small but impactful examples, such as augmented reality. A lot of what we're doing today is around augmented reality, and a lot of the industry is innovating around it. If we have a very complex problem [on a job site] and need a specialist, you can have an expert based in another part of the country who can assist through augmented reality. Someone wearing a headset with a camera in the field can transmit that live video to the expert and the expert is viewing it and able to give guidance and draw on the screen for that person on site to see. In that case, you have an expert who doesn't lose time traveling.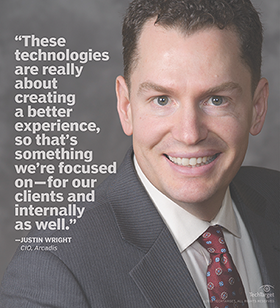 Also, we can monitor construction sites through drones or sensors or cameras in the field. They give you eyes in areas that have traditionally been difficult to capture data in. It's not that we couldn't get that information, but it's about getting it more cost-effectively and quickly.
The other thing we're starting to see used more is machine learning and artificial intelligence. A lot of the value that companies can generate these days is based on data, not only how they capture it but how they analyze it. It can be very helpful in making predictions on what can happen on a project.
The reason that other industries were disrupted was because someone came in to create a better customer experience. These technologies are really about creating a better experience, so that's something we're focused on -- for our clients and internally as well.
Where is the construction sector in terms of digitization?
Wright: The industry is very early in the process of [digital] transformation. There are billions and billions being spent, and only a small portion of that has to do with investments in digital transformation. It's still very traditional in how building is planned and produced.
But I think over the next decade, it will accelerate very rapidly with more products delivered digitally.
BIM -- building information modeling -- has been around for more than a decade; it's being used in other types of projects, but the idea of BIM is that you digitize the information so the design for the buildings or the plans or the ways it's going to be built are not on paper but digitized, so people from all different groups can access it and use it more intelligently.
There are a lot of new tools and technologies that are coming on the market that will make it easier and faster and more efficient in how [project delivery] is done. In the future, projects will start with a digital design with [companies] making that information available to different partners. It will link up with what drones and sensors cameras are gathering and use AI to evaluate that data to make sure those plans are the best.
We're also starting to look at how do we take more of the simple aspects of engineering and design and automate those, so engineers and designers can focus on the more complex areas and, thus, speed the whole engineering and design process up.
Where is your own firm in terms of the digitalization?
Wright: For our company, we're a little bit further ahead in terms of digital transformation, but we have a long way to go. We set a target to be 100% BIM so that the entire way we do business is digital. We see that as the starting point to being a digital leader: We have to have all our information in a way that people can access it and share it. We're coming up with creative ways to capture information through drones and sensors and cameras, making that data available and accessible in the cloud so it can be used in the right ways. We're looking at how to process that data to make predictions about what can go wrong or what can be done better.
Read more about Arcadis' plan to makes its own operations fully digital in part two of our interview with Justin Wright.