How to become a digital leader: A design company's blueprint
Arcadis CIO Justin Wright explains how IT is working in tandem with the business to make the firm a digital leader for its construction industry clients.
Justin Wright is the CIO for North and Latin America at Arcadis, a leading global design and consultancy firm and...
Continue Reading This Article
Enjoy this article as well as all of our content, including E-Guides, news, tips and more.
generates more than $3.5 billion in revenues. In part one, "Construction industry must brace for digital disruptors, says CIO," Wright talked about how the firm's construction company clients must prepare for digital innovators using advanced technology to address industry weak spots -- from cost overruns to material shortages. He also laid out the opportunities that digital technologies like augmented reality, drones and sensors offer the construction industry.
Prior to taking his CIO position in January, Wright worked at Arcadis for the past 11 years in various director-level and executive positions in marketing, client development and other business-facing areas. He has a Master of Business Administration from Arizona State University's W.P. Carey School of Business.
Here, he describes how his 90-person IT unit helps develop and enable Arcadis' efforts to become a digital leader in global design and for its clients.
Editor's note: The following has been edited for clarity and length.
How is Arcadis approaching digital transformation?
Wright: We have people in leadership focused on innovating and incubating new technology. They operate in teams separate from IT, but they're working on technology. Like a lot of companies, digitalization is a high priority, so we set up a separate initiative with a separate team. The 90 people who report to me work together with other [IT] people in other countries and also with the other people who are focused on technology innovation. We're all working together to drive the company's strategy.
How does this innovation group operate in relation to IT?
Wright: We're doing this as a focused initiative. So, we have a global digital leader, and he has a team of regional digital leaders and they have a team of people focused on certain areas, [with titles] such as chief data scientist and an innovation leader. It's company investment in leadership to drive that digital agenda.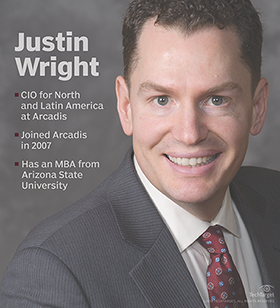 IT has to make sure we're set up to support that digital initiative. We focus on connectivity and hardware and software, but we also need to think ahead to what tools and services our company will need in the future. So, it's a partnership [with IT].
I have a weekly meeting with my counterpart, the North American lead for digital, to make sure we're aligned and moving in the right direction and that our people are talking and that we're anticipating what we need and budgeting for it. IT partners [with the digital team] to provide the environment and, in terms of developing new products and platforms and services, we work with the digital team to turn them into real products and run them as business as usual.
Does this mean IT isn't in charge of innovation?
Wright: It's not the primary function of IT. We made an investment in this [digital leadership] team, and IT plays a supporting role in that. And when it comes to developing the products, IT has the primary role in that.
What is IT's role in supporting the company's digital transformation efforts?
Wright: [I tell them] we are preparing ourselves to be a digital leader in the industry -- moving to be a digital leader -- and [we're] doing that by helping [Arcadis'] clients solve their biggest problems through technologies. But we also have to make sure we keep the lights on, providing, for example, basic services like Skype so we can keep our employees connected around the world.
Vendor partnerships key to becoming a digital leader
How do you as CIO help speed adoption of disruptive technologies?
Wright: It's my responsibility to create the environment in the company that allows for the innovation and incubation of ideas. So, I have to make sure we deliver the technology that we need today and the technology we need in the future -- and move quickly with business lines to create those opportunities.
One key element to do that is making sure I have the right people in the right place with the right perspective who are looking at the right technologies for the future.
In the architecture, engineering and construction industry, to get a billion-dollar project done, you have to have a lot of partners. … That carries over to how we partner with technology firms to manage transformation.

Justin WrightCIO, Arcadis
It's also about helping [Arcadis'] clients to recognize what can be done to improve how their projects are completed and helping them take those steps forward. We're showing clients who may be hesitant about trying new technologies what's being done in other industries and showing them the benefits, as well as helping them manage risks and meet their objectives.
And some of the partners we're working with -- Microsoft and Oracle and engineering software providers -- have the expertise from other industries where it's being used and they're helping us make sense of how to bring it into our industry and exploit it for good purposes.
How do you leverage vendor partnerships to yield the greatest benefits?
Wright: What's interesting about our business is that we historically have the mentality that we have to partner together to deliver these big projects. In the architecture, engineering and construction industry, to get a billion-dollar project done, you have to have a lot of partners. So, we're used to creating an ecosystem to execute those big projects. That carries over to how we partner with technology firms to manage [digital] transformation. We're used to that, it's something we do well and we're trying to take what we know to execute projects to become a digital leader through ecosystem partnerships.
For instance, we know there are certain things we do very well and things we don't well, so we want to focus on where we excel and generate the most value from those things and then partner with companies that do other things very well that we don't do as well. That's something that clients expect. They want a team that works together very well, that brings the best ideas from all over the world together.
And I think success in a partnership requires that everyone understand their roles and the scope of their work and that they want to be successful together. So, everyone has to bring their best. When we work with a technology provider, we want to be successful as a team. We want to show them what value we can bring to the relation and recognize they bring significant value as well. It has to be a win-win.
In part three, "Speed, service, solutions are CIO priorities for Arcadis IT exec," Wright talks about his guiding principles -- the three S's -- that undergird his plans to make IT a powerhouse at Arcadis.