alphaspirit - Fotolia
Data-driven strategies for succeeding in the algorithmic economy
Crafting a data strategy is hard. Use cases help. At the MIT CIO Symposium, four IT leaders share how they're forging data-driven strategies that'll pay off in the algorithmic economy.
The "algorithmic economy" -- where algorithm and data-driven strategies reign supreme -- is gaining currency, according to Barbara Haley Wixom, principal research scientist at MIT Sloan Center for Information Systems Research. And that means businesses will need employees who habitually use data and algorithms to inform key tasks.
Organizations that are poised to succeed in the algorithmic economy have developed mature data-driven strategies and cultures, Wixom said. They provide data science training for all employees, use advanced techniques like machine learning and have methodologies in place for evidence-based decision-making.
And they get more bang for the buck from their data: According to Wixom, companies with data-driven cultures generate payback from data projects nine months sooner, and they earn 6% higher ROI.
Wixom, who laid out the case for data-centered enterprises at the recent MIT Sloan CIO Symposium, asked four IT leaders at the event to share their data-driven strategies for helping their companies take advantage of the algorithmic economy.
Attracting and cultivating data talent at BBVA
Financial services and banking company BBVA took a radical approach to building a data-driven culture, said Elena Alfaro, global head of data and open innovation at BBVA. It established a separate legal entity called Data and Analytics that was focused specifically on attracting and retaining data and analytics talent. The goal was not only to cultivate this new talent, but also use these recruits to drive a new data-driven mindset across the organization.
Prior to forming this new entity, Alfaro said it was "really difficult to find the type of people with the mindsets that we had in mind." Moreover, when the bank did find such talent, it "realized that their ideas for their careers didn't match up well with what we could offer."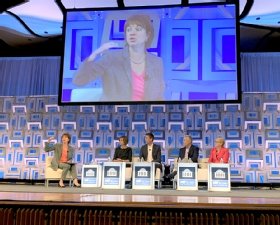 The entity, established about six years ago, has grown to 50 people, many of whom have leadership roles in the bank, said Alfaro, who served as its CEO until moving to her current role in client solutions. However, BBVA realized that it needed to scale this nucleus of data talent, so in 2017 the company began the second phase of its data-driven strategy. This effort includes trying to reskill existing talent and bringing in limited talent from outside. As part of the reskilling, BBVA makes all of its data analysts and citizen data miners learn skills like Python, creating thousands of what Alfaro calls "data specialists" within the organization.
To distribute a data-driven mindset throughout the bank, BBVA also restructured its organization. A global head of data now reports directly to the chairman and under him are four heads of data in each of the main business units -- including client solutions. These heads of data co-report to the global head of data as well as to the head of their respective units.
Bank of Queensland's partnership approach
For Donna-Maree Vinci, chief digital and information officer at Australia-based Bank of Queensland Ltd., her organization's data journey began with a few "foundational pieces," including implementing internal and external exposed API's and a hybrid cloud strategy.
We're not large scale, so we really did need to partner in order to create capabilities.

Donna-Maree Vinci Chief digital and information officer, Bank of Queensland
From there, honing an effective data-driven strategy -- with a clear business purpose -- required a "regrouping" across the organization.
"We had to change the whole model around how democratized the data was and how accessible the data was externally and internally," Vinci said. "[That allowed us to] create new value propositions. And then we really had to use [the data]. That's where the data scientists come in."
Partnerships have also played a key role in Bank of Queensland's data strategy and have helped the company compete in the algorithmic economy, according to Vinci.
"We're not large-scale, so we really did need to partner in order to create capabilities," Vinci said. "It's key to [being able] to punch above your weight and to be on the cutting edge of innovation."
Wixom said research shows that, especially as organizations move into market-facing activities with their data, partnerships are becoming increasingly important because they allow for a "jump in capability."
Adobe's data-driven operating model
When Adobe made its move to the cloud and to subscription-based software for its hallmark products like Photoshop, InDesign and Illustrator, the company generated massive amounts of new data. Unfortunately, the architecture to support all that new data flowing in wasn't up to par, according to Mark Picone, Adobe's vice president of information and data services. The problem was that the back office was not very prepared to deal with how to properly structure and use this data to their advantage.
This drove Adobe to creating what the company now calls its data-driven operating model.
"Initially, it started out as an IT-led initiative, because we had data silos across the organization that were never really rationalized," Picone said. "The data silos, however, were creating different answers for top-level management and the CEO to the same question."
At that point, Adobe pivoted to a more unified data architecture approach that consolidated data silos and created new standards around data governance. This allowed a new set of capabilities -- as well as new vocabulary -- to permeate the business, according to Picone.
"There's a meeting every single week with well over 100 people globally, and they're looking at a single analytical experience," Picone said. "They go through [the data] step-by-step, region-by-region, ... and they turn the knobs and look at it again the following week and ask, 'What's changed?' This has really been profound in terms of how we've done [data and analytics] at a scale across Adobe."
Tetra Pak's 'single version of the truth'
Tetra Pak, a food processing and packaging company, suffered from a data failure similar to Adobe's: Everyone coming to a board meeting had a different version of the truth. That's because all of the information not only came from different sources, but it was also managed in a different way, according to Mark Meyer, CIO at Tetra Pak.
Tetra Pak's solution was instituting a single-instance, SAP solution. In other words, it's a single data warehouse, in one location, that houses all of the company's global data and operational reporting -- an arrangement most organizations would be jealous of, according to Wixom.
"What that means is that we have one single way of talking about how we run our business," Meyer said. "And we have one copy of our operational data in the same format where all the definitions are always the same. With that data we can drive better decision-making."
Meyer added that Tetra Pak is already working on its 2030 data strategy, much to the surprise of Wixom and the audience. But Meyer said it doesn't really matter whether organizations have a 10-year data-driven strategy or a more short-sighted one.
"The whole point of is to say, 'Where are we now? Where do we want to be?' and you have to stretch it far enough out so you don't think from the constraints and the problems that you have today, but rather what you want to be able to do in the future," Meyer said.
Dig Deeper on IT applications, infrastructure and operations