Alliance - Fotolia
Recruiting data scientists for AI and machine learning
When hiring data scientists, be sure to include your data science team in the interview process, and strive to build a data-literate HR department. AI tools may also help.
SANTA CLARA, Calif. -- It's hard to find top talent, particularly when recruiting data scientists for AI and machine learning.
Data scientists have been in short supply for a few years now, and the U.S. higher education system has been slow to provide programs to train more.
While recruiting data scientists can be tricky, it's doable, according to Amy Gershkoff Bolles, chief data officer and general manager of data solutions at Bitly.
Bolles, in a keynote at the Global Artificial Intelligence Conference here, spoke about the current hiring climate, and gave tips on how to recruit the best talent for AI work.
Recruit recruiters
Recruiters, she said, are generally the first people with whom potential employees interact with at a company, so companies looking to hire top talent should have a top-notch HR department.
"A poor first interaction can really be quite detrimental to your brand," Bolles said.
So, invest in specialized recruiters -- people who have experience recruiting data scientists and are well-versed in data-centric technical terms.
A leading candidate will likely ask specific questions about how data is being used at the organization, and how data science teams are treated. Recruiters should have an understanding about these things and should be able to respond intelligently to such questions, Bolles said.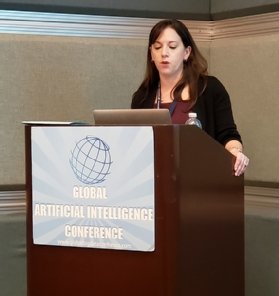 Also, try to involve members of the data science team in the recruiting process, she said.
"It really helps with buy-in from the team and it really spreads the work out," she noted. Team members, too, might be able to provide insight into potential candidates that upper management or HR department executives might otherwise miss, she said.
Current employees may be able to offer candidate suggestions as well, if asked, which can widen the candidate pool, Bolles added.
Indeed, employers should try to hire from a broad and diverse pool. Organizations around the world, especially tech-oriented organizations that historically have been male-dominated, for example, have been sluggish in diversifying the employee pool.
But recruiting data scientists with different backgrounds, cultural histories and experiences might supply to a data science team new points of view and ways to innovate.
"Diverse teams generate better outcomes, period. Every piece of research shows this," Bolles said.
Diversify with AI
Bias is another factor that has affected recruiting data scientists and other tech employees.
"Unconscious bias has been embedded in day-to-day things," said Tamara Phillips, global director of the Business Beyond Bias tools unit at SAP SuccessFactors, in an interview in October.
A poor interaction can really be quite detrimental to your brand.

Amy Gershkoff Bolleschief data officer, Bitly
SAP SuccessFactors, one of the biggest cloud HCM vendors, offers a number of tools with its Business Beyond Bias products to help diversify candidate pools and try to eliminate unconscious bias.
The vendor sells tools that, for example, alert management about staff members who haven't received a pay raise in a while, or eliminate photos and gender from resumes and staff databases to only highlight a person's experience.
One feature, explained Jeff Mills, director of solution management for talent acquisition at SAP SuccessFactors, actually suggests wording for recruitment messages that are more likely to attract female job candidates.
"It's all based on sociolinguistic research," Mills explained. "We expand that with word embedding techniques" and companies' own data on who has applied to jobs in the past.
Most of the bias software uses AI technologies, like machine learning and natural language processing, powered by SAP Leonardo -- the vendor's digital transformation platform.
Using AI in recruiting data scientists, or in recruiting in general, usually is positive, Bolles said in an interview.
But, she said, the process shouldn't be entirely automated.
"When it comes to building teams, I think it will be hard to scale a process that will take humans out of the equation," she said.
"You're not trying to create a group of talented individuals. You're trying to create a high-performing team," one that works well together, Bolles said. A machine would have a hard time judging whether candidates might work well together.
As for using AI to boost diversity, Bolles noted that "any methodology that is going to increase the diversity of the slates of candidates is obviously very positive."
However, she cautioned that the AI could inadvertently make certain aspects less diverse, such as if the AI software looked for certain keywords to find potential employees, and excluded candidates who did not include those keywords.
Respect
Bolles, in her talk, emphasized the importance of giving employees respect and opportunities for growth, to try to retain top talent.
"Once you've hired this great talent, you can't keep them unless you really invest," she said.
Sit down with employees and listen to their goals and aspirations, and work with them to help achieve those things, she said.
Put effort into keeping employees happy and heard, and they will put effort into working hard for your organization, even, perhaps, if your organization can't afford a massive salary.
The 3rd Annual Global Artificial Intelligence Conference was held Jan. 23 to 25 at the Santa Clara Convention Center.
Dig Deeper on AI business strategies