adam121 - Fotolia
AI, data analytics, recruiting tech among HR priorities, leaders say
Leaders from Johnson & Johnson, The Walt Disney Co. and other giants weighed in at HR Tech 2018 on top priorities, such as tech to improve candidate and employee experience.
LAS VEGAS -- HR leaders at top national companies want tech that delivers insights and improves talent management. The top HR priorities included boosting candidate and employee experience through stellar technology. That was the message to vendors and attendees at the 2018 HR Technology Conference & Expo from a panel on what it takes to create top-notch HR. Improved recruiting platforms, AI, data analytics and user-driven learning platforms were all listed as important.
The HR chiefs from Accenture, BlackRock, Delta Air Lines, Johnson & Johnson and The Walt Disney Co., who appeared on a panel, discussed their technology priorities and interests. They weren't picking and choosing vendors, and they made a point of avoiding mentioning any of the vendors at the conference.
But this group of global HR leaders had a clear idea of what they thought was important to conference attendees and vendors. It was a strategic, but pointed, overview of how they are using technology and what their firms want from it.
Stellar HR requires a candidate-focused recruiting system
Johnson & Johnson interviews a million people a year to hire 28,000 individuals. "So, how do you make sure that they [the candidates] have visibility [into] how they're tracking through the process, like you would track a Domino's pizza or a UPS or a FedEx package?" asked Peter Fasolo, executive vice president and chief human resources officer (CHRO) at Johnson & Johnson, based in New Brunswick, N.J.
At BlackRock, talent is an ongoing executive board-level discussion, said Matt Breitfelder, managing director and chief talent officer. The New York-based company is using technology to help improve the diversity of its hiring.
The firm wants diversity on its teams, so its employees are "challenging each other to think more clearly about what they're seeing in markets," Breitfelder said.
BlackRock is using tools in its hiring process to make sure it is "not just replicating an industry that has tended to have one way of thinking," Breitfelder said. "We know it's about teams, not about individual stars."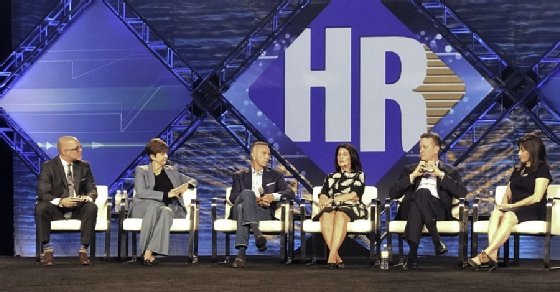 Data analytics makes us more human
We democratized all of our learning.

Ellyn Shookchief leadership and human resource officer at Accenture
"Data analytics makes us more human, because our own data analytics shows there's a lot of liberal arts majors who make great investors, which is very counterintuitive," Breitfelder said.
Delta Air Lines has begun using machine learning and AI technologies to help discover "good predictors of success" in its hiring, said Joanne Smith, the company's executive vice president and CHRO. "That's going to help us get smarter and smarter and smarter about hiring," she said.
Learning and a focus on employee experience
Learning technology was also mentioned as a priority, and Accenture explained why that is. In response to the competition in the labor market, the firm decided to go big on training employees on entirely new skills.
"We democratized all of our learning," said Ellyn Shook, chief leadership and human resource officer at Accenture, based in Dublin. Learning "is now in real time, on demand and available to our people anytime, anywhere, any device," she said.
Some 300,000 of Accenture's 450,000 employees have taken advantage of it in the last two years, which includes some "leading-edge technical areas that there would be no way we could have hired at that scale," Shook said.
A common theme for the conference panel was the need for consumer-like HR technologies.
"Help me do what I'm doing. Help my employees be better at what we're doing. But have a consumer mindset to it," said Jayne Parker, senior executive vice president and CHRO of Disney.
Dig Deeper on Core HR administration technology