Bitly is a URL shortener service that enables users to truncate webpage links. Established in 2008, the company Bitly Inc. is privately held and based in New York. According to some estimates, Bitly shortens 600 million links per month for use in social networking, SMS and email.
How does Bitly work?
The company uses the response status code TTP 301 redirects to create shortened URLs. Simply put, Bitly takes long URLs and replaces the entire link with a shorter series of numbers and letters. These shortcuts are permanent and cannot be changed once they are created. URLs that are shortened with the Bitly service use the bit.ly domain. This process is necessary in order to share links via social media, especially Twitter, which has a tight character limit.
Bitly has also released new products that include an enhanced platform tool, called Bitmarklet, which allows users to save links straight from the browser, and a service to share video links.
Bitly benefits, security
Shortening links can be useful in sharing content, but it is also important to know how that content performs and who sees it. Here are some of the top benefits of Bitly:
Link analytics. Bitly links come with their own statistic pages that allow the user to see the percentage of clicks and saves a Bitly link receives through live click data, location and source. It also shows where traffic comes from and which posts drive the strongest traffic. Bitly helps alleviate dark traffic issues by analyzing referral traffic.
Track trends. Along with click data, Bitly can also identify and aggregate trends and popular content in real time. It allows users to filter stories by topic, platform, location and language.
Manageable links. With shorter links, Bitly helps users share content in an easier and organized manner.
Brand management. In Bitly Enterprise Edition, Bitly links are customizable through branding tools that allow for a more personal appearance. Content can also be bundled around topics or themes.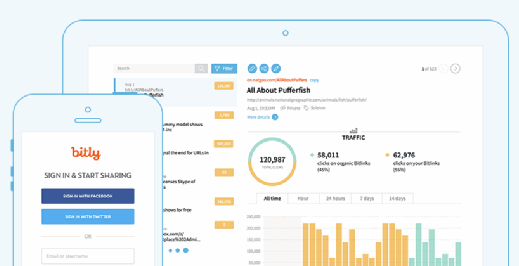 Along with many benefits, it is important to note that there are security risks that come with using a URL shortener. Since shortened links don't offer any description, it can be difficult to tell if the link leads to a legitimate site. Scammers and phishers have taken advantage of this by spreading malware or worms through URL shortener services. It is up to the user or enterprise to proactively protect assets and sites against such security threats.
Bitly pricing
Bitly is a free service for individual users who need to share up to 5,000 links, send up to 500 branded links per month and need 30 days of analytics. For small companies, the price is $495 a month. This rate includes up to shortened 20,000 links, unlimited branded links, 90 days of analytics and email support.
And, finally, the enterprise package for large companies comes in at $995 per month with a 12-month commitment. This includes 50,000 shortened links for more than one user, unlimited branded links, unlimited analytics, dedicated support, campaigns, audience benchmarking and more.
Editor's note: Pricing as of June 2017.
Alternative services
While Bitly is one of the product leaders in URL shortening, there are several competitors. Here are a few alternative URL shortener services:
Goo.gl. Google's URL shortener, Goo.gl, shows how many hits a link receives, where the clicks come from and what platforms visitors use. Users can also view traffic stats broken down by hour, week, month or total.
Tinyurl. This simple URL shortener does not offer analytics, but allows the user to add TinyURL to the browser's toolbar and also to create a URL for redirection purposes within a site.
BudURL. This product allows users to add tags and notes to shortened links, create branded URLs and receive real-time tracking via mobile devices.
This was last updated in
June 2017
Continue Reading About Bitly